In three new publications, Bioversity International deals with problems around banana production:
Managing banana genetic resources and genomic information with the triplet Drupal/Tripal/Chado
A poster that was presented at Plant and Animal Genome- PAG XXIII Conference. San Diego (USA) 10-14 Jan 2015 by Guignon, V., Ruas, M., Droc, G., Dereeper, A., Sardos, J., Hueber, Y., Roux, N., Rouard, M.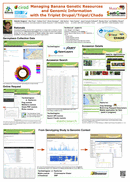 Data for the characterization of the HSP70 family during osmotic stress in banana, a non-model crop
A journal article by Vanhove, A.C., Vermaelen, W., Cenci, A., Swennen, R., Carpentier, S.C. on an in-depth analysis of the HSP70 family in the non-model banana during osmotic stress [1]. First, a manual curation of HSP70 sequences from the banana genome was performed and updated on the Musahub banana-genome.cirad.fr. These curated protein sequences were then introduced into our in-house Mascot database for an in-depth look at the HSP70 protein profiles in banana meristem cultures and roots during osmotic stress. A 2D-DIGE LC MS/MS approach was chosen to identify and quantify the different paralogs and allelic variants in the HSP70 spots.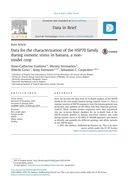 Can changes in soil properties in organic banana production suppress Fusarium wilt?
Organic agriculture promotes disease suppression through healthy soils by increasing biological activity and diversity through the application of organic fertilizers and increasing organic inputs. Fusarium wilt of bananas (Fusarium oxysporum f. sp. cubense) (Foc), also known as Panama disease, has been a devastating disease throughout the world. So far, no fungicides or cultural measures have been found that control Foc sufficiently. The aim of this research was to assess whether organic-based farming systems were more resilient than inorganic farming systems to soil borne diseases, in particular Fusarium wilts. A survey was conducted comparing five organic and five conventional banana plantations at paired sites in north Queensland, Australia. Soil samples were collected and analysed for chemical, physical and biological soil health indicators.