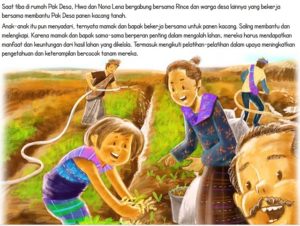 Researchers in Indonesia have produced an illustrated book to help farmers better understand research results.
The World Agroforestry Centre (ICRAF) recently published an illustrated storytelling guide, Menanam pohon di bukit batu (Planting trees on a stony hill), to help spread knowledge of land-restoration and food-security techniques developed by researchers and farmers in Haharu District on the island of Sumba.
"The Sumba community is similar to many others in Indonesia," explained Elok Mulyoutami, one of the authors, who is a gender specialist and social scientist with ICRAF Indonesia. "They have little interest in reading. This presented a challenge for us. We wanted to share more widely the techniques for land restoration and improved farming that we had developed together with farmers. 
"Observing the cultural practices of the people of the district, we realized that storytelling was very popular and could perhaps become the best way of disseminating our research results, providing agricultural advice and raising people's awareness of how to better manage their natural resources."
Read the book: Menanam Pohon di Bukit Batu (Planting trees on a stony hill)
The book, in plain Indonesian designed to be read aloud, uses three children walking home from school in the heat to tell the stories of reforesting their land. At home, one child asks his grandfather why their island home was so hot and dry; if there were more trees wouldn't it be cooler and fresher? His grandfather's answers make the boy feel optimistic that Sumba would once again be forested.
The second child asks her mother about the maize they grow and learns how the stalks are used to restore soil fertility in the traditional hillside terracing system that also includes fertilizer trees. Her mother also explains how men and women work together in the fields and learn new skills and knowledge from attending training courses that helps them better manage and protect their harsh yet fragile land.
"Gender equity is relatively well established in Sumba society," explained Mulyoutami. "Although complicated by class and caste issues. It was important that the book featured women and men collaborating according to their abilities, as happens in reality."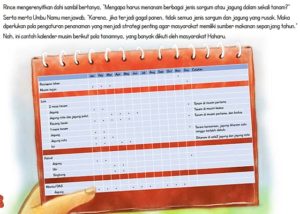 The third child vows to become a smart and good farmer, sharing knowledge and skills with others so that many people can plant more and more trees to ensure that the savanna will become a forest again.
Sumba was largely deforested by the early 2000s as individuals and companies alike sought valuable sandalwood and other indigenous species. Conditions now are harsh and life is difficult. The World Agroforestry Centre (ICRAF) and partners, Wahana Visi Indonesia and Lutheran World Relief, supported by the Australian Government's Department of Foreign Affairs and Trade, have been working together for several years on the Indonesia Rural Economic Development program to help farmers overcome the great challenges to their very survival.
"The idea of using a children's storybook approach to explain our research results came from the project's specific concern for youth and children," said Mulyoutami. "Wahana Visi Indonesia, our partner, had produced children's books before so we were able to draw on their expertise and had their full support."
Read also: From savannah to forest: Women's roles in land restoration in Sumba
Working with Jakarta-based illustrator, Resi Desta, designer Riky Hilmansyah and co-author Tikah Atikah, Mulyoutami gathered technical know-how and cultural nuance from ICRAF staff members who also worked in Sumba — Iskak Nugky Ismawan, Erik Maramba, Asep Suryadi, Nikolas Hanggawali, Gerhard Sabastian, Riyandoko, Suci Anggrayani, Pratiknyo Purnomosidhi and Lia Dahlia — that resulted in a bright, accessible and accurate book that has been well received by the target audiences.
"It's important to underline that this book is not only for children," said Mulyoutami. "It's also useful for agricultural extensionists, rural advisers and farmers to give them a good grounding in how local practices can contribute to restoration."
The communities of Haharu are committed to expanding their knowledge and restoring their land to its once fertile and productive state. A book such as this is one more tool to use to help reach that goal.
By Rob Finlayson, originally published at ICRAF's Agroforestry World.