Tree seeds and seedlings for planting purposes are the starting point from which farmers, foresters and others are able to grow trees. They are produced and made available through "seed systems". These seed systems have been a major topic of work by FTA in the last decade because of the constraints faced by actors on the ground in obtaining tree-planting material corresponding to their needs and of good quality.
Growers do not always know or fully consider what trees to plant, and where, so that they are effectively matched to planting environments and purposes.
The problem of tree seed sourcing is becoming ever more acute due to the increased demand for seeds to meet now-massive global commitments such as the Bonn Challenge to forest landscape restoration and other tree planting initiatives.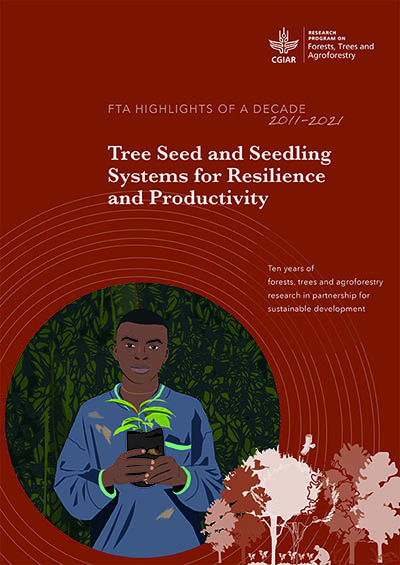 As part of "FTA's highlights of a decade," a new series focusing on its main results since being established in 2011, the FTA program is now publishing the volume on Tree Seed and Seedling Systems for Resilience and Productivity.
FTA's work on the topic seeks to address twin concerns: how to make available quality tree planting material; and how to ensure that tree seeds and seedlings are planted in the right places for the right purposes. If these concerns are met, and principles of good restoration practice are followed, the detrimental ecological effects that may be caused by inappropriate 'restoration' can be avoided and genuine restoration can be achieved.
Addressing the supply bottleneck is a key challenge to current global forest landscape restoration programmes becoming successful. To ensure supply it is necessary to realize the potential of many more rural organizations, small-scale private nurseries and local communities to effectively participate in tree seed systems.
Photo gallery
The recent greater focus on accountability in tree planting provides new opportunities to improve tree seed sourcing. ICRAF's Genetic Resources Unit (GRU) conserves and supplies for research and direct use both tree seeds and seedlings; its field genebanks (see Figure 1) feature more than 80 tree species. The CATIE Forest Seed Bank in Costa Rica reaches more than 170 clients in 20 countries with tree seed. Both ICRAF and CATIE are managing partners of FTA.
Unfortunately, existing approaches do not meet the need for tree seed supply that is well matched to planting sites and purposes, or that addresses livelihood and environmental goals. Growers often end up planting whatever tree seeds and seedlings they can find. A lack of attention to what is planted in restoration initiatives, and the problems this may cause, is increasingly being raised as an important issue. Through its research, FTA seeks to improve on the poor current situation. For example, ICRAF's Provision of Adequate Tree Seed Portfolios (PATSPO) project focuses on enhancing tree seed sourcing to support Ethiopia's forest landscape restoration.
Recent preliminary work by FTA showed that the savings (through better survival rates of trees) and increased incomes (from increased production) from better seedling establishment and growth far surpassed the extra expense of quality tree seed sourcing in restoration programmes. More advanced calculations, including estimates based on African Forest Landscape Restoration Initiative (AFR100) activities, suggested that an extra cost per seedling of less than 5% could generate more than USD 5 billion of additional income for tree growers.
The African Orphan Crops Consortium works to fill production gaps for 101 lesser-used food crops, including tree crops, that have potential to address nutritional deficiencies, by improving support to breeders. FTA researchers developed and implemented the supply of "fruit tree portfolios" — combined with other plant foods, these are sets of trees that supply required nutrients to local communities year-round. FTA also engaged in communication campaigns such as the From Tree To Fork, which aimed to raise awareness about the properties of underutilized species through the engaging use of graphics and fun messaging.
Rural resource centres (RRCs), also developed by FTA researchers, supply food tree seedlings and instruct people in tree propagation and other skills. FTA's tree nursery work in Viet Nam has promoted the widespread planting of the indigenous son tra fruit tree (H'mong apple, Docynia indica), and has taught more than 1,000 participants about topics such as agroforestry systems.
FTA scientists applied the nurseries of excellence (NOEL) approach in Indonesia. A NOEL project on Sulawesi produced more than two million quality seedlings of more than 50 tree species.
An important part of FTA's work is engaging with national partners to help develop policies that support more effective integrated tree seed systems. In work led by Bioversity International, FTA has developed a set of indicators for this purpose, and has applied them in seven countries in Latin America.
FTA tools for bringing existing knowledge resources together to support the better choice of what trees to plant, and where, include the Agroforestry Species Switchboard. Genetic sequencing for improved varieties is another prominent FTA research domain. Recently FTA scientists collaborated in the establishment of the reference genome of the shea tree (Vitellaria paradoxa). An interesting interview with the lead scientists of this paper is also available here.
Scaling up high-quality tree seed and seedling supply efforts will Global Plan of Action for the Conservation, Sustainable Use and Development of Forest Genetic Resources
Download the publication to find out how more about FTA's 10 years of research on tree seed and seedling systems!