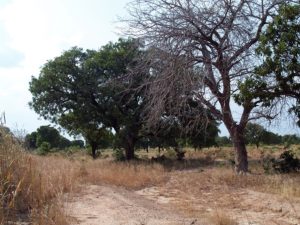 Participants in a recent workshop have called for more trees to restore landscapes and improve livelihoods in northern Ghana.
"There is an urgent need in northern Ghana for metro, municipal and district assemblies, NGOs and civil society organizations to act immediately to address issues such as land tenure, bush fires, indiscriminate tree cutting, and a lack of financial resources, so that we increase tree cover and improve land health and livelihoods. This is our call to action."
So reads the powerful declaration from a workshop in Bolgatanga, capital of Ghana's Upper East Region. The unanimity of the participants in issuing their urgent call for action to expand the scale of land restoration for the regreening of northern Ghana and beyond was surprising, and very encouraging, given the diversity of their occupations and backgrounds.
The nearly 40 people who gathered to explore practices and policies that could encourage more trees in landscapes so as to reverse land degradation and improve livelihoods and food security, included leading farmers and extension officers from three districts — Kassena-Nankana West, Bawku West and Garu-Tempane — as well as representatives of Catholic Relief Services, Tree Aid and World Vision, and researchers from the Center for International Forestry Research (CIFOR) and the World Agroforestry Centre (ICRAF).
The participants identified the many benefits of increasing trees and forests in landscapes, such as the conservation of soil and water and the important economic, medicinal and nutritional value of indigenous species.
They also examined the complex constraints — cultural, climatic, legal, gender — that confront everyone working to improve the management of agricultural, pastoral and forest land in the region, including tree-planting activities that do not take into account the importance of species, context, management and timing.
Along with the call to action, the workshop produced a series of recommendations for policies and actions to improve tree cover, forests and land health in the three districts, including new laws to prevent indiscriminate tree-cutting, analyses and mapping of soils in the communities, and more emphasis on agroforestry systems with indigenous trees and crops.
The workshop was convened by two projects: West Africa Forest–Farm Interface (WAFFI), funded by the International Fund for Agricultural Development and supported by the CGIAR Research Program on Forests, Trees and Agroforestry (FTA), led by CIFOR and implemented by ICRAF in Ghana and Burkina Faso; and the five-year- Regreening Africa, funded by the European Union, in which ICRAF is a leading partner.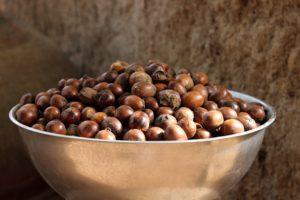 With such a diverse group of people, discussions naturally ranged widely, covering many of the issues that afflicted the region.
For example, Thomas Addaoh, CIFOR field coordinator of WAFFI Ghana, noted that the demand for charcoal in urban centres in northern Ghana is resulting in the widespread harvesting of shea trees (Vitellaria paradoxa) for their wood as a source of the fuel. Research undertaken for WAFFI found that more than a quarter of the charcoal in the region was derived from shea, making it the most common source of wood for the widely-used fuel.
Shea is also a vital source of income for women, who sell the shea nuts, which produce a quality oil with a growing global market because of its use in cosmetics and as a cocoa butter substitute in food, or process them into shea butter for local use. The cutting of shea trees for charcoal production, Addaoh said, meant female harvesters and sellers of the shea nuts were competing with male harvesters and vendors of the wood, something that requires urgent attention to ensure sustainable management of the fuel-and-oil resource and equitably meet the income needs of households.
More generally, Edward Akunyagra of World Vision, the project manager of Regreening Africa in Ghana, said that the project is working to reverse the loss of trees, aiming to influence policy and mindsets through an advocacy campaign.
According to the Upper East regional director of Ghana's Ministry of Food and Agriculture (MOFA), Francis Ennor, who attended the workshop along with three district directors from the ministry, land degradation and loss of tree cover in the region are 'extremely serious'. Rampant bush fires destroy groundcover and trees, and expose the soil to the weather, such as heavy rain and wind, which leads to erosion and loss of fertility.
However, Ennor said the workshop was addressing his concerns and he hoped that from now on local authorities would take tree management and planting very seriously and that every community would have a land-use plan to increase tree cover.
Such land-use plans, Ennor said, could designate degraded areas for restoration through farmer-managed natural regeneration (FMNR). This could create community forests, such as the one supported by World Vision Australia that the workshop participants had visited the previous day in Saaka Aneogo.
Ennor argued that there is a need for policies to protect such community forests and make their management sustainable and less vulnerable because of insecure land tenure. This is a prerequisite for increasing the scale of FMNR and encouraging planting to increase tree cover in croplands and across whole landscapes.
Indeed, the purpose of the workshop, according to ICRAF's Emilie Smith Dumont, was to bring together a range of people working for transformation of the Upper East Region to examine ways to 'create synergies for resilient livelihoods'. Smith Dumont coordinates the WAFFI project in northern Ghana and southern Burkina Faso and also acts as a focal point for Regreening Africa in Ghana.
"We have many projects in the northern belt," Smith Dumont said. "Some are working in silos, so today we are trying to bring all those people together to share lessons and promote action."
By Joan Baxter, originally published at ICRAF's Agroforestry World.
---
For more information, please contact Emilie Smith Dumont at e.smith@cgiar.org.
The West Africa Forest-Farm Interface (WAFFI) is led by CIFOR in collaboration with ICRAF and Tree Aid with support from the International Fund for Agricultural Development. WAFFI aims to identify practices and policy actions that improve the income and food security of smallholders in Burkina Faso and Ghana through integrated forest and tree management systems that are environmentally sound and socially equitable.
Regreening Africa is a five-year project that seeks to reverse land degradation among 500,000 households across 1 million hectares in eight countries in Sub-Saharan Africa. Incorporating trees into crop land, communal land and pastoral areas can reclaim Africa's degraded landscapes. In Ghana, the work is led by World Vision in collaboration with ICRAF and Catholic Relief Services.
WAFFI is supported by the CGIAR Research Program on Forests, Trees and Agroforestry (FTA), which is supported by the CGIAR Trust Fund. ICRAF is one of the 15 members of the CGIAR, a global research partnership for a food-secure future.
This story was produced with the financial support of the European Union. Its contents are the sole responsibility of the Regreening Africa project and do not necessarily reflect the views of the European Union.