During the Global Landscapes Forum (GLF) in Bonn, Germany, in December 2018, the CGIAR Research Program on Forests, Trees and Agroforestry (FTA) spoke to Charles Karangwa of the International Union for Conservation of Nature (IUCN) in Rwanda.
At the GLF, Karangwa was part of the panel titled, "Delivery of quality and diverse planting material is a major constraint for restoration: What solutions, what emerging needs?", hosted by FTA with Bioversity International, World Agroforestry (ICRAF), and supported by the Food and Agriculture Organization of the United Nations (FAO).
The panel discussed how the ability to deliver diverse and quality seed and planting material is impacting pledges such as those made under the Bonn Challenge, which has now pledged 350 million hectares of degraded land globally for different forms of restoration by 2030. During the session, Karangwa explained that tree seed diversity determines the extent and speed to which ambitious restoration targets can be achieved.
Read our interview with Charles Karangwa here, edited for length and clarity.
Can you describe the restoration situation in Rwanda?
Rwanda is composed of 90 percent smallholder farmers, and it was engaged in restoration even before Rwanda committed to the Bonn Challenge in 2011. In Rwanda, agricultural practices, changes in climate, weather patterns, and population increases have affected land use and land cover, and the forest has been reduced to 30 percent.
Agricultural land has been degraded mostly because of subsistence farming. In addition, year after year, the population increases – and now with a total of more than 100 people per square kilometer, the land size is very small, and it's used for many reasons, especially for subsistence farming. As such, restoration in Rwanda faces many challenges.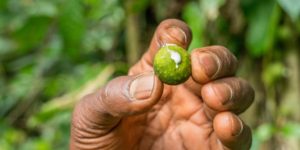 Why must we invest more in knowledge and science?
Restoration is a long-term process. To regain ecological functionality and provide multiple benefits to people takes a long time – but it's not that farmers don't know what to do, or don't know the importance of trees. It's science which tells you how to restore land, and helps to predict the changes that are going to happen and be able to adapt.
We need knowledge, and we need science to adapt to climate change. Even smallholder farmers need this knowledge. Science is very important, and combined with local knowledge, it brings efficiency to restoration.
To give an example, when I was a child, I could see that the soil was fertile – you could see the biomass in the soil. However, because of over-farming, and using the same land for many years, the soil's fertility reduced and now plant crops and trees no longer grow where we used to plant them. It's really this conflict of use that needs science and adaptation.
Read also: Seed diversity vital to achieve landscape restoration pledges
Do trees compete with crops on farms?
This is very much linked to diversity, and conflicts. In my country, Rwanda, more than 80 percent of our trees are Eucalyptus, so we call it a monoculture. And we have 69 species of Eucalyptus across the country. If you take Eucalyptus, and plant it with beans, you won't be able to harvest beans. Therefore, a farmer will initially think that trees are competing with their farm. But if you turn to agroforestry, and be selective about the kind of species you choose, a farmer will like the trees. They will understand that trees can increase the biomass in soil and increase production. Farmers sometimes see competition, depending on the type of species planted – and that's where species diversity can play a role.
Watch: FTA at GLF: Using forests to support wellness
How can we move from restoration pledges toward restoration action?
We have already passed the 100 million hectares of land set by the Africa Forest Landscape Restoration Initiative (AFR100) – now we are at 110 million.
We have also surpassed the Bonn Challenge's 150-million-hectare global target for 2020. Now we are at 168 million across the globe. So it's really time now to move from pledge to implementation – and implementation is happening.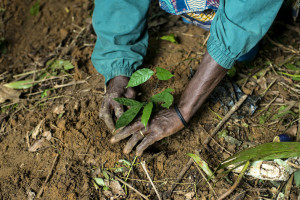 Countries like Malawi have already decided to dedicate 7 million US dollars of domestic finance per year to restoration. Countries like Kenya and Uganda, and other countries in Africa, such as Niger and Burkina Faso, are already doing restoration on the ground. However, this really needs a lot of effort. It's a movement from smallholders to policymakers, to financial partners, to development organizations, all of whom must work together and deliver these restoration movements.
The IUCN has established what we call a regional technical hub that supports countries in conducting assessments of their restoration opportunities, reviewing their policies, and supporting their financing streams, especially domestic finance, for restoration, and we have been doing this work across Africa.
By the FTA communications team.
---
The CGIAR Research Program on Forests, Trees and Agroforestry (FTA) is the world's largest research for development program to enhance the role of forests, trees and agroforestry in sustainable development and food security and to address climate change. CIFOR leads FTA in partnership with Bioversity International, CATIE, CIRAD, ICRAF, INBAR and TBI. FTA's work is supported by the CGIAR Trust Fund.