The climate change battle has many fronts — protecting the world's remaining forests is a major one. Reducing emissions from deforestation and forest degradation (REDD+) can promote both climate and sustainable development benefits.
Can science contribute to make REDD+ more efficient, more effective and more equitable? Scientists with CIFOR's Global Comparative Study on REDD+ (GCS REDD+) have analyzed dozens of national and subnational REDD+ initiatives as well as several hundred local projects.
As part of "FTA's highlights of a decade," a new series focusing on its main results since being established in 2011, the FTA program is now publishing the volume on REDD+.
Enshrined in the Paris Agreement, REDD+ consists of results-based payments to countries for protecting forests and avoiding carbon emissions. GCS REDD+ recognizes that there are powerful interests in maintaining the status quo, and has studied how to address these underlying power relations to allow more — and new — voices to be heard.
The GCS REDD+ project has analyzed the conditions involved in implementing REDD+ — from policy to land rights to forest monitoring capacity — and produced a bedrock of evidence and analysis.
Even though CIFOR's GCS REDD+ initiative started a couple of years earlier than FTA, it was subsequently integrated in FTA and quickly became one of its major components. And for the whole 10-year duration of FTA, REDD+ has been a key focus: it is the largest global research project of its kind.
Scientists of the GCS REDD+ project have been collecting data, conducting analysis and sharing experiences to determine what has worked and what hasn't with REDD+. The project has contributed to successful REDD+ initiatives across 22 countries, including Guyana, Indonesia and Peru.
They ask important questions. What works to reduce deforestation? Where have the roadblocks been, and how can they be overcome? Does REDD+ have unintended negative consequences? What opportunities have emerged through this global mechanism that were not thought of when it began?
GCS REDD+ research provides policymakers and practitioners with access to the information they need to support the design and implementation of REDD+, and ultimately to achieve climate goals. This work also ensures that there is robust evidence to help REDD+ achieve effective, cost-efficient and equitable outcomes in policy design and implementation.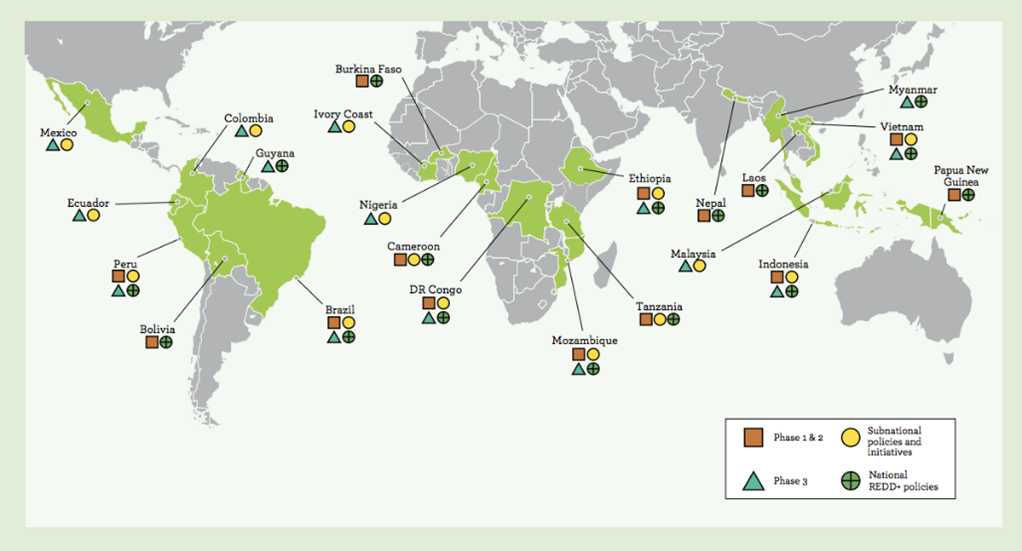 GCS REDD+ achievements are closely tied to successful in-country partnerships.
The GCS REDD+ project has produced extensive peer-reviewed knowledge garnered from participatory surveys, field work, policy analysis and other efforts. This knowledge can help countries make more informed decisions about REDD+ policy and practice.
GCS REDD+ has produced 1,057 scientific publications, 207 briefs and 464 blogs, many translated into Bahasa Indonesia, French, Portuguese, Spanish and Vietnamese. This reflects its goal of making its scientific knowledge available to the widest and most diverse audience possible. GCS REDD+ also provided training to more than 6,800 people.
By contributing to shifting behaviour towards strong engagement with local partners and knowledge that results in effective, efficient and equitable outcomes, the GCS REDD+ project expects to have a long-term impact on the ability of target countries to protect and restore their forests.
Download the publication to find out how future initiatives can build on FTA results and work in a way that ensures social inclusiveness, respect for traditional knowledge, cross-sector approaches, and capacity building.