More than ever, forests and trees are called upon to address the great global challenges of our times, among which are: climate change, deforestation, forest degradation, biodiversity erosion, poverty and food insecurity. Innovative technologies – including digital technologies, biological technologies, technical innovations in processes and products, innovative finance and social innovations – hold a huge potential to advance sustainable forest management and help address these challenges, globally and in the Asia-Pacific region. However, technology adoption has been slow and uneven in the region. As technology enthusiasts, forest guardians and forest managers of tomorrow, young people have a leading role to play in generating momentum and revolutionizing institutions from within to support the uptake and scaling-up of innovative technologies in Asia and the Pacific.
This is why, on Friday, 5 Nov. 2021, FAO and the CGIAR Research Programme on Forests, Trees and Agroforestry (FTA) co-organized a session highlighting youth perspectives on innovative forest technologies. This event attracted over 400 attendees and was part of the GLF Climate hybrid conference, "Frontiers of Change." "Instead of another meeting to exchange on the global and pressing issues, we wanted, during this event, to focus on innovative solutions and share a note of optimism and hope" said Vincent Gitz (CIFOR), FTA Director.
On behalf of FAO, Rao Matta, Forestry Officer, highlighted the important role innovation can play to make the forest sector more attractive to young people. He invited the youth to become "innovation champions," to play a pivotal role in scaling-up innovative technologies, and to bring their unique forward-looking and out-of-the-box thinking perspectives to the discussion table. "FAO," he said, "is fully committed to promote the visibility of youth and of their seminal work".
During this event, FAO and FTA gave the floor to students and young professionals involved in the forest sector in Asia and the Pacific, to hear some of their ideas to unleash the potential offered by innovative technologies to advance sustainable forest management. 13 young people, aged 18–35, from nine different countries of the Asia-Pacific region who were selected by FAO and CIFOR after an open call for contributions presented their works in 3 minutes each.
Their talks illustrated, in various contexts, the huge potential of innovative forest technologies to advance sustainable forestry and sustainable forest management. Together, the guest speakers covered a broad range of topics, showing how technologies — both new and repurposed — can improve and facilitate monitoring and reporting, strengthen citizen engagement in forest monitoring and management and support process and product innovations in the forest sector in the Asia-Pacific region. These ideas are also inspiring globally and in other contexts.
YOU CAN REPLAY THE FULL EVENT HERE
The presentations gave way to a lively session of questions and answers with the audience. The back-and-forth discussions revealed some of the barriers to uptake and scale innovative technologies. These blockages include: (i) the limited internet connection in rural or remote areas; (ii) the high level of upfront investments that may be required for technology adoption, including for equipment, infrastructure development, capacity-building and involvement of local communities. Participants also noted that restrictive or rigid policies and regulations often lag far behind the quick evolution of innovative technologies, which can hamper their use and dissemination. For instance, current policies and rules may not allow the use of data collected by remote sensing methods in official statistics or as forensic evidence. Concluding this event, Rao Matta, indicated  that intensive, follow-up actions will be organized at country level, probably next year. Young experts will once again be invited to share their experience and views on sustainable innovations for the Asia-Pacific.
To access the 13 video presentations, please follow the links below:
Session 1: How can innovative technologies improve and facilitate monitoring?
Session 2: How can innovative technologies facilitate the engagement of civil society, local communities, smallholders and youth?
Sony Lama (Nepal): Forest Watcher: employing citizen science in forest management of Nepal.
Nur Bahar (Malaysia): How to effectively engage youth in satellite-based tropical forest monitoring?
June Mandawali (Papua New Guinea): Community Based Tree Nurseries in Ramu/Markham Valley of Papua New Guinea.
Session 3: How can innovative technologies support optimization of processes and products for sustainable forest management?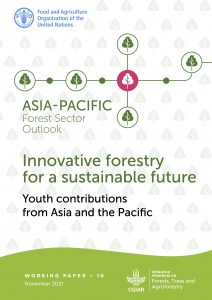 All of these 3-minute presentations have been developed in detailed scientific articles and gathered in a FAO and FTA co-publication entitled, Innovative forestry for a sustainable future. Youth contributions from Asia and the Pacific.
This youth publication is part of a broader roadmap jointly developed by FAO and FTA on innovative forest technologies in the Asia-Pacific region.
Click here for more information on this roadmap process.