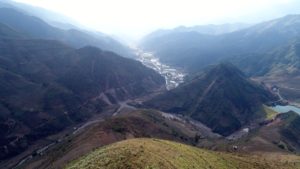 Vietnam is preparing for a long-term strategy to speed up the adoption of agroforestry nationwide.
Agroforestry has been practiced for a long time in Vietnam. However, widespread adoption remains limited. Building on previous work to address barriers to adoption, a workshop was held on April 5, in which participants agreed that a long-term strategy for the development of agroforestry throughout the country was needed to address national and international commitments.
Titled "Enhancing Agroforestry Development in Vietnam: Policy Environment and Investment Opportunities", the workshop featured presentations by Nguyen Ba Ngai, vice director of the Vietnam Administration of Forestry; Chu Van Chuong, vice director of the International Cooperation Department of the Ministry of Agriculture and Rural Development; Yurdi Yasmi of the Food and Agriculture Organization of the United Nations (FAO); and Delia Catacutan, country coordinator of the World Agroforestry Centre (ICRAF) Vietnam.
Read more: Vietnam's Ministry of Agriculture and Rural Development awards ICRAF coordinator for agriculture and rural development work
The workshop was another step forward after a 2015 national policy dialogue for agroforestry development, from which two actions were implemented with technical and financial support from FAO. First, a review of agroforestry-related policies; and, second, the formulation of an agroforestry development proposal for the country. Progress on these two actions was presented at the workshop to ensure the most viable strategies were developed for Vietnam.
The policy working group presented its analysis, confirming that there was no specific policy for agroforestry development, the situation being compounded by a lack of legal definition of agroforestry practices and lack of official guidelines. The working group highlighted that many of the barriers to adoption could be addressed through the promulgation of supportive policies, including on land and tenure, financial mechanisms and rural advisory or extension support for farmers.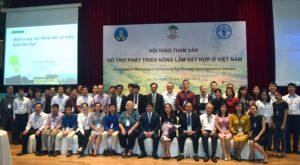 The Northern Mountainous Agriculture and Forestry Science Institute, ICRAF and UN-REDD presented their experiences of promoting agroforestry practices in different regions of the country, followed by an FAO presentation on the National Target Program on Sustainable Forest Development and Drought Initiatives, which was reinforced by a call for all present to work together to prepare a proposal on nationwide agroforestry development.
Just what shape that would take was discussed by the participants, with many agreeing that it was necessary to have an official definition of agroforestry upon which to base a legal framework for a specific policy and subsequent activities. Others, however, argued that it was not necessary to have a unique policy for agroforestry, saying it would be better to integrate practices into existing policies relating to forestry, agricultural extension or advice, and payment for forest environmental services.
Overall, the workshop participants agreed that there were many way to achieve more effective promotion of agroforestry, such as through promulgating agroforestry techniques, improving governance, establishing financial mechanisms, developing markets (including carbon), increasing education and training, integrating with payment for forest environmental services and UN-REDD programs, and adopting organic certification.
Participants also agreed that there was an urgent need for a nationwide study of agroforestry to assess the successes and lessons from existing practices, regions suitable for agroforestry and the main commodity species. The participants expected that a long-term strategy for the development of agroforestry in Vietnam would be developed in the near future.
Read more: Agroforestry sites in Vietnam provide lessons for farmland in Bhutan and Nepal
Representatives from the Vietnam Administration of Forestry, FAO, ICRAF and the Japan International Cooperation Agency covered such a strategy in a panel discussion. They argued that Vietnam should have a national program with targets and resource mobilization for long-term development. The government is expected to be able to gather national and international partners to fill the gaps in technology, finance and markets.
There was also discussion of deeper collaboration to speed up the adoption of agroforestry. The Ministry of Agriculture and Rural Development expressed its support for partners continuing to work with the government in restructuring the agricultural sector to increase production quality, quantity and value.
By Pham Thanh Van, originally published at ICRAF's Agroforestry World. 
---
This work is linked to the CGIAR Research Program on Forests, Trees and Agroforestry, which is supported by CGIAR Fund Donors.