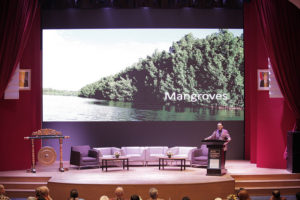 Failing to properly manage "blue carbon" ecosystems could result in biodiversity losses, pronounced climate change effects and negative impacts on people's livelihoods, and could even affect the internet. 
The Blue Carbon Summit held on July 17-18 in Jakarta, Indonesia, covered everything from the most well-known blue carbon ecosystems of mangroves and seagrass to coral reefs, the fish industry, ecotourism, plastic waste, shipping emissions and offshore mining.
Over two days, scientists, government, the private sector, media and likeminded community members came together for discussions that called for coordinated efforts to address issues related to blue carbon.
Blue carbon is that which is stored in coastal ecosystems, in contrast to "green carbon" stored in plants, trees and soil. In comparison to the attention paid to the carbon sequestered by forests, blue carbon has thus far remained relatively under the radar – but this belies its importance.
"We are here to correct an imbalance," said Robert Nasi, Director General of the Center for International Forestry Research (CIFOR), during the summit opening, referring to the global focus on issues such as deforestation and greenhouse gases. "What is happening in coastal areas seems a bit forgotten. It's a great time for us to bring that to the fore."
Sixty percent of the world's population lives in coastal areas, where vital infrastructure can also be found worldwide, Nasi explained, underscoring the importance of both scientists and policymakers understanding how the ecosystems work and how they can be restored. "Coastal ecosystems are fundamental for the survival of the species, for ecosystem services, for biodiversity, and for blue carbon," he added.
"If we don't do anything about these coastal areas, about blue carbon ecosystems, what is going to happen to us?" Nasi asked, pointing out that aside from people's livelihoods and biodiversity in coastal areas being at stake, major infrastructure such as fiber-optic cables is often below sea level and could theoretically end up under water. "So if we don't do something, we may also lose some part of the internet."
Read also: Coastal blue carbon from planted mangroves holds promise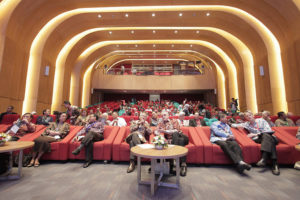 "We think that this is the right time to work on this topic because of a critical mass already sharing their knowledge, already having results," said Daniel Murdiyarso, Principal Scientist at CIFOR, which coorganized the summit, and professor in the Department of Geophysics and Meteorology at Bogor Agricultural University (IPB).
"So we want to sit together and see how this can be provided for the government, to make a science-based recommendation related to blue carbon."
Murdiyarso expressed his hope that findings from the summit could be mainstreamed into the public agenda and connected to the Paris agreement on climate change, especially given blue carbon's clear links to the Sustainable Development Goals (SDGs).
Read also: Focus on mangroves: Blue carbon science for sustainable development
Indonesian Academy of Sciences (AIPI) President Satrio Sumantri Brodjonegoro concurred, saying that the discussions were expected to identify gaps hindering the mainstreaming of blue carbon in the national agenda and to pave the way for blue carbon development in Indonesia. As the world's largest archipelago, with 99,000 kilometers of coastline, the country is well-placed to not only set its own path but also to set a global example.
After the opening plenary on Day 1, subplenary sessions looked at the roles of non-state actors and the donor community. Following that, a series of parallel discussion forums considered the fishing industry, marine tourism and the shipping industry, governance systems, financing blue carbon development, hydrodynamic and sustainable coastal resources, and seagrass and climate change.
Day 2 began with a keynote speech from Indonesia's Coordinating Maritime Affairs Minister Luhut Binsar Pandjaitan, before subplenary sessions on international partnerships and a high-level forum of government representatives. The day was rounded out with parallel discussion forums on subsidence, sedimentation and sea-level rises, and mangroves and climate.
The discussions from the summit are expected to be developed into a white paper, set to cover the following points.
Blue carbon in both open ocean and coastal ecosystems, including mangroves and seagrasses, is important for climate change mitigation because of its significant carbon storage capacity compared with terrestrial ecosystems. These ecosystems also offer significant climate change adaptation opportunities, especially in helping coastal regions keep pace with sea level rise.
Blue carbon ecosystems provide numerous services to people and now is the time to consider their role in developing alternative livelihoods. Sustainable ecotourism, fisheries and shellfish farming are all industries that generate direct economic benefits while protecting intact mangroves.
Conservation and restoration are essential components of the blue carbon economy
Implementation of a blue carbon economy needs to take into consideration more than just carbon, and should encompass economic sectors such as fisheries, ecotourism, transportation and shipping.
Due to complex history and geography, governance structures and institutionalizing the blue carbon economy have posed considerable challenges in the past.
Mechanisms to finance the blue carbon economy must reflect the unique benefits and challenges of blue carbon and help overcome institutional biases.
The participation of local communities is essential to establishing the blue carbon economy
While the level of understanding of blue carbon is sufficient, capacity development will require stakeholders to be better connected.
To put blue carbon on national and global agendas, there must be a stronger coalition within and between government agencies to engage a wider network of stakeholders.
Partnerships are key to the success of achieving national and global objectives and goals. Learning lessons from partners is cost effective and therefore should be encouraged, while opportunities for greater cooperation should be enhanced.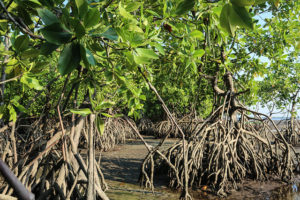 "Improved policies and implementation of blue carbon initiatives in the context of addressing climate change certainly cannot be done by one country. This effort requires coordination and engagement of all elements of development, at the national and regional levels – with the support of all parties including governments, private sector, communities as well as national and international development partners," Gellwynn Yusuf, representing Indonesia's National Development Planning Agency (BAPPENAS), said in closing the event.
This could be a mechanism for Indonesia to achieve SDGs, particularly by meeting Nationally Determined Contributions (NDCs) while also improving economic factors. While acknowledging that coordination among agencies was important, and that some financing challenges remained to be solved, Yusuf called on the international community to support Indonesia's efforts in making blue carbon a key policy for combating the negative impacts of climate change.
"As the global leader in blue carbon ecosystems, Indonesia has an opportunity to demonstrate strong leadership and set the direction internationally for other countries," he said.
By Hannah Maddison-Harris, FTA Communications and Editorial Coordinator. 
---
The Blue Carbon Summit was organized by AIPI, CIFOR, the CGIAR Research Program on Forests, Trees and Agroforestry (FTA) and the Global Landscapes Forum (GLF). 
This research forms part of the CGIAR Research Program on Forests, Trees and Agroforestry (FTA), which is supported by CGIAR Fund Donors.