Participated in several activities during this year's Global Landscapes Forum (GLF) in Bonn, Germany, where the President of Mauritius emphasized the need for an Agrobiodiversity Index.
While Christmas spruces, firs and pines decorated the festive center of Bonn, their future, as well as that of other trees, water, soils and agriculture, was being carefully discussed just a few kilometers away, at the GLF on Dec. 19-20.
To discuss landscapes from the Andean mountains to the peatlands of Indonesia – addressing the themes of restoration, financing sustainable landscapes, rights and equitable development, food and livelihoods, and measuring progress toward climate change and development goals – is to cover much ground.
As a platform for sharing, learning and planning, the GLF offered a variety of formats in which scientists, activists and leaders of organizations could share ideas, present case studies and make calls to action. In its seventh edition, the GLF's outreach was massive. Around 1,000 attended the event in person and, when factoring in livestreams online, the total audience was estimated at 21 million people. An address by world-famous actor and activist Alec Baldwin did not hurt.
The radiant stage in the plenary ensured all chairs were filled, and all eyes and ears focused on the lineup of inspirational speakers, ranging from former president of Mexico Felipe Calderon to yogi, environmentalist and spiritual guide Sadhguru and Robert Nasi, Director General of the Center for International Forestry Research (CIFOR).
Barbara Hendricks, the Federal Minister of the German Federal Ministry for the Environment, Nature Conservation, Building and Nuclear Safety (BMUB), said the idea behind the GLF was to share innovative ideas that could then be implemented on the ground: "The overarching goal is to learn from one another and take action together."
Erik Solheim, Executive Director of UN Environment, warned that people must put landscapes first as "they allow us to kill three birds with one stone: take care of the climate, biodiversity and reduce pollution and haze."
Read more: FTA at GLF Bonn 2017
The forum also emphasized the important role of indigenous communities and their knowledge and experience in finding holistic solutions to land degradation, reforestation, food security and the future of clean water sources.
"We're not looking for saviors," said Roberto Borerro, Programs and Communications Coordinator of the International Indian Treaty Council, "but need to have a seat at the table" as a partner with solutions.
The President of Mauritius, Ammenah Gurib Fakim, delivered an impassioned keynote speech on the need to forcibly address and mitigate the inexorable loss of species, which is most evident in Africa. She reiterated the importance of supporting traditional knowledge systems related to sustainable agriculture adding to this the imperative of empowering women as stewards of ecosystems and the equitable sharing of benefits.
Fakim particularly emphasized the need for more research, which she regarded not as an "expense but an investment in our common future". In her speech, she staunchly stressed the vital role of agrobiodiversity conservation in attaining sustainable agricultural systems and spoke of the first International Agrobiodiversity Congress held last year and the Delhi Declaration on agrobiodiversity management.
A scientist by training, she made a loud and clear call for a universal Agrobiodiversity Index, stating: "Solutions require knowledge and knowledge starts with good data". She maintained that such an index would be an important step toward developing a common understanding necessary to finding global solutions to today's challenges.
Read more: Forest and landscape restoration severely constrained by a lack of attention to the quantity and quality of tree seed: Insights from a global survey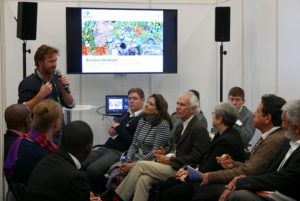 Bioversity International, one of the CGIAR Research Program on Forests, Trees and Agroforestry's (FTA) partner institutions, had its own booth at the busy Restoration Pavilion in addition to several representatives and presentations.
FTA scientists Chris Kettle and Riina Jalonen of Bioversity International coorganized, with the Global Partnership on Forest and Landscape Restoration (GPFLR), a vibrant discussion entitled "Why Diversity and Why Now – Seeding resilient restoration" in the pavilion.
The seats might not have been plentiful but it did not stop people from gathering around to listen in on the importance and challenges of collecting quality and diverse seed to enable resilient reforestation. The panelists included experienced professionals with diverse backgrounds, having worked on restoration projects all over the world including the US, Rwanda and Malaysia.
The session was framed around several critical questions, such as: are we adequately considering diversity and restoration; what are the critical bottlenecks in delivering diversity; how can we monitor diversity. The panelists' perspectives and experiences enriched the discussion and encouraged a lively exchange with the audience.
As vital as it is, genetic diversity has been hard to maintain and, if lost, even harder to obtain. This is also true of diversity in landscapes. The forests, mountains, soils, waters and peatlands are all a prerequisite to a chance at a future of health and prosperity across the globe. Unfortunately, the answer is not as simple as replacing our Christmas pines with the steadily diminishing African cherry tree.
The GLF is thus an important platform for coming up with innovative solutions as well as an attempt at a movement. It is one that according to the professionals and activists who participated, including Alec Baldwin, is "a movement worth building".
Originally published on the website of Bioversity International. 
---
This work was carried out in collaboration with the CGIAR Research Program on Forests, Trees and Agroforestry, which is supported by CGIAR Fund Donors.