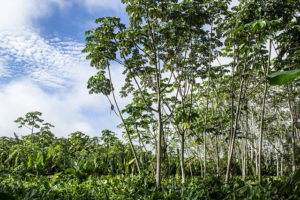 Peru has set a goal of restoring forest on some 3 million hectares of degraded land, but the country still lags behind its neighbors when it comes to scaling up tree plantations to meet both environmental and societal needs.
Although tree plantations could provide ecosystem services, as well as income for communities and businesses, there is a need for more research, training, financial and fiscal incentives, and secure land tenure, according to a new study by the Center for International Forestry Research (CIFOR) that was also supported by the CGIAR Research Program on Forests, Trees and Agroforestry (FTA).
"At present, it is estimated that about one-third of the global demand for sawn timber is satisfied by commercial tree plantations, and this proportion is expected to increase over time," says Manuel Guariguata, CIFOR principal scientist and leader on forest management and restoration, and the lead author of the study.
Many countries have begun promoting plantation forestry rather than timber from natural forests, and Peru is taking initial steps in the same direction. Some progress has been made in recent years, with simpler regulations for tree plantations and several model projects, but the country still needs a long-range roadmap for realizing the potential of forest plantations in the coming decades, Guariguata says.
Peru's forestry legislation has historically emphasized timber production from government-sanctioned concessions across its Amazonian natural forests, rather than plantations. But well-managed plantations could yield a greater return than production in natural forests, says Héctor Cisneros, coordinator of the UN Food and Agriculture Organization's forestry program in Peru.
"Peru has a very rich tropical forest, but it is complicated from the standpoint of forestry production," he says. "Plantations should be a tool for helping to protect  the natural forest. If the industry is more closely tied to tree plantations, that will reduce pressure on natural forests."
Plantations can produce a greater volume of timber per hectare because managers can ensure uniformity in growth, diameter at harvest, and timber quality, Cisneros says. But that requires access to high-quality genetic material, adequate soils, and managers and workers trained to manage the entire value chain, from plantation to consumer.
Read also: Farm-forestry in the Peruvian Amazon and the feasibility of its regulation through forest policy reform
RESEARCH NEEDED TO BOOST GROWTH
Although 15 Peruvian universities offer forestry majors, none has a specialty in tree plantation management, and the few courses that are offered are insufficient to meet the need for trained personnel, says Carlos Llerena, dean of the School of Forestry Sciences at La Molina National Agrarian University in Lima.
The limited area under tree plantations in Peru, estimated at just a few tens of thousands of hectares, means there are few jobs for specialists, he says. At the same time, the lack of specialists also slows development of additional plantations.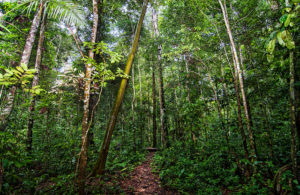 Universities could help break that vicious circle by providing more detailed information about species, helping students obtain fellowships to study with experts abroad and return to Peru to apply their knowledge, and working with sub-national governments that seek to promote tree plantations, Llerena said during a panel discussion at the presentation of the CIFOR study in Lima in June 2017.
Universities can also contribute to improving the quality of timber from plantations, through research to improve both genetic material and timber management techniques. Peru's National Institute of Agrarian Innovation (INIA) also plays a role, with experimental plots in different types of ecosystems around the country, Eloy Cuellar, who heads INIA's Agrarian Technological Development Office, said during the panel discussion.
Peru's varied ecosystems — from the dry desert coast to the Andes Mountains to the Amazonian — offer possibilities for different types of plantations, using both native and introduced species, says Leoncio Ugarte, director of forest studies and research at Peru's National Forest Service (SERFOR).
While some plantations could produce timber for industrial use, others could meet different needs. In the Andean highlands, where only relicts of native forests remain, plantations of native species could help protect the upper parts of watersheds, providing ecosystem services for water users downstream.
Instead of harvesting the timber, communities or other landowners in those areas could receive payment for the ecosystem services their plantations provide, Ugarte says.
Read also: Reclaiming collective rights: land and forest tenure reforms in Peru (1960-2016)
TENURE, ZONING ARE CRUCIAL
Although Peru has millions of hectares of degraded land that could be used for plantations, some regulatory hurdles hamper the sector's expansion.
First is the lack of a clear definition of "degraded", Ugarte says.
SERFOR is currently conducting a detailed calculation of the area suitable for tree plantations. Because different species have different needs and some are better adapted than others to different soil types and climate niches, planners must consider which species are best suited for various areas of the country, Ugarte says.
That implies land-use planning on a broad scale — designating certain areas for agriculture, forestry concessions, protective forest and plantations, for example — as well as more local zoning, to determine which species are most suitable based on soil type, precipitation and other factors.
Most of the area suitable for tree plantations is likely to consist of relatively small fragments, rather than large, continuous expanses suitable for large plantations, he says. Some may be in the hands of smallholders, while others may be located in indigenous communities. In many cases, land ownership may not be clear, which is a disincentive to private investors interested in the tree plantation business.
Ensuring clear tenure is crucial for plantations, where producers require long-range investment over two to four decades, Ugarte says. Lack of clarity about land tenure can lead to social conflicts over plantations. Once tenure is clear, however, financial incentives can be designed for different types of plantations at different scales.
"People who invest in tree plantations seek to diversify their portfolio and make a profit, but they are also committed to climate change mitigation," says Robert Hereña, general manager of Reforestadora Bánati Bosque S.A.C., a company growing teak in central Peru.
"They also know this can result in social benefits, because tree plantations are often installed in areas where a large percentage of the population lives in poverty or extreme poverty," Hereña said during the panel discussion.
Small-scale tree producers can also play an important role across the value chain, but they need technical assistance, financing schemes appropriate for local conditions and needs, and access to markets. Private investors could also partner with indigenous communities in the Andean highlands or the Amazon region to develop plantations, although that will require building trust between the private sector and communities, which often distrust each other, the FAO's Cisneros says.
Read also: Long road ahead to indigenous land and forest rights in Peru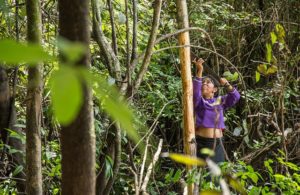 TARGETING FUTURE MARKET NEEDS
In planning industrial tree plantations at a small or medium scale, investors and operators must consider future market needs, says Jessica Moscoso, executive director of CITE Madera, a government-sponsored technological innovation center that focuses on sustainable timber products and assistance to furniture makers in a Lima industrial park.
Too often, plantation operators focus on the species they could grow, rather than on the species required to manufacture specific products that the market demands—or which it may need in 15 to 30 years, when the trees are ready for harvest, Moscoso said during the panel discussion.
"Plantations allow us to tailor supply to demand," she says, adding that they also enable growers to project future needs and scale up timber volumes. "It is extremely important that we define what we want to plant, focusing on future demand."
That implies developing — and training personnel for — the entire market chain, Cisneros says. Most plantations currently produce sawn wood, but Peru could emulate neighboring Brazil and Chile, where the industry also produces wood chips, pulp and even paper, he says.
The CIFOR study concludes that Peru still lacks a clear road map for developing the tree plantation sector so it can contribute to the country's restoration and climate change mitigation commitments.
Planning must include not just the National Forest Service and Ministry of Agriculture, but also ministries with responsibility for economy and finance, production and trade. And it needs a long-range vision that continues from one government administration to the next.
The country should establish varied pilot initiatives in different ecoregions, which can serve as models, allowing planners to choose the ones with potential for scaling up at the subnational or national levels, Cisneros says.
All of those steps will contribute to the road map, which he says will be constructed "little by little."
By Barbara Fraser, originally published at CIFOR's Forests News.
For more information on this topic, please contact Manuel R. Guariguata at m.guariguata@cgiar.org.
---
This research forms part of the CGIAR Research Program on Forests, Trees and Agroforestry, which is supported by CGIAR Fund Donors.