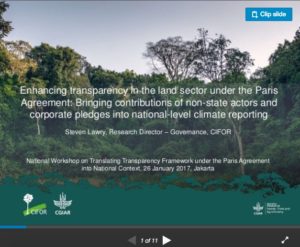 In January, the CGIAR Research Program on Forests, Trees and Agroforestry presented its latest research on land-sector transparency to a multi-stakeholder workshop in Jakarta, Indonesia.
The National Workshop on Translating [the] Transparency Framework under [the] Paris Agreement Into [the] National Context, hosted by the Indonesian Ministry of Environment and Forestry on 26 January, was attended by more than 300 representatives from government, civil society, international aid agencies and more.
Steven Lawry, Director of CIFOR's Forests and Governance Research Portfolio, at the event presented a recently published infobrief on the role of non-state actors and corporate pledges in enhancing transparency under the Paris Agreement. The research was last presented to global decision-makers by CIFOR at COP22 in Marrakesh, Morocco in November 2016.
The focus of the workshop was Indonesia's preparations to meet its obligations under the 'Enhanced Transparency Framework' established under the Paris Agreement on climate change.
The workshop introduced to a wide range of stakeholders the structure, reporting protocols and management support systems underlying Indonesia's National Registry System on climate change mitigation and adaptation and resources (SRN-PPI). The SRN-PPI builds on and links to the existing national systems for greenhouse gas inventory and monitoring, reporting and verification.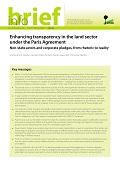 Lawry reported strong interest from stakeholders in CIFOR's research on the opportunities and obstacles to bringing non-state actors into the transparency framework.
"There was a good discussion about market drivers of private sector commitments, the global character of the drivers, and the complexities of forecasting and capturing their consequences for national-level planning," Lawry said.
"There was also discussion of the complexity of the private sector and its variable characteristics, and ability to take up mitigation and adaptation practices, among many other topics," he added.
Read more on this topic on Forests News here.