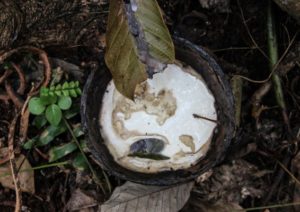 By Deanna Ramsay, originally published at CIFOR's Forests News
Tropical peatlands are massive carbon sinks. But what happens when they are depleted of the water that sustains them, or subject to other land-use changes?
After fires raged in 2015 over Sumatra and Kalimantan in Indonesia, in part due to the widespread draining of peatlands, these wetland ecosystems and their environmental significance catapulted to the center of global discussions.
"Protecting tropical peatlands is essential to combating climate change. By monitoring the emissions from degraded peat and the resulting fires, we now know just how important they are," says Center for International Forestry Research (CIFOR) scientist Daniel Murdiyarso.
At one of Murdiyarso's research sites in Riau – a swath of Sumatra now covered in oil palm – he is looking into what happens after peatlands are drained, burned and then subject to restoration.
But what that restoration looks like varies, as is how it is defined.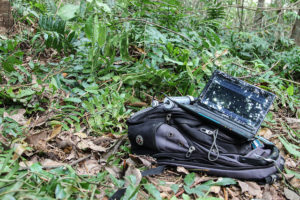 THICK DESCRIPTION
"There have been few studies of restoration of tropical peatlands. Boreal, yes," he says, an indication of why this work off a bumpy road from Dumai is so important, and cutting-edge.
According to Murdiyarso, the restoration question is a complex one, involving not just ecological processes but also socioeconomic ones that likely led to degradation in the first place.
"We need to involve the local community, and use local initiative in these landscapes," he says, work that is necessary if we want to protect peatlands and prevent further degradation.
On peatlands in Indonesia – which is home to most of the world's tropical peat – the first step is to block the canals that had served to drain the land of its moisture, enabling the water table to rise again.
But does this allow the peat to return to its original state?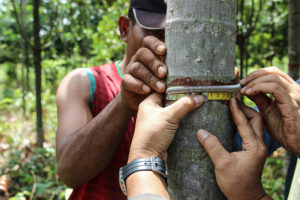 "Re-wetting peatlands has to be combined with re-vegetating the landscape," Murdiyarso says, adding that the organic materials present in peat are often forgotten amid the bigger restoration picture.
In order to determine how peatlands degrade and how best to rehabilitate them, CIFOR scientists have established research sites in Sumatra and Kalimantan with partners, including the University of Riau, Palangkaraya University and government agencies. The emerging scientific evidence is being used to inform the country's Peatlands Restoration Agency (BRG), as well as global climate change adaptation and mitigation strategies.
WATERLOGGED
The work comprises a range of data gathering tasks, such as measuring carbon emissions, analyzing soil composition and monitoring tree growth.
A seven-hectare research site outside Tanjung Leban village in Bengkalis district, Riau, has peatland plots ringed by now-blocked canals, with watergates managed by the local community. The land is covered with a mix of peat swamp tree species, oil palm and rubber.
Sofyan Kurnianto, a PhD student at Oregon State University who works with CIFOR, researches water levels in intact and degraded peat.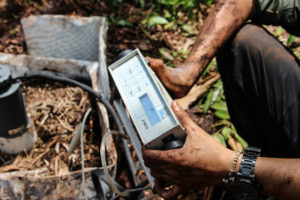 "Canal blocking will influence how much water the peat can store. The big question among scientists is – after restoration – how much that storage capacity changes," he says.
Draining and re-wetting causes peat to shrink and expand, resulting in changes in surface elevation. To monitor these kinds of changes, several rod surface elevation tables (RSETs) were installed to monitor subsidence.
And, in a pioneering move, Ground Penetrating Radar was employed. The innovative survey technique involves transmissions to receiving antennas, and is frequently used to study boreal peatlands, but used here in tropical peatlands for the first time.
PRETTY PEAT
The work resulted in peat depth mapping of each land-use type, offering valuable information about these rich, muddy landscapes.
At COP22 in Marrakesh last year, the Global Peatlands Initiative was launched, with the aim to mobilize governments, international organizations and researchers around protection and restoration. Indonesia's President Joko Widodo recently announced that the country aims to restore 400,000 hectares of peat by the end of 2017.
In Riau, this groundbreaking research – in both the literal and figurative senses – is developing the science to impact these policy processes and the restoration they steer. Scientists are also training others to continue this necessary monitoring, data analysis and interpretation work.
"Research on peatlands is very important in Indonesia, especially in Riau as it is the dominant landscape. Management is important, and mismanagement will have a big impact on human life and the environment," said Sigit Sutikno, a professor at the University of Riau who was visiting the research site with his students.
In the shade of trees dripping with fresh rubber, scientists and scientists-in-the-making practiced soil coring, jabbing a spear-like instrument into loamy soil over and over and collecting portions in plastic bags to be taken back to a Bogor laboratory. They measured ground-level carbon stocks, placing a small device into specific plots of peat and noting the results. Dozens of dendrometers were carefully fixed around tree trunks both small and large, with litter traps to collect forest debris adorning the area in bright orange.
Sutikno researches the effectiveness of canal blocking for ground water. His peatland research includes modeling to both estimate and predict peat water levels.
"Hydrological modeling in peatlands is not easy because peatland hydrology is unique," he says, adding that an important element is understanding how to mitigate the risk of fire.
Charred pieces of wood are scattered about the site in Riau, remnants of fires that burned there years ago. Now planted with rubber trees tapped by nearby residents to earn extra income, and oil palm trees in a plot managed by a local landowner, the restoration that is underway has definitely taken its own shape.
When asked the tricky question of how to define "restored" peatlands, Murdiyarso said simply, "The return of original species and water regimes."
Whether this is possible is another question, but we know at least one species has returned – humans.
---
This research forms part of the CGIAR Research Program on Forests, Trees and Agroforestry and was supported by USAID and the US Forest Service.