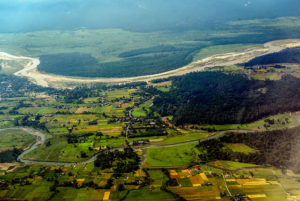 Following the CGIAR Research Program on Forests, Trees and Agroforestry's (FTA) successful involvement in the Global Landscapes Forum (GLF) Peatlands earlier this year, FTA is anticipating productive involvement once again in the upcoming GLF Bonn on Dec. 19-20, 2017.
Of note is a Discussion Forum organized by FTA and the  International Union of Forest Research Organizations (IUFRO), 'Rainfall Recycling' as a Landscape Function: Connecting SDGs 6, 13 and 15, which will shed light on the role of forests and trees in the climate debate.
It will build on an online symposium held earlier this year and on a scientific review paper on the relationship between forests and water titled Trees, forests and water: Cool insights for a hot world. The discussion will also cover preliminary highlights of the current Global Forest Expert Panel (GFEP) on Forests and Water, which is expected to issue a policy relevant global assessment report in July 2018.
In an article following the online symposium, FTA Director Vincent Gitz and Meine van Noordwijk, both of whom will take part in the Discussion Forum, stated that "forests and trees are drivers of key mechanisms that govern the water cycle, atmospheric moisture, precipitation and climate at the local, regional and continental levels. In other words, forests and trees can help manage the water cycle not only from the well-known watershed perspective, but from a precipitation-shed perspective, with key implications for climate regulation. Geopolitical implications are huge: Who has the right to influence rainfall elsewhere?"
As research suggests that vegetation plays a critical role in the frequency and intensity of rainfall, the Discussion Forum will examine the role of forests in regulating the water cycle. This science is relevant for policies and implementation efforts related to climate change, land restoration, landscape management and food security.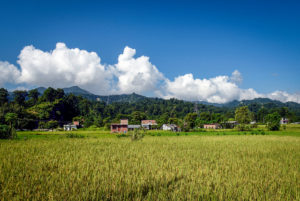 In particular, the session aims to display the latest scientific findings on rainfall recycling and climate regulation in relation to forests and tree cover; explore the implications of these new scientific insights on climate, land, water and related policies and actions; and sketch a new agenda on water/land and climate, for coordinated science-to-policy linkages, from cross-cutting policy integration to implementation on the ground, and triggering interest for institutional and donor support.
"These findings have significant implications for policy and action, and for research – particularly for FTA research – and what it can do or the tools it can provide to inform and underpin this new agenda," Gitz and Van Noordwijk wrote in the article.
Read more: FTA-IUFRO Discussion Forum
FTA is also involved in organizing two other Discussion Forums: Enhancing tenure security and gender equality in the context of forest landscape restoration, in which the panel will seek to identify conflicts and synergies between forest restoration, tenure security and gender equality; and Agroforestry's role in landscape restoration: Connecting SDGs 15, 13, 1 and 3, which will focus on the accomplishments and future of agroforestry as a path toward sustainable landscape restoration. All Discussion Forums can be viewed online via the GLF website.
The GLF is expected to be a vibrant event involving world leaders, climate negotiators, policy makers, development practitioners, private sector representatives, world-class scientists, civil society and the media to accelerate action towards the creation of more resilient, equitable, profitable, productive and healthy landscapes.
For those attending the GLF in person, there will be many opportunities to see and hear from FTA scientists, including other Discussion Forums in which Center for International Forestry Research (CIFOR) and World Agroforestry Centre (ICRAF) scientists will participate. FTA will also be well-represented in the Inclusive Landscapes Finance Pavilion and Restoration Pavilion, as well as TED-style Landscape Talks on topics ranging from integrated landscape approaches to peatlands.
Read more: FTA at GLF
Many notable plenary speakers are expected at the GLF, from actor Alec Baldwin who will give a video address, to Miss Rwanda 2016 Uwase Hirwa Honorine, the President of Mauritius Her Excellency Ameenah Gurib-Fakim, UN Environment Executive Director Erik Solheim, yogi and spiritual leader Sadhguru, UN Under-Secretary and UNCCD Chief Monique Barbut, indigenous leader Marcos Terena, French intellectual Jacques Attali who will also give a video address, cultural instigator Scott Goodson and Emmy Award-winning filmmaker Rob Burnet.
Meanwhile, over 200 young people are set to play the role of ambassadors, volunteers and coordinators over the two-day event, in a nod to youth integration and mainstreaming. Indigenous leaders from North America and the Pacific will also be present at the Indigenous People's Pavilion to share their experiences and highlight the role of pastoralism as a viable livelihood system across significant landscapes worldwide, in the context of the Sustainable Development Goals, regional and national policy.
In addition, this year's Wangari Maathai Award recipients, in honor of the late Nobel laureate, Kenyan environmental activist and founder of the Green Belt Movement, will be announced during the GLF.
Dubbed the world's largest gathering on sustainability issues, the GLF will welcome more than 45 different organizations, with FTA among them. The GLF's five key themes – Food and Livelihoods, Finance, Rights, Restoration, and Measuring Progress – are set to shape the event.
With the GLF's key themes being of direct relevance to the work of FTA, the program is well-placed to help facilitate productive and valuable discussions, both to inform its own work and to support shared goals.
GLF Bonn 2017: Register to attend in person or watch online.
---
The CGIAR Research Program on Forests, Trees and Agroforestry (FTA) is supported by CGIAR Fund Donors.