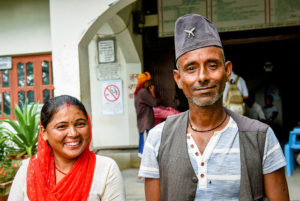 UN Women's 2018 flagship report on gender and the Sustainable Development Goals (SDGs) offers a framework to monitor each of the 17 SDGs from a gender perspective, and takes stock of their performance to date. 
In a two-part series, Bimbika Sijapati Basnett, gender coordinator for the Center for International Forestry Research (CIFOR) and CGIAR Research Program on Forests, Trees and Agroforestry (FTA) gender scientist, analyzes the report and its implications for the CGIAR gender research community. Sijapati Basnett recently published a brief evaluating this role.
With this article, she reviews the strengths and limitations of the UN Women report – Turning promises into action: Gender equality in the 2030 Agenda for Sustainable Development – for gender researchers wishing to contribute to the 2030 Agenda for Sustainable Development.
The highest echelons of the United Nations have hailed the 2030 Agenda for Sustainable Development as "a victory for gender equality" [1]. Concerns are mounting, however, over how the SDGs will be interpreted and implemented, and whether they will make a difference to the lives of women and girls the world over.
The UN Women 2018 flagship report offers a framework to monitor each of the 17 SDGs from a gender and social inclusion perspective, and it takes stock of that performance to date.
The report calls for greater collaboration among governments, researchers and women's rights organizations to realize the 2030 Agenda. How? By tracking progress against the goals, identifying achievements and gaps, and highlighting implementation challenges and opportunities.
Read more: UN Women's evaluation of gender in the SDGs – What's the role for the CGIAR?
KEY MESSAGES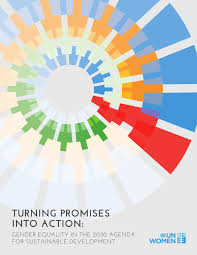 The report makes a strong case for leveraging data, evidence and analysis, to inform the duties and performance standards of those in positions of power, and to help assess compliance and enforcement of sanctions and remedies where required.
"The ultimate test for the 2030 Agenda will be whether the SDGs are achieved by 2030" (43).
The report's excellent assessment of the current 'Global Indicator Framework for the Sustainable Development Goals' offers strategic entry points for CGIAR (and/or gender researchers outside of CGIAR) to address current limitations in data, methods and analyses. The Global Indicator Framework comprises 232 indicators to track and monitor progress against the SDGs. The Inter-Agency and Expert Group on Sustainable Development is the inter-governmental body responsible for developing and providing technical support for implementation of the framework. The UN Women report also offers conceptual, methodological and policy directions for future CGIAR research.
Some key messages and highlights from the report are listed below.
Strategic entry points
Although gender equality matters to all 17 goals, the current Global Indicator Framework is inadequate for gender responsive monitoring of the SDGs because:
Only six of the 17 SDG goals are gender sensitive (SDGs 1, 3, 4, 5, 8 and 16); five goals are gender sparse (SDG 2, 19, 11, 13 and 17) and the remaining six are gender blind (SDGs 6, 7, 9, 12, 14 and 15).
The available gender data presents gaps.
There is inadequate investment and funding for additional or quality data collection.
Data collection methodologies present deep biases (e.g. censuses, labor surveys).
Upon assessing all 54 gender-specific indicators and analyzing one indicator per goal in detail to illustrate progress, gaps and challenges to date, the report calls for: "serious analytical work that sharpens our understanding of how to capture, measure and monitor meaningful change for women and girls" (73).
The report suggests this gap is particularly clear in new and emerging areas, such as understanding the gender implications of climate change.
Commitment to intersectionality
The report highlights that focusing on women as a group is insufficient to measure progress. Gender inequalities only acquire meaning and significance when they interact and intersect with other social relations. Many women and girls face multiple forms of discrimination – e.g. accessing resources, services and opportunities – based on aspects of their identity that differentiate them from more advantaged groups. It is critical to move beyond averages and to identify and compare how the most marginalized fare on key well-being markers in relation to other groups.
Through four country study summaries (see Chapter 3), the report shows how average aggregate figures on women's wellbeing often mask significant variations across regions, ethnic, racial and income groups. This is a considerable departure from previous reports that had given lip service to 'differences among women' and treated women as a group (UN Women 2014; Asher and Sijapati Basnett 2016).
This is also the first time that a high-profile global report has engaged seriously with feminist concerns with 'intersectionality' in a substantial way. While intersectionality has long been considered a 'gold standard' for analyzing experiences of identity and oppression in feminist and gender theories, scholars have been concerned that 'gender' and 'gender inequalities' are simplified, both in policy and practice (Nash 2008; Arora-Jonsson 2014; Ihalainen et al. 2016; Colfer et al. 2018).
Read also: Making sense of 'intersectionality': A manual for lovers of people and forests
Spotlight on structural barriers to gender equality 
The report devotes two chapters to structural barriers to gender equality: eliminating all forms of violence against women (Chapter 5); and addressing unpaid care and domestic work (Chapter 6). The Millennium Development Goals, predecessors to the SDGs, were heavily criticized for omitting these dimensions of inequality (see Razavi 2016, Chant and Sweetman 2012, Kabeer 2003).
Chapter 6 of the report highlights that women perform the vast majority of unpaid and care work across the world. The distribution of such work remains the same, despite women increasingly joining the labor force through formal employment.
Policies and interventions aimed at empowering women economically (e.g. through greater involvement in value chains, financial literacy and new livelihood opportunities) must go hand in hand with initiatives to reduce women's paid and unpaid work burdens, recognize their work and redistribute it within the family, as well as among families and wider institutions.
Policies and accountability
The report clearly highlights what actions are needed, as well as who should be responsible for implementation and accountable for action/inaction. It suggests that governments should prioritize universal systems that are financed and used by everyone, and simultaneously target efforts towards ensuring access for historically excluded groups. This approach offers a stance on a long-standing debate within social policy on 'universal' or 'targeted policies' for addressing poverty reduction and social inequalities (see Mkandawire 2005).
The report also highlights that governments are primarily responsible for implementation, because other actors cannot be held accountable in the way that governments can (see Chandhoke 2003). The report seeks to temper current enthusiasm around the private sector's role in realizing the SDGs, drawing attention to the fact that private businesses are not yet bound by any global set of rules on business and human rights, and their actions do not always align with objectives of sustainable development and gender equality (Kabeer 2017).
PITFALLS AND LIMITATIONS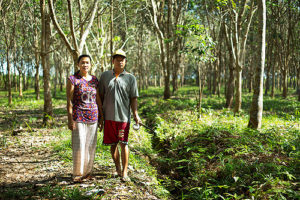 The report also presents pitfalls and limitations from a methodological, conceptual and policy application perspective.
Methodologically, the report mainly privileges quantitative methods over qualitative and mixed methods. The risk here is to imply that any research seeking to monitor the 2030 Global Agenda must comply with pre-existing national datasets (such as national census data and demographic health, labor and living standard measurement surveys) rather than additionally taking advantage of the wide variety of other research available.
Conceptually, Chapter 3 on 'Moving beyond the averages' provides only lip service to the risks of using pre-existing categories to identify who the marginalized are and what sustains their marginalization. The chapter does not adequately consider the reality that 'targeting the poor and the marginalized' is an inherently political and contested process. Likewise, it presents just one methodological approach (the 'inter-categorical approach', see McCall 2015 or Colfer et al. 2018) for examining the intersection between gender and other axes of social difference.
Chapter 6 on 'Unpaid and care work' demonstrates this report was written by a committee of writers who do not always write with one voice; this makes the report lack coherence in many places. As such, while most of the chapters point to knowledge and data gaps, Chapter 6 reads more like a definitive guide on how to address women's unpaid work and care burdens. Likewise, the report's overall stance against the private sector or corporations is rather dogmatic, and does not offer a realistic way of engaging with them and/or holding their actions to account.
On the question of the potential impact of such reports, the report was published by UN Women rather than by the Inter-Agency and Expert Group on Sustainable Development or the UN Statistical Commission for the Global Monitoring of 169 SDG Targets. It is therefore unclear whether (and if so, how) the analyses and recommendations offered by the report will inform broader SDG monitoring efforts. Given the global scope of the report, the findings only provide broad brushstrokes of key challenges and opportunities. They must be validated through national and locally relevant monitoring, too.
Despite these limitations and the subsequent need to interpret it with caution, the report is an impressive first attempt at taking stock of performance against each SDG from a gender and social inclusion perspective. It also calls for more concerted SDG monitoring efforts by different actors, including research organizations.
In an upcoming article, I will outline how CGIAR can play a meaningful role in contributing to future efforts to monitor SDGs from a gender and social inclusion perspective.
By Bimbika Sijapati Basnett, originally published by the CGIAR Collaborative Platform for Gender Research. 
Notes: [1] Phumzile Mlambo-Ngcuka, Under-Secretary-General and Executive Director of the Entity for Gender Equality and Empowerment of Women (UN Women) in UN Women 2018, 18