The CGIAR research program on Forests, Trees and Agroforestry (FTA) organized with the Kunming Institute of Botany, Chinese Academy of Science (CAS), and the Research Institute for Resource Insects, Chinese Academy of Forestry (CAF), an international conference in Kunming, China, on the 22nd–24th of June 2021, on the theme of Forests, trees and agroforestry for diverse sustainable landscapes. It is part of the road towards the 15th Conference of the Parties of the UN convention on Biological Diversity (CBD 15) also to be organized in Kunming, 11-24 October 2021.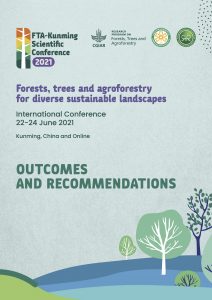 The conference gathered close to 400 participants both on site in Kunming and online, with close to 100 scientific presentations, to make the state of the evidence towards the implementation of the CBD, and in the objective to better link science and research to policy, development and implementation, around six technical themes. Proceedings from the conference will be available soonest.
This document summarizes 12 key recommendations resulting from the technical and plenary sessions of the conference, also incorporating comments received from participants. The 12 recommendations are formulated to the attention of governments and all actors, public and private, the Rio platforms and conventions (CBD, UNFCCC, UNCCD), trade related bodies, international organizations such as FAO.
A draft version of this document was shared with all the conference participants during a consultative period after the event. The final version captures all the suggestions received from the participants that shared their remarks.