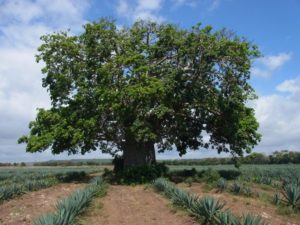 By Roeland Kindt and Ian Dawson, originally published at ICRAF's Agroforestry World Blog
The Agroforestry Species Switchboard is a "one-stop-shop" to retrieve data about a particular plant species across a wide range of information sources. Its objective is to provide information that supports research on trees and tree-based development activities such as agroforestry and wider restoration initiatives.
The recently released Version 1.3 of the Switchboard documents the presence of more than 26,000 plant species across 24 web-based information sources. Where available, hyperlinks to individual species are given, providing an easy pathway to data on biology, value, ecology and many other important aspects of plants that determine their use and management. Version 1.3 of the Switchboard provides over 221,984 hyperlinks at species level.
A list of some of the databases available on the Agroforestry Species Switchboard. The databases have navigable links to further information on the listed species.
The most recent addition to the Agroforestry Species Switchboard is a link to the website of the African Orphan Crops Consortium that aims to sequence, assemble and annotate the genomes of 101 traditional African food crops to improve their nutritional content.
The developers of the Switchboard welcome feedback and are committed to further develop it with new links in future versions. Recommendations on species names that may need to be updated due to recent taxonomic revisions or suggestions for other databases to be linked to the Switchboard can be sent directly to the authors or to switchboard@cgiar.org
---
The Agroforestry Species Switchboard can be accessed via URL: http://www.worldagroforestry.org/products/switchboard/
Documentation for the Switchboard is available via URL: http://www.worldagroforestry.org/output/agroforestry-species-switchboard-13
Corrrect citation: Kindt R, John I, Ordonez J, Smith E, Orwa C, Mosoti B, Chege J, Dawson I, Harja D, Kehlenbeck K, Luedeling E, Lillesø J-P B, Muchugi A, Munjuga M, Mwanzia L, Sinclair F, Graudal L, Jamnadass R. 2016. Agroforestry Species Switchboard: a synthesis of information sources to support tree research and development activities. Version 1.3. World Agroforestry Centre, Nairobi, Kenya.
This research forms part of the CGIAR Research Program on Forests, Trees and Agroforestry.