Myrciaria dubia
Camu-camu
Spanish (camu-camu); Portuguese (caçari, araçá-d'água, azedinho)
Download infographic
Notice
: Undefined variable: post_id in
/home/ft4user/foreststreesagroforestry.org/wp-content/themes/FTA/single-tree.php
on line
221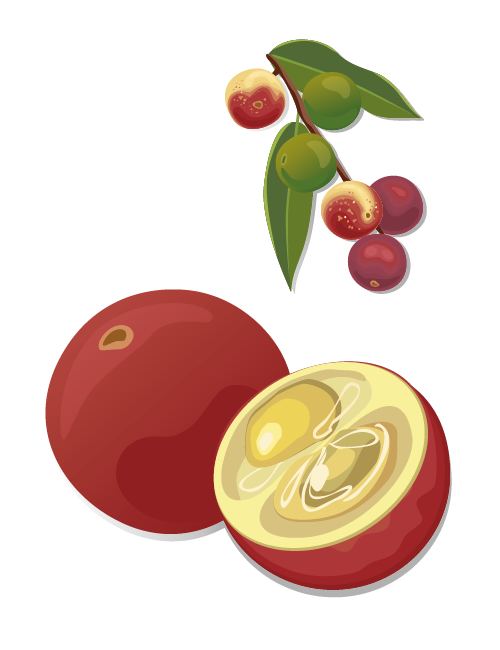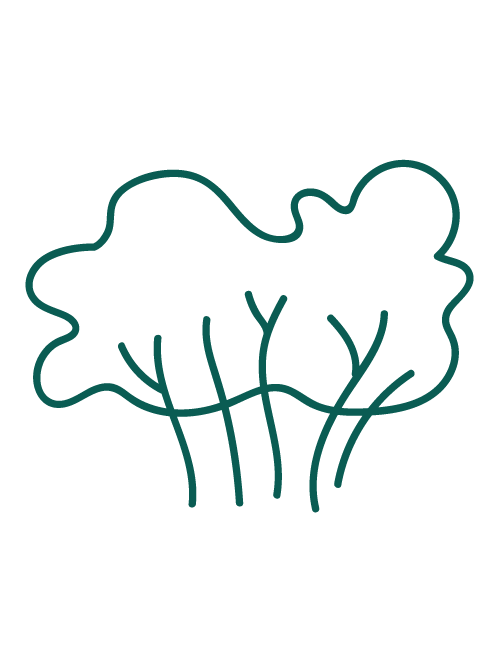 Tree info
| | |
| --- | --- |
| Dimensions in meters | 4–8 m (can grow taller if planted in full sunlight) |
| Maturity of tree before yields | 5 years |
| Productivity lifetime | N/A |
| Seasonality | February–April (end of the rainy season) |
| Production zones and cultivation methods | Myrciaria dubia grows best on flooded areas and fertile riversides. It tolerates flooded conditions for up to five months at a time, and the water can cover up to two-thirds of the trunk without harming the tree. In fact, the fruits ripen during peak flood season in the Amazon, and fishermen will often steer their boats under the branches to harvest the fruits. While it prefers wet conditions, the species may also adapt to non-flooded areas and droughts of up to two months. In agroforestry systems, it will grow best when associated with shorter plants that do not compete with it for sunlight |
Nutrition
Per 100 g edible portion (EP)
Camu-camu has one of the highest vitamin C concentrations of any fruit on earth — between 30–60x more than the same serving of oranges. It is also a rich source of antioxidants and minerals such as zinc, iron, potassium and manganese. However, its sour, acidic flavour means that it is rarely eaten raw.

Energy (kcal)

26 kcal
% Daily Value (DV) *

Macronutrients

Protein: 0.36 g
1 %
Fats: 0.16 g
0.2 %
Carbohydrates: 3.88 g
1 %

Key Minerals

Zinc: 0.42 mg
 4 %
Iron: 0.52 mg
 3 %
Manganese: 2.10 mg
 91 %
Potassium: 83.40 mg
   2 %

Key Vitamins

Ascorbic acid (Vitamin C): 1,958.84 mg
2,176%
Retinol activity equivalents (Vitamin A, RAE): 6.45 mcg
         0.7%
*All Daily Recommended Values are calculated using the US Food and Drug Administration (FDA)'s recommendation guide.
Geography
Found in north and western Amazonian countries including Brazil and Peru.
Uses
Although rarely eaten raw because of its strong acidity, the fruit pulp is used to prepare juices, jams, ice creams, carbonated soft drinks, nectars and vinegar. Its pulp can also be used in a variety of skincare products including face masks, as the antioxidants and vitamin C help to tighten the skin.
Camu-camu fruit is considered to have one of the highest potentials for commercialization in the Amazon. M. dubia pulp and powder has been shown to have antimicrobial, anti-inflammatory, antimalarial and hepatoprotective (for a healthy liver) properties. Because of its value as a nutritional supplement, there is growing demand for camu-camu fruit-pulp powder in foreign markets. Most of the camu-camu that is produced in Peru is already exported to Japan, for example.
However, the fresh fruit shrivels easily and loses its vitamin C with time. It also does not keep well in freezers or at low temperatures. For these reasons, it must be eaten fresh or processed into a juice or powder before export. The powder is the most common form of camu-camu found in western markets.
Typically harvested from the wild, it can also be cultivated in orchards. Because of the growing global demand, camu-camu is a good cash-crop for smallholder agroforesters and fishermen who harvest the wild fruits from their canoes during the Amazon flood season. However, the flooded conditions and abundant sunlight that the species prefers means there are a limited number of other plants that can be intercropped with camu-camu in agroforestry systems.
During my research on the economic potential of NUS fruits, of the many species I researched I found camu-camu to have to highest economic potential of all. – Elisabeth Lagneaux