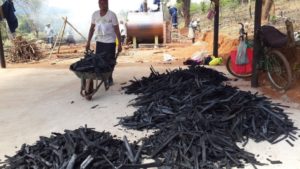 As a clean-burning source of energy in the home, and a lucrative means of income, bamboo is helping to bring income and social standing to women across the world.
For Gloria Adu, bamboo has brought big changes to her family. "Bamboo has done so much in my life. It has changed me completely. I'm so happy we now have women in the industry in my country."
Gloria is from Ghana, a country where demand for fuelwood and charcoal accounts for around 70% of annual forest loss. During a training course facilitated by the International Bamboo and Rattan Organisation (INBAR) in 2001, which she described as an "eye opener", Gloria learned about several diverse types and uses of bamboo, and was taken on tours to see bamboo plantations, arts and crafts in different parts of China. The training course inspired Gloria to set up her own company. Global Bamboo Products Ltd. makes custom items on demand, and is now beginning to focus on the production of bamboo briquettes and charcoal.
In recent years, the company has gone from strength to strength. It now boasts a 300-hectare bamboo plantation and has won several local and international awards. Gloria has used Global Bamboo Products to teach other people: she estimates the company has trained some 400 people in alternative livelihood activities, and over 10,000 farmers in the cultivation, management, and primary processing of bamboo and bamboo charcoal. Gloria's company is an example of what women can do with bamboo.
According to Gloria, "Bamboo charcoal is crucial for women." The grass plant grows locally to many rural communities across the tropics and subtropics, and is often excluded from local forest protection laws. This means it can be harvested legally, within close proximity to a community. Converting bamboo to charcoal requires few set-up costs – some technologies even use converted oil barrels as kilns – and the resulting charcoal burns with little smoke, and has a similar calorific density to other commonly used forms of biomass.
These are not bamboo's only benefits. Fast-growing, light and easy to process, cultures around the world have used bamboo for millennia as a source of housing, fodder, furniture and tools. Integrating bamboo into farming systems has been shown to improve yields and restore soil health. And products made from bamboo can fetch quite a price: rural households in parts of Africa can earn over US$1,000 a year from cultivating and converting bamboo into charcoal and other products.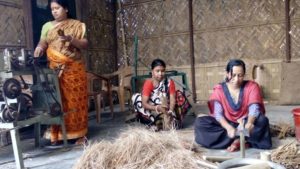 Gloria is one of the many women who know that bamboo changes lives. Mira Das, a bamboo incense stick maker from West Tripura, India, describes a complete transformation in her family's lifestyle: "Before training in the bamboo sticks business, our family income was meagre, and I had no rest or leave from my domestic support job."
Following a training course in bamboo incense stick production by INBAR and the Centre for Indian Bamboo Resource and Technology (CIBART), Mira's family has experienced "a huge increase in household income", which has given them a sense of financial security. "Now, I have some savings in my account, and we use the additional amount to buy household assets: good clothes, a mobile phone, a gas stove."
Earning an income from bamboo – often, for the first time – has other, less tangible benefits. According to Mira, running a small enterprise has developed her qualities as a leader – "it's definitely helped me gain both a sustainable livelihood and more self-confidence." In 2017, she gave a speech at a Kolkata summit on 'Transforming Women's Lives'.
And for Giraben, a bamboo furniture maker in Gujarat, India, the success of her bamboo company has given her "not just income, and but also respect. Now, members from our community and other communities have approached me for my advice on social matters, and my husband and I get invitations to social functions, festivals, cultural events and marriages."
Encouraging women to use bamboo can go a long way to realising the UN's fifth Sustainable Development Goal: achieving gender equality. Using bamboo gives women access to a potentially lucrative economic resource, and can help secure women a place in decision-making in political, economic and public life. Involving women in decisions about land use, forests and tree resources can also help create more sustainable development solutions, which makes it a key part of the CGIAR Research Program on Forests, Trees and Agroforestry (FTA), in which INBAR is a partner.
At its most successful, the bamboo industry has produced some inspiring international women leaders. Cynthia Villar, another beneficiary of INBAR training, is now a senator in the Philippines and vocal supporter of bamboo's potential; meanwhile Bernice Dapaah, executive director of Ghana Bamboo Bikes, has been recognized by the World Economic Forum as a Young Global Leader; and in China, the founder and CEO of bamboo tissue manufacturer Vanov, Shen Genlian, has shown how successful a women-led bamboo enterprise can become.
There are considerable obstacles to upscaling INBAR's work to empower women to use bamboo. Aside from technology transfer and training, there are often systemic problems and socially entrenched marginalization which make it harder to sustain women-run enterprises. But this has not stopped many of the thousands of women who INBAR has trained.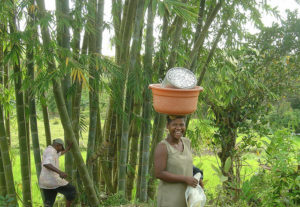 Approaches seeded by INBAR and a range of development partners include a collective of women's self-help groups in India, which produce higher value-added incense stick products and have created 150,000 jobs, and an initiative in Tanzania that has created 100 bamboo nurseries, the creation of micro-enterprises, and training opportunities for some 1000 people in a specially-created Bamboo Training Center.
INBAR's training programs also prioritize approaches that play to women's strengths and skills in the production process – emphasizing design, for instance, which in many traditional societies is the responsibility of female producers, and focusing on technologies and techniques which can be used in the home. And INBAR has conducted research which focuses on structural barriers and drivers of gender change in tree-based and forested landscapes, as part of its partnership with FTA.
With more training, greater awareness, and the development of a vibrant bamboo and rattan economy, INBAR believes these plants can continue to create jobs, and independence, for women across our 44 Member states.
---
Originally published by INBAR. This article is based on a seminar on 'Women, bamboo and rattan' held at the Global Bamboo and Rattan Congress in June 2018, as well as interviews conducted by The Centre for Indian Bamboo Resource and Technology (CIBART) in India.
INBAR is a strategic partner of FTA, the world's largest research for development program to enhance the role of forests, trees and agroforestry in sustainable development and food security and to address climate change. FTA's gender research contributes to the development of tools, approaches, and measures that can support young men and women's capacities, interests, and opportunities in natural resource management. FTA's work is supported by the CGIAR Trust Fund.