Leading agricultural scientist calls for transformation of the world's food systems to align with agroecological principles
Fergus Sinclair, Flagship Leader 2 and Head of Systems Science at World Agroforestry (ICRAF) through collaboration with Bangor University, UK, explained at the 59th Brussels Development Briefing, 15 January 2020, how agroecological principles applied on farms can create sustainable food-production systems. A full streaming of the event can be replayed at this link.
It is now widely recognized, he said, that a major transformation of food systems is needed to achieve food and nutrition security globally in the context of a changing climate and that this will profoundly affect what people eat as well as how our food is produced, processed, transported and sold.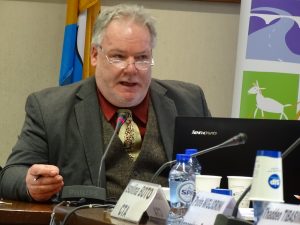 According to Sinclair, bringing about such transitions to more sustainable and democratic agricultural systems that reconcile human and environmental health with social justice and, hence, are resilient, will not happen without major shifts in public policies and private-sector contributions to the governance of value chains at international, national and local levels as well as the active encouragement of innovation across these scales.
Agroecology is increasingly seen as being able to contribute to transforming food systems by applying ecological principles to agriculture to ensure a regenerative use of natural resources and ecosystem services. Agroecology also embraces social and cultural aspects in developing equitable food systems within which all people can exercise choice over what they eat and how and where it is produced. To this end, agroecology combines science, practice and social movements that complement each other although it is not inevitable that they remain in step with one another.
Agroecology comprises transdisciplinary science, sustainable agricultural practices and social movements that are precipitating widespread behaviour change. Agroecological principles map closely to principles of adaptation to climate change, with the notable exception that while they often exhibit resilience benefits, these are incidental rather than representing an explicit response to climate signals.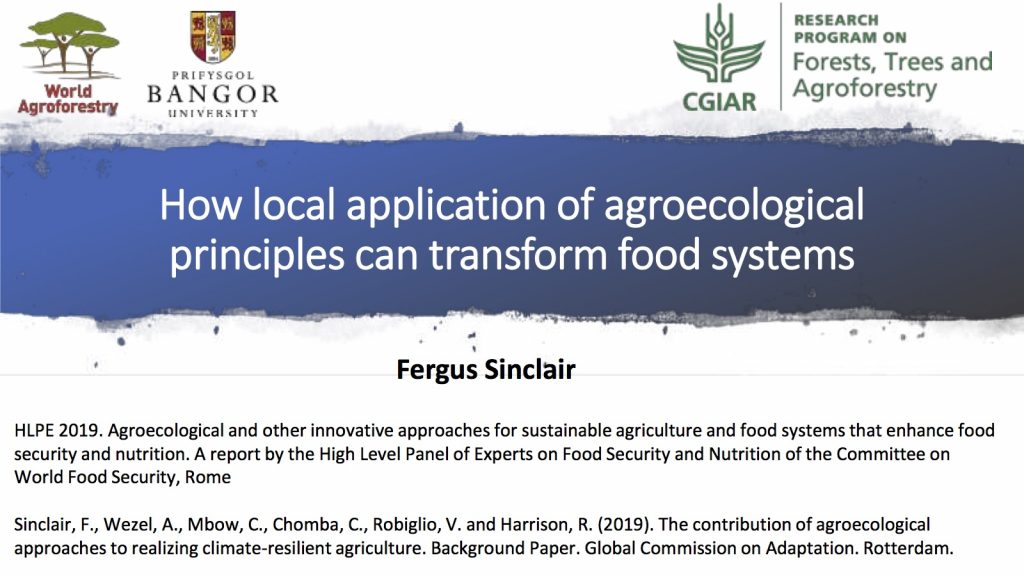 Current market failures (for example, not costing pollution nor valuing the maintenance of soil organic carbon) and perverse policy incentives (for example, subsidizing use of artificial fertilizers and pesticides) combine to mitigate against decisions for farmers and other people in the food system to adopt agroecological approaches, despite their benefits for climate resilience.
Agroecology manifests at field, farm and landscape scales, for which different metrics of agricultural performance are relevant in order for agroecological practices to be fairly judged against alternatives. Operationalising new and holistic performance metrics for agriculture will require innovation in both public and private (value chain) sector governance.
'There are three key actions required to enable adoption of agroecological practices at scale to build resilience of farming and food systems,' Sinclair told the audience of representatives of Member States of the European Union, civil society groups, research networks and development practitioners, the private sector and international organizations.
'A level playing field must be established that addresses market failures, reforms maladapted policies and improves the evidence base,' he continued. 'Food-system actors must also be willing to embrace complexity, connecting social movements and science, fostering co-learning and horizontal knowledge exchange and addressing "options by context" interactions.'
The third action is to enable integration, horizontally across systems and vertically across scales. In a simple matrix, Sinclair presented the complete set of 13 agroecological principles.
'A key consequence of defining agroecology in terms of the application of principles,' he said, 'rather than as a set of practices, is that this implies that their application will result in changes to the agricultural and food systems to which they are applied. This is in line with the emerging consensus that there is an urgent imperative to transform current food systems — in terms of what people eat and how it is produced, stored, transported, processed and sold — to bring food production in line with demand and the capacity of the planet to produce and absorb pollution and waste.'
This leads, he argued, to a recognition that as different agroecological principles are applied, different levels of transition will occur, involving either incremental or transformational change, depending on which principles are involved and at what scale they operate.
A compelling illustration of how adoption of individual agroecological practices can operate to improve farm-level adaptation to climate change can be seen in a recent inventory of agroecological practices for Africa and their contribution to climate adaptation. Debray and others (2019) focused on agropastoral land use in semi-arid Africa and mixed crop and livestock production in sub-humid areas to evaluate the contribution to climate adaptation of agroecological practices in use by farmers. They found that these were mainly concerned with soil and water management but also included diversification of production, pest and disease control and livestock management. They identified seven categories of agroecological practices contributing to adaptation that were related to preventing land degradation, improving soil health, better water management, diversifying production, adaptive crop management, pest and disease control, and managing livestock.
'Locally appropriate agroecological practices have potential to increase the resilience of livelihoods and enhance adaptation to climate change at field and farm levels across a wide range of contexts,' he said, 'often with significant mitigation co-benefits that might help to finance their establishment. Their potential will only be realized, however, if action is taken across hierarchical levels to remove barriers to their adoption. These need to address market failures and reform policies that create perverse incentives at the same time as adopting comprehensive performance metrics for agricultural systems that factor in social and environmental externalities. A reconfiguration of the relationship between formal science and local knowledge, including bridging differences in outlook and emphasis between social movements and the scientific establishment, is required to foster co-learning among the diverse range of stakeholders involved in development and promotion of agroecological practice. Finally, integration of policy processes across sectors and scales is required to create an enabling environment that encourages adoption of agroecological practices.'
Originally published at World Agroforestry (ICRAF).
---
FTA partner World Agroforestry (ICRAF) is a centre of scientific excellence that harnesses the benefits of trees for people and the environment. Knowledge produced by ICRAF enables governments, development agencies and farmers to utilize the power of trees to make farming and livelihoods more environmentally, socially and economically sustainable at multiple scales. ICRAF is one of the 15 members of the CGIAR, a global research partnership for a food-secure future. We thank all donors who support research in development through their contributions to the CGIAR Fund.