The public and private sectors must join forces to finance blue carbon, in order to reap social, environmental and economic returns from the ecosystems. 
The Blue Carbon Summit on July 16-17 in Jakarta, Indonesia, clarified the importance of learning and disseminating more about coastal ecosystems. During the event, one of the discussion forums honed in on these at-risk ecosystems, looking in particular at the payment mechanisms needed to keep blue carbon intact.
Financing blue carbon development addressed how to best use the available funding; no matter what kind of payments are on offer, the discussion explored why blue carbon should be accounted for among stakeholders.
Medrilzam, Director for Environmental Affairs at Indonesia's National Development Planning Agency (Bappenas), highlighted the importance of incorporating blue carbon into efforts to achieve to the Sustainable Development Goals (SDGs), describing the current environment as "the era of SDGs".
Watch: Financing blue carbon development
SDG 13 on climate action, he said, was the anchor for several other goals, including sustainable cities and communities; life below water; and life on land. Bappenas had never before included blue carbon as an aspect of discussions at national or regional levels, he explained, but is now factoring it in when measuring emission reductions, as Indonesia moves towards its targets of cutting greenhouse gas emissions (GHG) 26% by 2020 and 29% by 2030.
In particular, he highlighted Bappenas' low carbon development plan, a new development platform aimed at sustaining economic and social growth through low GHG emissions and minimizing the exploitation of natural resources. However, he stressed the need to consider interlinkages, saying that blue carbon related to the economy or the population, and vice versa.
"We cannot just rely on government financing. We know we have limited capacity," he said, adding that development agencies needed to be imaginative about dealing with emerging forms of innovative finance.
Felia Salim, from the Board of Directors at &Green Fund and Sail Ventures, explained that &Green Fund related to land use, but its model could be replicated for blue carbon by looking at the concept of blended finance.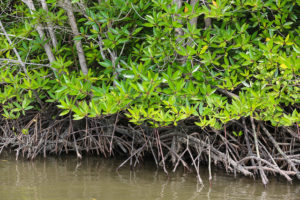 "We need to understand, when we talk about finance, that this is really about linking it to the market," she said. "We are trying to correct the market forces."
In terms of blended finance, Salim suggested that the conventional financial sector may not yet fully understand how to mitigate risks related to blue carbon, and therefore has a low appetite for them. Thus, it is all about "absorbing some of the risks that cannot be absorbed by the conventional financial sector."
"This is the blended part. It's really sharing the risk," she said. "Basically the public fund is taking up a portion of the risk — that's the basic principle of blended finance."
According to Salim, climate risk and strategy must be incorporated into planning, and such strategies should not only account for economic return, but also environmental returns such as the number of hectares of forest that have been conserved, and social inclusion factors such as jobs created or improvements for smallholder suppliers.
"If you don't involve stakeholders in the area, it won't be sustainable," she stressed, adding that companies which had seriously implemented environmental, social and governance (ESG) risk into their strategies have shown to be performing better as a result.
"The social and environmental returns make economic sense," she said, "because what you want is […] business that is sustainable, that lasts," reiterating that &Green Fund is trying to finance a gap that the conventional financial sector cannot absorb.
Read also: Failure to manage blue carbon ecosystems could break the internet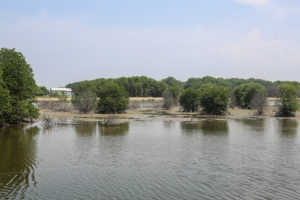 Ecotourism is another route to preserving nature while also providing incomes, as outlined by Bustar Maitar, Director of Kurabesi Nusantara Indonesia, a social enterprise offering liveaboard diving tours in eastern Indonesia.
Despite hundreds of comparable boats operating in the archipelago, Maitar said only 12 were Indonesian owned, representing a big growth opportunity for Indonesian investment.
Continuing the investment conversation, Fitrian Adriansyah, chairman of the executive board of IDH (Sustainable Trade Initiative) Indonesia, discussed how IDH invests in collaboration with the private sector.
"We believe sustainable production and trade can transform markets for the benefit of people and the planet," he said. There is a need to promote greater understanding between the public and private sectors, he added, which "cannot be done if we cannot bridge the gap in terms of understanding the risk when it comes to investment in blue carbon."
IDH, which invests in commodities, including aquaculture and mangroves, purports to seek impact rather than financial return. Responding to concerns that aquaculture is seen as an "enemy" of blue carbon efforts, Adriansyah said IDH's criteria in selecting investment opportunities comprised improved productivity; protecting remaining forests; and the inclusion of villagers, smallholders or the community.
Finally, Muhammad Senang Semibiring, a Senior Advisor to the Indonesian Biodiversity Foundation (KEHATI), outlined private financing through a community-based coastal carbon corridor initiative. KEHATI, the first and largest biodiversity conservation trust fund in Indonesia, was begun 25 years ago and makes use of public-private partnerships toward the achievement of SDG 17.
By investing in natural solutions, many elements of coastal areas can be protected. There can be economic benefits in doing so, including for the lives of community members. In identifying the challenges facing the financing of blue carbon initiatives, stakeholders can assess these returns and – as evidenced by the discussions at the Blue Carbon Summit – achieve social and economic benefits as well as environmental advantages.
Read also: Seagrass meadows: Underutilized and over-damaged carbon sinks
By Hannah Maddison-Harris, FTA Communications and Editorial Coordinator.