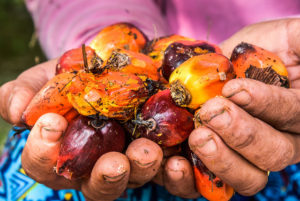 Despite Indonesia's reputation as the largest producer of palm oil in the world, its bioenergy production remains relatively low. Recently, a study has found that a range of policy and technical obstacles are preventing the sector's growth.
A team from the Center for International Forestry Research (CIFOR) and Bogor Agricultural University (IPB) interviewed key informants from central and regional Indonesian governments and the business sector during research on the opportunities and challenges presented by policies relating to the development of palm oil–based biodiesel, leading to the release of a working paper.
"We found a number of policies and technical challenges that still hinder the development of biodiesel production in Indonesia," says CIFOR Scientist Ahmad Dermawan.
Among the constraints identified in the study is the fact that biodiesel production cannot grow consistently due to policies that do not support one another.
"Existing policy frameworks give a mandate to biodiesel blending targets. However, in practice, this has not been optimal because, first, they are still focused on the transport sector, and second, they still emphasize public service obligations [PSOs]," says Dermawan.
He also said that within the country's new and renewable energy development sector, there is a belief that biodiesel development still lies with the central government, causing a lack of understanding about the role of subnational government. Though small, the role that regional governments play in developing policies supporting biodiesel use in the region is rarely in focus.
"In the National Energy Policy, the central government is required to put together a National Energy Plan [RUEN], and the provincial government is required to have a Regional Energy Plan [RUED]. Currently, many provinces have yet to develop their RUED."
Read more: The long and winding road to sustainable palm oil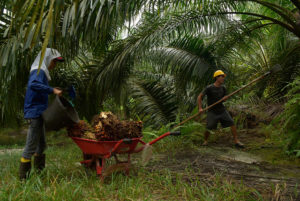 PALM OIL'S POTENTIAL
Indonesia is the world's largest producer and consumer of palm oil, producing more than 38 million tons of crude palm oil (CPO) in 2017. With around 75% of its total production exported, the commodity contributed USD 23 billion in export revenue in 2017.
Despite global contention around palm oil (earlier this year, the European Parliament voted to end the use of palm oil in biofuel by 2030) it is by far the most efficient vegetable oil when compared to other oil-producing commodity crops, meaning it requires relatively less land to produce the same amount of product.
Oil palm also remains one of the most important agricultural commodities in Indonesia for the production of bioenergy, with at least two potential forms of energy produced from the crop: biodiesel and biopower. The former is produced through refining palm oil, while the latter is produced by further processing bunches of fresh oil palm fruit to generate electricity.
Bioenergy for electricity is also being developed from wood biomass, but oil palm still prevails. "The source of biodiesel production varies quite a lot," says Dermawan. "At one point, Jatropha and Nyamplung were developed as raw materials for biodiesel," he added, referring to a flowering plant and an evergreen tree, respectively. "However, Indonesia's large production of palm oil makes it the most commercially ready for development."
Read more: Governments' oil palm strategies too focused on expanding plantations, scientist says
OPPORTUNITIES AND COSTS
The paper also studied the financial cost of producing biodiesel and compared it with that of diesel fuel, which still receives government subsidies.
"Production cost for biodiesel is higher because there are additional production steps to be done before buyers – in this case, Pertamina and other PSO companies – will accept the biodiesel," Dermawan explains.
In mid-2015, the government formed a unit under the Ministry of Finance to manage funds collected from levies paid by the exporters of CPO and its derivatives. This unit, the Oil Palm Plantation Fund Management Body (BPDPKS), uses the funds to develop human resources as well as promote, research and develop palm oil as a commodity.
"The BPDPKS provides incentives by covering the gap between the price of subsidized diesel fuel and the production cost of biodiesel," says Dermawan.
Aside from sheer cost, biodiesel production is complicated on other fronts too. From the management side, production is often contingent on fluctuating supply and quality control.
"Some biodiesel companies get their raw materials from palm oil mills that receive oil palm kernels from farmers," says Dermawan. "The mills do not always receive their fresh fruit bunches consistently in regards to quality and quantity. Low fruit quality will impact the quality of the palm oil and, in the end, impact the quality of the resulting biodiesel."
Getting deeper into the technicalities of production, Spent Bleaching Earth (SBE), a residue from biodiesel production, is regulated as a hazardous and toxic material, known in Indonesia as B3. As such, it should be handled with extra care, which results in additional costs for biodiesel producers.
However, studies have shown that SBE contains oil that can be further processed into something useful, and more research is needed to explore its potential. Despite challenges, Dermawan says opportunities remain to optimize biodiesel production.
By Nabiha Shahab, originally published at CIFOR's Forests News.
For more information on this topic, please contact Ahmad Dermawan at a.dermawan@cgiar.org.
---
This research forms part of the CGIAR Research Program on Forests, Trees and Agroforestry, which is supported by CGIAR Fund Donors.
This research was supported by the "Forest in Global Bioeconomy: Developing Multi-Scale Policy Scenarios" program funded by the German Ministry of Economic and Development Cooperation (BMZ).