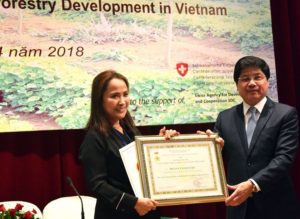 The World Agroforestry Centre's (ICRAF) Vietnam Coordinator Delia C. Catacutan has received Vietnam's highest award for agriculture and rural development.
Catacutan, who holds a PhD on natural and rural systems management from the University of Queensland, as well as a post-doc on sustainability science from Harvard University, specializes in policy and institutional research on integrated natural resources management.
As a senior social scientist and country representative for ICRAF in Vietnam, Catacutan aims to enhance the Vietnam Country Program in line with the Centre Global Program's mission and vision.
His Excellency Dr Le Quoc Doanh, Vietnam's Vice-Minister of Agriculture and Rural Development, awarded the medal on April 5, 2018, during a workshop in Hanoi on Enhancing Agroforestry Development in Vietnam.
It is the highest award in the sector for individuals who have made an outstanding contribution to rural development.
On behalf of the Ministry of Agriculture and Rural Development, the Vice-Minister expressed his deep appreciation for Catacutan's contributions and the close cooperation seen during her six years at the helm of ICRAF Vietnam, which includes some work that forms part of the CGIAR Research Program on Forests, Trees and Agroforestry (FTA). He emphasized that the agriculture and rural development sector had received valuable assistance from the international resources provided by ICRAF.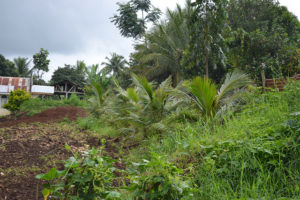 In particular, Catacutan has facilitated policy dialogues among government officers and the international community on agroforestry, climate change, disaster prevention, sustainable forestry development, ecosystem conservation and payments for environmental services.
Under Catacutan's leadership, ICRAF cooperated closely with the Vietnam Administration of Forestry to review the new Forest Law before its adoption by the National Assembly in November 2017. Research was also carried out to support the provisions on forestry, agroforestry and fisheries in the Forest Law Enforcement Decree.
Catacutan led the strengthening of research collaboration with other Vietnamese partners in agroforestry development, reflected in memoranda of understanding signed with the Ministry of Agriculture and Rural Development, Vietnam Academy of Agricultural Sciences, Vietnam Academy of Forest Science and Vietnam Farmers' Union.
Dr. Le Quoc Doanh particularly acknowledged Catacutan's efforts in coordinating successful projects throughout Vietnam, such as:
Agroforestry for Livelihoods of Smallholder Farmers in Northwest Viet Nam (2011–2016)
Developing and Promoting Market-based Agroforestry and Forest Rehabilitation Options for Northwest Viet Nam (2017–2021)
ICRAF Support to the ASEAN-Swiss Partnership on Social Forestry and Climate Change Phase 2 (2014–2016) and Phase 3 (2017–2020)
My Loi Climate-Smart Village in Ky Son Commune, Ky Anh District, Ha Tinh Province (2015–2018)
The Vietnam component of the Climate-smart, Tree-based, Co-investment in Adaptation and Mitigation in Asia (2014–2017)
Sustaining Ecosystem and Carbon Benefits by Unlocking Reversal of Emissions Drivers in Landscapes (2013–2015)
The Vice-Minister expressed hope that Catacutan would continue to act as a bridge for cooperation between Vietnam and her home country of the Philippines, as well as other nations, and invited her to find ways to continue supporting Vietnam in the field of agroforestry.
Upon receiving the medal, Catacutan thanked Dr. Le Quoc Doanh and staff at the Ministry of Agriculture and Rural Development, as well as her ICRAF colleagues, saying she expected ties between the ministry and ICRAF, as well as between Vietnam and the Philippines, to become even stronger in the future.
Adapted from the article by Tran Ha My, originally published at ICRAF's Agroforestry World.