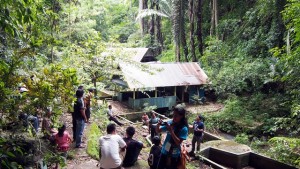 Originally published at Agroforestry World Blog
A group of farmers from the dry Indonesian island of Sumba visited neighbouring Sulawesi island in March 2016 to learn from the success of farmers involved in a long-running project led by the World Agroforestry Centre (ICRAF). After a week of visits to farmers practising a range of techniques, the Sumbanese returned home full of inspiration, new skills and knowledge. Rob Finlayson talked to the farmers and found out what drives them.
Sumba has one of the harshest environments for farming of anywhere in Southeast Asia. Farmers face enormous challenges: little rain, rocky and sparse soil, freely grazing livestock and not many people with the right farming skills.
To help build the motivation, skills and resilience of Sumba's farmers, the World Agroforestry Centre has been providing technical support to the Indonesia Regional Economic Development (IRED) project, which is led by Wahana Visi Indonesia (WVI) with support from the Australian Government. As part of their support, the Centre's team in Sumba took seven leading farmers from seven villages in eastern Sumba to visit farmers in southern Sulawesi.
The province of South Sulawesi has for the last five years been one of the sites of a major project led by the World Agroforestry Centre and has many examples of successful farmers who have benefited. The Bantaeng district team of the Agroforestry and Forestry in Sulawesi (AgFor) project—which is supported by Global Affairs Canada and the CGIAR Research Program on Forests, Trees and Agroforestry—welcomed the visitors from Sumba and took them to learn from farmers who had implemented a number of different techniques to improve their incomes and the environment.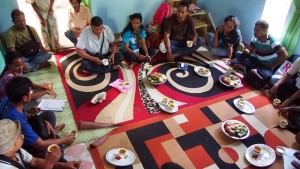 For example, on the second day of the trip, at Goggolo Village, Tompobulu Sub-district in the district of Gowa, the visitors were surprised to be welcomed into the village head's home and treated to large glasses of a freshly-made turmeric herbal drink and peanut-and-palm-sugar snacks, both of which were produced from the village's thriving agroforests. However, such hospitality was not possible in the past, explained Mulyani, the village's head.
"Five years ago, we had a shortage of water, low yields from our clove trees and other crops and often experienced the death of many seedlings," he told the visitors. "We have very little rain and the groundwater is 5 metres down through solid rock. But after we learned from AgFor about how to better manage our agroforests, our water supply has actually increased and our farms are more productive."
For the farmers from Sumba, these were enlightening words. They could see and taste the results of the village's commitment to putting to use the knowledge they gained.
"I have a lot of empathy with the water and other problems here," said Tawuru May Njaha from Wunga Village in Sumba. "At home, we can't host visitors as generously as this because we don't have enough to eat ourselves. I've already learned so much from this trip that I want to apply as soon as I return."
Another source of inspiration was found in a restored forest in Bonto Budung Village. Twenty years ago, what is now forest was barren land and the village was also experiencing water shortages and poor harvests of their trees and annual crops.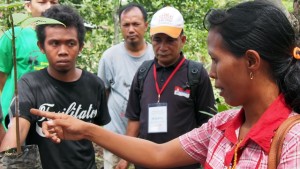 But thanks to the leadership of Haning, who was a resident, farmer and local government official, along with the hard work of all the residents and the support of the government, 10 hectares have now been fully restored and are home to a variety of trees that provide many benefits for the community as well as visitors. Springs, which had dried up after deforestation, again have water; the village's water supply is now plentiful and assured; and agroforests have been planted around the restored forest, acting as buffer, habitat and sources of income, food and materials.
Haning was acknowledged in 1999 for his leadership by the president of Indonesia's prestigious Kalpataru Award for the Environment.
"I've learned today that it's possible to bring back water by planting trees over many years," exclaimed Yulius Ndakajawal of Kadahang Village. "I am going to work hard to replicate this success in Sumba by starting small, planting trees around springs to let more water flow."
"Near the church in my village is a small spring," echoed Melki, a young farmer from Kalamba Village. '"Whichever species of tree is already growing there, I will plant more of them and then expand the planting to make a protective agroforest."
In Campaga Village, the visitors learned firsthand how to improve the productivity of fruit trees through various grafting techniques. The young farmers of Campaga also told the story behind their success.
"We started with a lot of farmers attending the training sessions run by AgFor," said Supriadi. "But many soon dropped out, leaving only a few of us. We persevered, built our own tree nursery and produced high-quality seedlings through what we learned from AgFor. The success of these seedlings on our own farms attracted our neighbours, who bought seedlings from us. The government agricultural agency came and saw what we were doing and contracted us to produce seedlings for their programs. They also recommended us to farmers as reliable suppliers of high-quality seedlings. Seeing our success, the farmers who had dropped out returned to the group and training sessions and now we are all flourishing."
The visitors from Sumba also witnessed vegetables grown in rocky soil with limited water, talked with female farmers who also ran a successful nursery business, with male farmers who had converted their monocultural maize fields to agroforests and heard how a teacher in one village had used his private radio station to promote agroforestry. This latter initiative was complemented by AgFor's radio programs that were broadcast throughout the province.
"I have been very keen to learn what farmers here grow and carry that knowledge home and share it with others," said Lazarus Lamboru Ndapatamu of Praibakul Village.
And that is just what they did. Njaha, for example, now has a vegetable garden she grew from seeds using techniques learned from the farmers of Sulawesi and has begun planting fruit trees amidst her maize and peanut crops.
Ndakajawal has started a tree nursery with his farmers' group and a home vegetable garden from which he is already harvesting chillies and leafy greens. Bangu Kahi Nona of Mbatapuhu Village has inspired the farmers there to start fencing land from livestock and planting in the enclosed areas the tree seedlings they are producing in the nursery she also urged them to build.
"I want to see Sumba covered in trees again," she said. "We will create fenced areas on unused land and near our homes and then spread them little by little until our island is agroforested."
So that's apparently what farmers can learn from others who have overcome similar challenges: inspiration, motivation, skills and knowledge that they use to transform their livelihoods and environment for their own benefit and, ultimately, that of all of us.