By Kerstin Reisdorf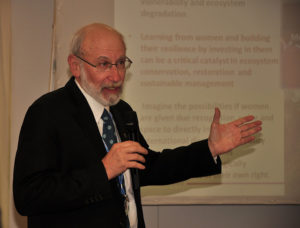 "The contribution of trees in agriculture into the global carbon balance is still widely ignored. And if we don't … start really blasting this message around the world, we are missing one of the biggest opportunities that this institution has had for many, many years."
This is how Dennis Garrity, UN's Drylands Ambassador and former Director General of the World Agroforestry Centre (ICRAF), addressed his colleagues at the annual Science Week held in Nairobi at the beginning of September.
He said that there is a huge carbon storage potential of over four tons of carbon per ha per year on average. "So the main question is: How do we dramatically increase carbon stocks in agriculture?"
Garrity suggested leveraging countries Intended National Determined Contributions (INDC) to reduce Greenhouse Gas emissions for the African Forest and Landscape Restoration Initiative AFR100. It's neither "too late nor too early" because 22 African countries have made commitments of a total of 59 million hectares they want to restore. According to Garrity, these countries will realize that the dominant way they are going to meet their commitments is through agroforestry. Land restoration will also happen in croplands and pasture lands. "In many countries, agroforestry has already been seen as the major vehicle for land restoration," he affirmed.
Kenya's land restoration commitments, for example, amount to 5.1 million ha and "farmers in Kenya are planting trees like mad."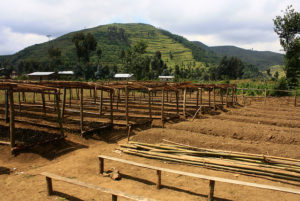 Rwanda has committed to restoring two million ha, 80 percent of which is farmland, so agroforestry is going to be the vehicle by which they are actually going to accomplish it.
Garrity challenged his colleagues to "stretch their goals" and aim to double the speed of increasing tree biomass by 2030. "We just simply double the rate at which carbon is being stored in agriculture through agroforestry globally. By 2040, let's double it again. And by the time we reach the target year 2050 for the world to reach carbon neutrality, why don't we produce 1600 metric tons of carbon annually through agroforestry. " And trees also provide the environment in which carbon storage in soils can be increased.
Garrity's presentation was complemented by data from a recent study on tree cover on agricultural land and carbon sequestration. In the journal Nature, ICRAF's Robert Zomer and colleagues state that the amount of carbon stored on farms is underestimated. Through remote sensing, Zomer calculated that 43% of all agricultural land globally has at least 10% tree cover and that this figure has been steadily rising over the last decade.
---
Also read: Earth Overshoot Day: Harnessing trees to counter overuse of resources
---
ICRAF's Deputy Director General Research, Ravi Prabhu, suggested to use the vast datasets generated in the Sentinel Landscapes under the CGIAR Research Program on Forests, Trees and Agroforestry to validate the new tree cover findings.
Garrity and Zomer proposed to overlay the new farming systems classification for Africa with the most recent map of tree cover and carbon storage to look at the potential of each farming system to store carbon.
The next steps according to Garitty are
Determine the carbon storage potential for each farming system through accelerated uptake of agroforestry
Set up national targets for carbon sequestration in agriculture and get countries competing with each other
Develop decision-support tools.
Garrity encouraged ICRAF to go beyond agroforestry and take leadership in "reviving" REDD+, developing global partnerships and mobilizing scientists to develop estimates for carbon sequestration "stretch goals" by farming system, country and region.