The idea… sounded simple
Why don't we bring together the key actors in land use to address urgent challenges and find solutions?
The starting point…was complicated
From 2007 to 2012, there was a stark division between the forest and the agricultural community. This found its expression in two separate special days, held on the sidelines of the UNFCCC COPs over several years.
Forest Day, was launched in 2007 at COP 13 in Bali, Indonesia, and Agriculture and Rural Development Day at COP 15 in Copenhagen, Denmark.
---
The next Global Landscapes Forum: Peatlands Matter will take place on 18 May in Jakarta, Indonesia. Click here for more information
---
The solution… had to be promoted
Advocates on both sides of the—imaginary—trench started to harness the growing acceptance of integrated landscape approaches to merge the two into one bigger event. The landscape approach has been recognized as a useful framework for integrating measures to boost agricultural productivity and rural livelihoods, and the protection of forests, water and biodiversity. Landscape approaches embrace compromise amongst competing social, environmental, political and economic demands to produce multiple benefits from limited resources.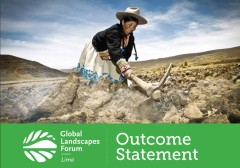 The Center for International Forestry Research (CIFOR) leveraged its role as the lead center of the CGIAR Research Program on Forests, Trees and Agroforestry (FTA) to drive this concerted effort.
A first effort was made during COP 18 in Doha, when Forest Day was held back-to-back with the first ALL Day, under the shared theme of "Living Landscapes."
The outcome… was impressive
The first Global Landscapes Forum (GLF) in Warsaw 2013 succeeded in introducing the landscapes approach to more than 1,200 climate and development policy makers. By focusing on breaking the silos that continue to exist between land use sectors, the Forum brought together more than 60 international organizations working in forestry, agriculture, mountains and watershed management, land use planning and human development.
After four years, the GLF, a well-known acronym among the hundreds of partners, has been established "as the global platform leading the debate on sustainable land use and forestry."
FTA has co-financed all GLFs. FTA partners such as CIFOR, the World Agroforestry Centre, CIAT, CIRAD, CATIE and Bioversity International have been key actors throughout the years, hosting discussion forums and side events as well as sharing information and advocating in their communities of practice.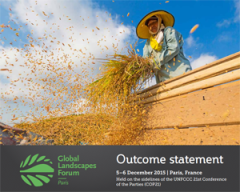 The reward… international recognition
In November 2016 at the UNFCCC COP 22 in Marrakesh, the German government committed to host the GLF for the next four years.
In Marrakesh, more than 5,500 people from 95 countries connected in person and online to forge solutions to the planet's greatest climate and development challenges through sustainable land use.
The high point of the event was the commitment by the German government and GLF partners to support the long-term future of the Forum and its vision of reaching one billion people.
The history
Before this, the GLFs in Warsaw (2013), Lima (2014) and Paris (2015) had created strong momentum for productive cooperation between different sectors, agencies, governments and private businesses. The GLF is usually structured around five themes: Restoration; Financing; Rights; Measuring Progress; and Food and Livelihoods.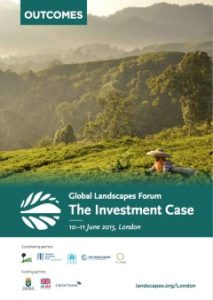 In 2015 and 2016 a second GLF, called The Investment Case, was held in London to focus on how to finance sustainable land use and landscapes.
The Investment Case brought together experts from the financial services industry with leaders from the corporate sector, government and academia to take investments into sustainable landscapes "to the next level". It is meant to be a platform for experts to explore the role of private finance in enhancing livelihoods and landscapes across the globe. FTA is one of three supporters of this event.
Presenting FTA research…
In principle, practically all that was discussed at the GLFs pointed directly to FTA research, and many scientists presented FTA research: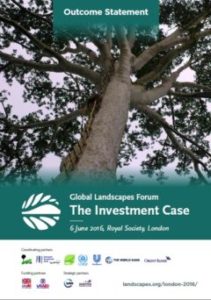 … and more
From the start, GLF was conceived as a platform and avoided monopolizing the agenda for core FTA research coming from CIFOR as the lead Center. More and more partners outside of the research arena were encouraged to collaborate and bring in their issues and solutions: governments, business, civil society and development agencies.
Many CGIAR Centers outside of FTA (e.g. ILRI, IFPRI, CIP), and CGIAR Research Programs (CCAFS, WLE) participated in the GLF to drive home their message of integrated solutions to issues such as deforestation, global warming, sustainable and inclusive value chains, food security, water, indigenous people's rights, gender and a greener economy.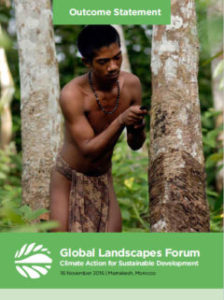 And now?
Today, the GLF has become the world's largest and only science-led multi-sectoral platform designed to produce and disseminate knowledge and accelerate action to build more resilient, climate friendly, diverse, equitable and productive landscapes. Its platforms connect diverse stakeholders; provide learning opportunities; allows people to gather and share knowledge; and accelerate action to produce sustainable solutions to complicated problems.
For 2017, four GLF events are planned: A Peatlands Matter conference in Jakarta on 18 May, a Restoration conference in Cameroon in September, an Investment Case conference in New York in October, and a Global Forum in Bonn in December.
By Kerstin Reisdorf, FTA Communications.