On the occasion of the International Day of Rural Women, Bimbika Sijapati Basnett, a scientist with the Center for International Forestry Research (CIFOR) reflects on her research and the situation of rural women in times of climate change and sustainable development.
Rural women across forest and tree landscapes make critical contributions to their households, communities and the landscapes in which they live. But often their contributions are not really recognized because they are confined to informal sectors, concentrated in low-value areas, and are unpaid.
The day of rural women is important because it is an opportunity to draw attention to women's contributions, celebrate them. And to shed light on the advances that have been made in achieving gender equality and women's empowerment (Sustainable Development Goal 5), and highlight the work that remains.
Rural landscapes across the countries where we're working are changing rapidly due to wide range of factors such as
expansion of markets,
migration and mobility,
expansion of agriculture in forested landscapes,
introduction of a wide range of interventions in the name of conservation or development.
These changes present both opportunities and challenges for rural women and girls in various contexts in which we locate our research.
For instance, our research on charcoal value chains in Zambia is finding that women are challenging pre-existing gender restrictions to where they can go, what they can sell, and what they can do with their earnings. These women are participating in more lucrative areas that were previously reserved for men; earning more than they did previously. Their contributions are being recognized at the household level and this in turn, is influencing their position and bargaining power at the home.
Our research on women's participation in forest governance in Uganda, Nicaragua and Nepal, for instance, shows that women are participating more in decisions related to changes in the landscapes that they live in and depend on to earn their livelihood. And this is impacting on how benefits are distributed and whether forest and tree resources are sustainably managed.
A combination of factors are playing a role in these changes for women, for example relaxing of traditionally fixed gender relations at the household and community levels, policy interventions aimed at promoting women, and favorable market conditions for women's enterprise.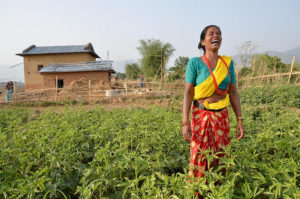 But we are also finding that many of these interventions are designed and implemented at levels that are beyond women's reach. Women often have little voice and influence on negotiations over conversion of land. The risks posed by a changing climate are unknown and still unfolding. And it is questionable whether and how women's collective and individual capabilities can respond to these risks and adapt to these changes.
As a consequence, existing gender inequalities are being exacerbated, women's voices are getting further restricted, women's burden in caring for others is increasing, and their capabilities are diminishing.
Our research is aimed at documenting how these changes are impacting on different categories of women and girls in rural areas, and how different alternatives can be realized by fostering greater gender equality and empowering women. We are leveraging our research findings to inform governments, donors, non-governmental organization and women's movements on the role they can play in carving transformative pathways.
In this process, we are partnering with a wide range of influential organizations at the local, national and global levels to undertake research on pressing gender issues as they unfold, and to ensure that the findings of our research translate into action and bring about change that advances the goals of gender equality and women's empowerment.