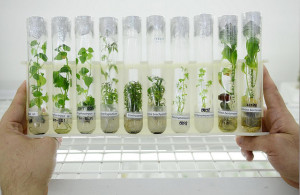 Many of the wild plants that will be the building blocks for future global food supply are missing from the world's genebanks, according to new research by the International Center for Tropical Agriculture (CIAT) in coordination with the Global Crop Diversity Trust (Crop Trust) and the Royal Botanic Gardens (RBG), Kew. The research is also related to the CGIAR Research Program on Forests, Trees and Agroforestry (FTA).
These so-called crop wild relatives (CWR) are distant cousins of well-known food crops like rice, potato maize and wheat. The scientists found that although they are widely recognized as one of the most important resources available to plant breeders in the fight against climate change, many have not been collected and conserved in genebanks.
This means that breeders are unable to use them. In addition, many of their habitats are under threat from urbanization, pollution, deforestation, climate change and war.
This research has caught the attention of the Science magazine which recognized the importance in an article under the headline Wild relatives of key crops not protected in gene banks, study finds.
Here is an extract:
"Our findings capture which critical regions around the world hold the wild diversity we need for the stability of global agriculture," says study co-author Colin Khoury, a crop diversity specialist at the International Center for Tropical Agriculture (CIAT) in Cali, Colombia. Even though crop species have been moved all over the world, he says the historic home ranges of many crops are still relevant because wild relatives persist there.

Some of these crop diversity hot spots include the Mediterranean, Near East, Asia, and southern Europe, the researchers found. And plants in these regions are facing growing threats, ranging from dramatic land-use change to civil unrest. "It's a race against time to collect in areas that are war-torn, or subject to deforestation or rapid development," says study co-author Nora Castañeda-Álvarez, a postdoc at CIAT.
---
See the original CIAT blog here
Read the publication at Nature Plants (restricted access)