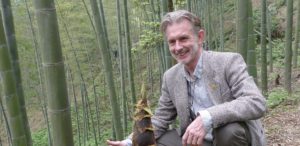 Ahead of the Global Bamboo and Rattan Conference (BARC) on June 25-27, 2018, the International Bamboo and Rattan Organisation's (INBAR) Director General Hans Friederich spoke with the CGIAR Research Program on Forests, Trees and Agroforestry (FTA) about the versatility and potential of bamboo and rattan, and what can be expected from the upcoming conference. 
Set to take place in Beijing, China, BARC will be the world's first international, policy-focused conference on how the "green tools" of bamboo and rattan can benefit sustainable development. It is being coorganized by INBAR, an intergovernmental organization comprising 43 member states, which is one of FTA's strategic partner institutions.
This year marks the first ever BARC. What has prompted INBAR and China's National Forestry and Grassland Administration to organize this policy-focused conference?
INBAR has worked to promote bamboo and rattan for sustainable development since 1997, and we have never before seen so much international interest. Last year, for our 20th anniversary, INBAR received messages from two heads of state: His Excellency Xi Jinping, President of China, and His Excellency Mulatu Teshome, President of Ethiopia. INBAR also became an Observer to the UN General Assembly and welcomed its 43rd member state.
To quote a senior official from our flag-raising ceremony [for INBAR's new member state, Brazil] last year: "The time is right for bamboo and rattan!" Overall, 2018 feels like the perfect year to bring people together and push for realizing bamboo and rattan's full potential.
It is worth mentioning that we are holding our conference in China, INBAR's host country and home of the world's largest bamboo sector. The Chinese government has always been supportive of INBAR's efforts, and uses bamboo for everything from land restoration and poverty alleviation to climate change mitigation. What better place to hold the first Global Bamboo and Rattan Congress?
What makes bamboo and rattan so versatile and suitable as an alternative to materials such as PVC, steel and concrete – and what makes them such strategic plants for contributing to the achievement of the SDGs? 
Bamboo and rattan are amazing plants. We have counted some 10,000 ways in which they can be used. Bamboo is taxonomically a grass, and it grows incredibly fast — you can literally hear and see some species grow — but it also has all the properties of hardwood.
This makes it an important low-carbon alternative for everything from paper and packaging to fuel and flooring. The industrial applications are also huge. Companies in China are starting to build wind turbine blades and drainage pipes from bamboo. Rattan, meanwhile, is a very important source of income for rural communities, who use it to make handicrafts and furniture.
What makes bamboo and rattan so powerful for sustainable development is their local availability to the rural poor. These plants grow in the tropics and subtropics — all but one of INBAR's 43 member states are based in this belt — and can be grown and harvested close to homes. Communities can use them to create an income, restore their land or feed their animals — all the while preventing deforestation and climate change mitigation.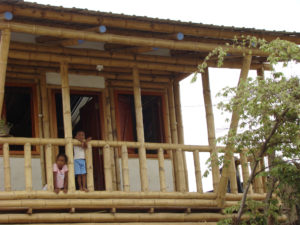 Could you explain the concept of "green tools"? 
There is more and more talk about finding nature-based solutions to development problems. How can we improve the wellbeing of people in a way that also benefits the environment? So often, nature has the solutions — we just need to apply them in the most suitable way.
Bamboo is a great example of a green tool. At INBAR we've used bamboo around the world to restore degraded land, and as part of climate-smart farming systems. As well as improving soil quality and preventing water runoff, bamboo improves farmers' incomes and can provide a clean-burning, renewable source of fuel. And, of course, when well managed, bamboo can benefit biodiversity, providing a source of food and habitat for a wide range of animals.
Climate change mitigation and adaptation is one of FTA's key research areas. In what ways can bamboo and rattan contribute to combating climate change? 
Bamboo has huge potential as a means for climate change mitigation. Some species store carbon at a rate of almost 13 tons per hectare per year: faster than several species of tree.  Durable bamboo products also lock in carbon for the extent of the products' lifespan.
As well as this, bamboo and rattan can help communities adapt to the effects of a changing climate. Bamboo housing is flexible, durable and earthquake-resilient. More generally, bamboo and rattan can provide an important income stream to households whose livelihoods are negatively affected by climate change. Many INBAR member states are particularly vulnerable to climate change impacts, so we take this part of our mandate very seriously.
Finally, we are working with a number of countries to realise the potential of bamboo energy. Bamboo can be burned directly, or converted into charcoal and gas, providing a cleaner-burning and renewable source of biomass for rural communities.
How can bamboo and rattan support local communities and livelihoods, at the same time as providing environmental benefits? 
There are many INBAR examples I could use, but perhaps the best one is Chishui, China. Chishui is one of China's most famous hometowns of bamboo, with almost 100,000 ha of bamboo forest. A lot of Chishui residents are also very poor, and a large number have to emigrate to find work.
INBAR has worked with the local government in Chishui on a number of projects, to help restore degraded land and reforest areas using bamboo. The socioeconomic impacts were extraordinary. Within six months of one project, farmers were earning money from selling bamboo shoots, and using bamboo to feed their livestock. Within a few years, 40 per cent of migrant workers in nearby Guangdong were returning home to Chishui; three-quarters of them are now involved in the bamboo sector.
What's particularly interesting about the Chishui example is how homegrown bamboo enterprises can help women. We see this in our member states across the world — women use bamboo because it is easy to collect and process, can be grown in home gardens, and can be used to make a lot of products with no special machinery or setup costs. One woman in Chishui, Mrs. Lu Huaying, started off making small carved bamboo handicrafts, and now runs an enterprise worth some RMB 2 million a year!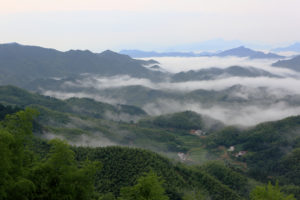 In your opinion, how can governments, international organisations and the private sector work together on bamboo and rattan?
INBAR and FTA know why bamboo and rattan are strategic tools for sustainable development — now we need to make these plants part of the conversation at a global level.
Bamboo and rattan can make a real contribution to the Paris Agreement on climate change, the Bonn Challenge for reforestation, the Aichi Biodiversity Targets and the UN Sustainable Development Goals. They can also become a key material in sustainable infrastructure and trade. One of the reasons we are holding BARC is to provide a platform for people to share ideas and start this conversation: How can bamboo and rattan benefit my work?
What outcomes are you hoping to see at BARC in terms of national and global policy? 
INBAR expects to launch or facilitate a number of new initiatives at BARC. We will sign a major new agreement with the International Fund for Agricultural Development to work across Africa, sharing experiences from working with farmers in Ethiopia and Madagascar with communities in Cameroon and Ghana. In Latin America, a number of National Bamboo Societies will establish a plan for increased regional cooperation. And in China, we will be discussing the challenges and opportunities for the newly announced Giant Panda National Park, and the relationship between biodiversity and bamboo. I hope that we can announce a dedicated conference about bamboo and the panda early next year.
Most excitingly, we are also expanding our work into new areas. At the congress, INBAR and the government of Cameroon will announce the establishment of INBAR's new Central Africa office, with diplomatic privileges, in Yaoundé. Central Africa contains much of the continent's bamboo, but we have previously had little access to these countries. We will also sign an agreement with the Pacific Island Development Forum regarding land restoration and rural development in the Pacific.
These are just some of the expected policies, programs and partnerships that we are excited about, and exactly the reason we are so delighted to host this congress.
By Hannah Maddison-Harris, FTA Communications and Editorial Coordinator, and Charlotte King, INBAR International Communications Specialist.