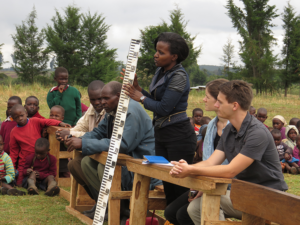 Originally published at Center for International Forestry Research (CIFOR)
Water is life, so they say.
Ensuring everyone has enough water is especially important in countries with high poverty rates and which are undergoing rapid economic development. Land use change can put stress on water availability and quality, as it has done in Kenya with the large-scale loss of forests.
Monitoring water in such contexts is essential. A new project under the CGIAR Research Program on Forests, Trees and Agroforestry (FTA) is aiming to do just that, with the support of the German Federal Ministry for Economic Cooperation and Development (BMZ) and the GIZ Advisory Service on Agricultural Research for Development (BEAF). 
The two-year project contributes to FTA research on biodiversity and ecosystem services. By developing simple, low-cost methods to monitor water across landscapes, this work provides an opportunity to value ecosystem services and implement land-use planning measures that preserve the most world's most precious resource.
"There is an increasing demand for water for direct human and livestock consumption and for the production of agricultural and industrial products. Water abstraction plans are not sustainable without knowing how much water is available across seasons, and its quality," said Mariana Rufino, previously a senior scientist with the Center for International Forestry Research (CIFOR) and now with the University of Lancaster, UK.
Rufino is leading the second phase of a project that started early in 2016 and which extends to 2018. It aims to ensure sustainable water management in a place that is experiencing many pressures on water availability.
Involving citizens
They are also putting theories of water monitoring into practice. These theories include the importance of incorporating local residents – who are experts on native water reserves – by turning them into citizen scientists actively engaged in observing and analyzing their liquid resources.
"The villagers are eager to get involved. They have seen the water levels in their streams changing rapidly, and some people are concerned about the changing color of the water, which has become brown from large amount of sediment. We've explained that while the large amount of sediment indicates the region is losing its valuable soil capital, the most dangerous water pollutants are not actually visible," Rufino said.
The first phase of this joint project by CIFOR and Justus Liebig University in Germany began in 2014 in Kenya's Sondu River basin. Water gauges, which were old and in disrepair, were updated and replaced, and local water users were trained to monitor water levels, including reading the gauges and reporting via mobile phone to an online database.
"These water users are at the same time our citizen scientists. Being part of the research makes water users feel responsible. Ideally, this raises awareness of water as a precious resource and they hopefully carry this message to their communities," explained Lutz Breuer, a professor for landscape, water and biogeochemical cycles at Justus Liebig University who is contributing to the work.
BMZ and GIZ BEAF are providing new financial support for the 2016–2018 phase, which continues to address the pressure on water availability that Kenya is facing. Valuable water monitoring work will be extended by expanding the network of sites and citizen scientists collaborators, and by placing signs next to gauges to encourage the participation of all residents.
"Thanks to this collaboration, we are testing what works for the water manager and water user needs. Our findings are going to be crucial to advise future upgrading of water monitoring in Kenya and hopefully in the East Africa region through the water program of GIZ," Rufino said.