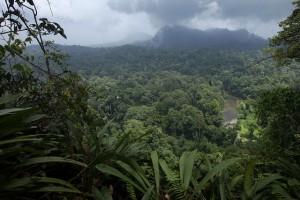 Scientists tend to be perceived as not very emotional. But bring up the right topic and they will open up, talking passionately about their signature projects.
The Sentinel Landscapes research under the CGIAR Research Program on Forests, Trees and Agroforestry (FTA) is such a project – one with the objective of creating a global data-driven network and platform with common approaches and methods to address the social-ecological challenges facing smallholder farmers and other rural people.
The perhaps mysterious-sounding title "Sentinel Landscapes" refers to an unusual new approach. It involves 200 research sites spread across 8 landscapes in 15 countries on 3 continents, which have yielded massive datasets: biophysical, socioeconomic and institutional.
The coordinator of the Sentinel Landscapes work, ICRAF's Anja Gassner of the World Agroforestry Centre (ICRAF), believes that their data network will be able to deliver where other platforms have failed – even those that claim to be data-driven.
"We focus very much on catalyzing a more coordinated and collaborative research approach across landscapes by bringing partner organizations to talk to each other, share their methods and information. We are also adding value to their work by producing an integrated comparative data set, addressing SDG relevant indicators and outcomes from household, to community to landscape," she said.
"Our field teams are training partners on field methods, while our method team ensures that they can use and interpret the data, getting them ready to tackle SDG targets."
Data-driven networks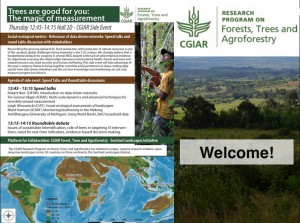 One such partner organization is the International Forestry Research and Institutions (IFRI) Network, which co-hosted a data-driven side event with FTA at the World Forestry Congress in Durban in September. The IFRI network is comprised of 14 Collaborating Research Centers (CRCs) located around the globe, all of which emphasize rigorous research that can help policy makers and forest users design and implement improved evidence-based forest policies.
The session at the Congress: Trees are good for you – the magic of measurement, was organized by Leigh Winowiecki, a soil scientist at the International Center for Tropical Agriculture (CIAT)'s Nairobi office.
"What is unique about Sentinel Landscapes is the fact that we have collected biophysical, socioeconomic and governance data together," said Winowiecki.
"That means that for a certain area we know the number of households, and how many members the households have. We know about their livelihoods. We know about the formal and informal rules that influence their decision making. And at the same time, we know about the number of trees, the conditions of the soil, about biodiversity. I don't think this has been done before in this scope in the tropics. At local level maybe."
At the side event, she showed overall data trends in tree density and land health linkages. Rhett Harrison of ICRAF-China presented preliminary tree diversity results from the Mekong Sentinel Landscapes sites, while Anil Bhargava, a Postdoctoral Research Fellow at IFRI, highlighted the contribution of trees to livelihoods in Tanzania. Using the World Bank's Living Standards Measurement Study (LSMS), Bhargava's study suggests potentially large indirect benefits of tree growth on the agricultural productivity of smallholder plots, channeled through improved land quality.
"With our event, we tried to convince the audience of the benefits of a data-driven network like Sentinel Landscapes. You can have the fanciest tools," said Tor Vagen, senior scientist of the GeoScience Lab at ICRAF, who leads the global analysis of land and soil health for the Sentinel Landscapes initiative.
"But this doesn't necessarily translate into something that people can use. This is why we call it 'smart data', not 'big data'. It all boils down to how meaningful the data is, how you make use of it."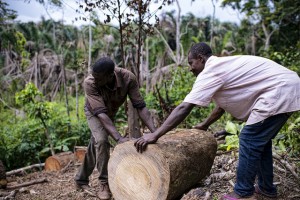 Vagen said he was pleased that the event attracted a key funding partner such as the UK Department for International Development and an important UN agency like FAO. "We want donors to use our data, and also, of course, to fund the platform," said Vagen. He hopes that the interest in Sentinel Landscapes, sparked by the event, will bear fruit for the data-driven network.
Talking about Sentinel Landscapes on the sidelines of ICRAF's Science Week, ICRAF's Jenny Ordonez and Jonathan Cornelius, who conduct research in Latin America, confirmed that there was a lot of interest in the datasets, especially from the land restoration community.
"And that's how we are actually trying to sell the sentinel landscapes, as the place where you can get the information for your restoration activities, or even for REDD+," Cornelius said.
Catch people's interest
Cornelius suggested compiling a small, not-too-deep example of a data analysis: "something that describes what kind of variables we have, what kind of big trends we have. Even these kinds of lists would be enough to make people interested in what else might be there."
CIFOR's Pablo Pacheco wants to see the analysis used for policy dialogues or development dialogues in each of these Sentinel Landscapes: "This is instrumental." And ICRAF's Philip Dobie added that such preliminary data analysis could also be harnessed to raise funds from bilateral funding partners.
Researchers are increasingly focusing on connecting socioeconomic data sets, such as the LSMS, with biophysical ones. "Because that's when it starts to get interesting, when you combine the sociological and environmental aspects," said Vagen. "So the key discussion will be, in the future, which indicators from the livelihoods data to focus on."
Gassner announced that, as a next step, three regional workshops with partners will be organized to move forward on data analysis, similar to the workshop held in July this year with the western amazon Sentinel Landscapes and last year at CATIE. But before that, more work was needed in terms of running models to get the spatial analysis done.
She urged her colleagues to use the workshops to share the value of Sentinel Landscapes with the outside world. "Let's share our excitement and start harvesting!"