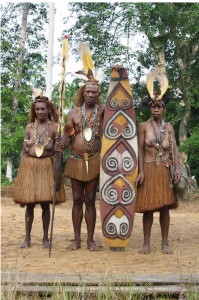 Jakarta Globe: Commentary: The Great Conservation Fallacy
Erik Meijaard, the Jakarta-based conservation scientist, provokes by asking: Can we stop pretending that some people who live close to nature have magically acquired the skills and insights to control their individual actions for the common environmental good? His critical piece coincides with a call to recognise the crucial role tribal peoples play in global conservation, published in the British Guardian.
BBC: Amazon: 1% of tree species store 50% of region's carbon
About 1% of all the tree species in the Amazon account for half of the carbon locked in the vast South American rainforest, a study in the journal Nature Communications has estimated. Although the region is home to an estimated 16,000 tree species, researchers found that just 182 species dominated the carbon storage process.
Press Association/Yahoo: Logging 'boosting carbon emissions'
Carbon emissions from decaying forest vegetation may have been underestimated because not enough attention has been paid to logging, a new study has found. Many logging operations might have a bigger effect on emissions than was previously assumed because they generate large amounts of dead wood. In forests that have been partially cut down for logging, dead wood can make up to 64% of above ground biomass, the scientists concluded.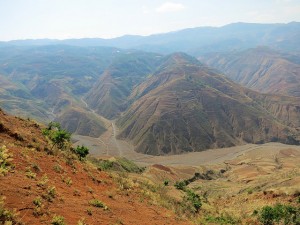 Quartz: China is building a Great Wall of Trees to fight climate change and the encroaching Gobi Desert
Observers say China's reforestation program in the north—also known as the "Green Great Wall"—is the world's largest ecological engineering project. The country is building a belt of trees that will stretch some 2,800 miles across north and northwest China in an attempt to stop the advance of the Gobi desert. Overall, the country has planted 13 million hectares of new forest since 2008, according to the State Forestry Administration.
The Guardian: Extreme weather already on increase due to climate change, study finds
Extreme heatwaves and heavy rain storms are already happening with increasing regularity worldwide because of manmade climate change, according to new research. Global warming over the last century means heat extremes that previously only occurred once every 1,000 days are happening four to five times more often, the study published in Nature Climate Change said.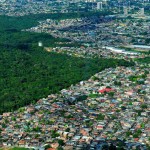 The Guardian: Hundreds of millions of acres of world's forest could be lost by 2030: WWF
Research by wildlife charity WWF has identified 11 "deforestation fronts" where 80% of projected global forest losses (up to 170 million hectares) by 2030 could occur. The areas are the Amazon, the Atlantic Forest and Gran Chaco, and the Cerrado in South America, the Choco-Darien in Central America, the Congo Basin, East Africa, eastern Australia, the Greater Mekong in South East Asia, Borneo, New Guinea and Sumatra.
Jakarta Post: Indonesia's forest moratorium to be improved
With deforestation and forest fires still prevalent in the country, calls are mounting for the government to not only extend but also strengthen a current moratorium on new concession permits for primary forests and peatlands, due to expire on May 13.
AllAfrica/UNEP: Zambia's Forest Ecosystems Contribute $1.3 Billion to the National Economy Higher Than Previously Thought
Zambia's forest ecosystems contribute $1.3 billion, roughly 6.3 per cent of gross domestic product (GDP), to the national economy, further highlighting the crucial role forests can play in the global transition to a green economy, according to a new UNEP study.
Deutsche Welle: From cell phones to drones: how technology is helping conservation
As technology evolves at an ever-quickening pace, it is increasingly being used to aid conservation fieldworkers in their efforts. In 2012, eco-drone pioneers Lian Pin Koh and Serge Wich founded the nonprofit organization Conservation Drones (CD). Rather than slog through the rainforest, Koh decided to send a drone aloft to collect data on orangutang populations in Indonesia.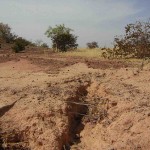 IPS: Opinion: To Solve Hunger, Start with Soil
Without farmers understanding the importance of soil and having easy access to soil improvement methods, they cannot win the battle against declining soil fertility. And without soil fertility, they will lose the battle against hunger or poverty, says Anne-Marie Steyn of Farming First and producer of  the farming reality TV show Shamba Shape Up which is aired in Kenya, Tanzania and Uganda. It is Africa's first makeover reality television program using real experts to show small-scale farmers how to improve pest management, irrigation, cattle rearing, poultry keeping, financial education and crop management techniques.
IPS: Kenyan Pastoralists Protest Wanton Destruction of Indigenous Forest
Armed with twigs and placards, enraged residents from a semi-pastoral community 360 km north of Kenya's capital, Nairobi, protested last week against wanton destruction of indigenous forest – their alternative source of livelihood. Samburu County, in Kenya's semi-arid northern region, hosts Lerroghi, a 92,000 hectare forest reserve that is home to different indigenous plants and animal species.