By Amy Cruz, originally posted at Agroforestry World Blog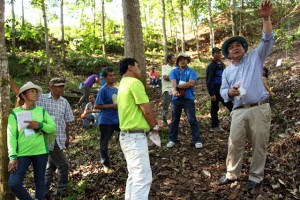 Farmer leaders and technicians from the agriculture office in the municipality of Lantapan, Philippines are learning about sustainable, tree-based farming that can help them adapt to climate change.
A group of 37 farmer leaders and agricultural technicians from Lantapan, Bukidnon Province attended a training workshop on various sustainable, tree-based farming systems, as promoted by the World Agroforestry Centre. This was one of the activities during the second year of the Climate-smart, Tree-based Co-investment in Adaptation and Mitigation in Asia (Smart Tree-Invest) project in the Philippines. Smart Tree-Invest is supported by the International Fund for Agricultural Development and the CGIAR Research Program on Forests, Trees and Agroforestry.
Farmer leaders from 11 of the 14 villages of Lantapan and technicians from the Municipal Agriculture Office visited the Conservation Agriculture with Trees (CAWT) Center in Claveria, Misamis Oriental Province, 13–14 July 2015. Some of the participants were also representatives of active farmers' and irrigators' organizations and the Talaandig tribe in Lantapan.
The participants learned about different farming systems and practices, such as vegetable agroforestry, rubber agroforestry, cocoa agroforestry, conservation agriculture with trees, rainwater harvesting and the use of animal-built embankments and animal-drawn scrapers. Dr Agustin Mercado Jr, the World Agroforestry Centre research manager at CAWT, discussed these systems along with the role of trees in climate-change adaptation.
Read full blog here