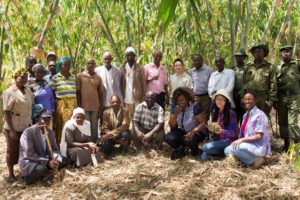 The International Bamboo and Rattan Organisation is working with partners across the world on an ambitious project to map bamboo resources. The findings will form an important part of Flagship 4: Landscape Dynamics, Productivity and Resilience, of the CGIAR Research Program on Forests, Trees and Agroforestry (FTA).
Bamboo has vast potential to help tackle global poverty and natural resource problems. This fast-growing grass is abundant in forests across the world, where it performs a wide range of ecosystem services such as biodiversity protection, reforestation and landscape restoration. Importantly, bamboo could also provide sustainable livelihoods for millions of people in rural communities – helping countries meet their Sustainable Development Goals.
One key example of bamboo's usefulness is its ability to replace traditional sources of bio-energy. Using timber for cooking is a leading source of deforestation across many rural communities, including much of sub-Saharan Africa. Bamboo provides a clean, renewable, tried and tested energy alternative in the form of charcoal briquettes and wood for domestic and industrial use – one that will be particularly needed as demand for energy grows.
Despite this, lack of information about bamboo stocks – their distribution, varieties and characteristics – has long prevented many countries from making more use of this strategic resource.
---
---
The global land cover mapping project, led by the International Bamboo and Rattan Organisation (INBAR) and researchers from the Tsinghua University, China, aims to address these knowledge gaps. Unlike traditional assessments of bamboo stocks, which are often based on assumptions about local growing conditions or out-of-date information, researchers are using the latest remote sensing technology to pinpoint exactly where bamboo is growing.
Results are then uploaded to an online portal, where they can be easily accessed, shared and added to by local researchers and practitioners on an ongoing basis. The result is a comprehensive, worldwide inventory of bamboo cover and observed changes.
Currently, the project is creating national assessments for Ethiopia, Kenya and Uganda, in partnership with the INBAR-led Dutch-Sino project on East African bamboo development. At present, East Africa's bamboo sector remains largely untapped, despite the region having sub-Saharan Africa's largest natural bamboo forests and accounting for around 3-4% of the world's total known bamboo coverage.
A better understanding of regional bamboo stocks is very much needed to create multifunctional forests, as part of FTA's Flagship Programme 4: Landscape Dynamics, Productivity and Resilience.
Better data about land cover and land use change is only one part of FTA's Flagship Programme 4. Improving the management of forest resources is key to improving their productivity and resilience. With this in mind, INBAR and Tsinghua University are training staff from Ethiopia, Kenya and Uganda.
As a result, it is hoped that national practitioners from forestry services, environment ministries and research institutes will be able to use the Mapping portal to collect, share and analyse data effectively to inform decision making.
And the data generated by INBAR's land cover mapping could also help to enrich FTA's existing work on observing changes in forests, and will provide information for decision-making on international initiatives such as the Bonn Challenge and CBD Aichi Biodiversity Targets.