By Sophia Gnych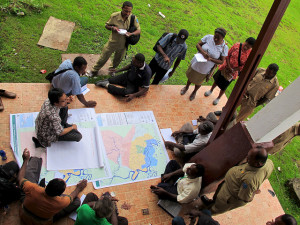 In April 2016, scientists from the Value Chains Finance and Investment (VFI) theme of the Center for International Forestry Research (CIFOR) held a workshop on Strengthening the supply base for key Indonesian commodities through landscape level land-use-planning and resource management, in partnership with the Indonesian Coordinating Ministry of Economic Affairs. The workshop in Jakarta was related to a major USAID-funded program on Governing Oil palm Landscapes for Sustainability (GOLS) and is part of the CGIAR Research Program on Forests, Trees and Agroforestry. Sophia Gnych, a research and engagement specialist with CIFOR, explains the outcomes.
Sometimes, scientist may overlook outreach and engagement with policy makers and practitioners in favor of an interesting research question.
But targeted outreach and engagement play a key role in scientific research too. If researchers understand better what policy makers think and what they don't know, this too can lead to interesting questions and opportunities to make an impact through research.
This is why workshops bringing together scientists with government and other actors in a country are a useful instrument of outreach for everyone involved.
The recent workshop Strengthening the supply base for key Indonesian commodities through landscape level land-use-planning and resource management, brought together representatives of the Indonesian ministries of Agriculture, of Forestry and Environment and of Land-use planning; the financial services regulator (OJK); the president's office; as well as industry associations and non-governmental organizations.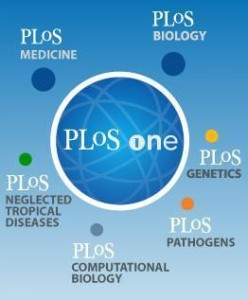 Participants found, first and foremost, that collaboration and coordination between sectors and ministries is very weak in Indonesia, both in terms of the process design and the incentives in place to ensure collaboration happens. This jeopardizes successful planning at the landscape level, and improvements are, therefore, a priority. There is great potential for the Coordinating Ministry of Economic Affairs to take the lead on improving collaborative processes so that alignment of policies and regulation, data collection, conflict mediation, and land-use planning can be achieved.
The second challenge is that the lack of consensus between ministries allows for numerous policies and regulations to go unenforced. So despite the existence of government interventions that support sustainable production and land use, very little seems to be implemented on the ground.
Thirdly, there is a need for greater transparency and nuanced understanding of commodity production and industry development in rural areas. This calls for synchronizing and strengthening of data collection. There is a need to both centralize and decentralize data recording and analysis so national and sub-national governments are able to make informed decisions.
Data collection should go beyond conventional data sets and look at issues of decision making among stakeholders to better understand the necessary incentives to change practices on the ground. Other peripheral stakeholders and local level markets such as informal traders and credit providers must be examined.
This work could be coordinated by the national statistics agency (BPS) but carried out in collaboration with universities and research institutes around the country. Such an approach would secure buy-in from civil society and academic organizations, and actors in the regions where change is needed would better understand necessities and feel ownership of the process.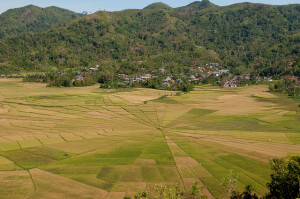 Of course, dramatic changes in government processes require strong direction from the central government and political will across ministries. So clear incentives should be put in place for the government itself: both carrots and sticks. Participants identified the Ministry of Home Affairs as clear figure-head to lead the provinces and districts. The Ministry of Agriculture was also asked to provide greater insight into how it will address emerging challenges related to commodity production, markets and the negative consequences of land-use change, such as fire and haze.
These changes don't necessarily require new policies or regulations, but clearer methods for implementation, as well as market and public based incentives, disincentives and enforcement. The judiciary may also have a key role to play, therefore, in resolving disputes on land and investments.
The government should look at creating tariffs for farmers and businesses to ensure that sustainable production is competitive against unsustainable production. Fiscal and political incentives should motivate government actors to clarify land tenure and legality of operations through transparent and equitable processes.
Local stakeholders will need to be eased into new ways of doing things by training them and showing them tangible benefits combined with manageable trade-offs. It is essential that all stakeholders understand the bigger picture and the future development plan and are convinced of it, particularly communities and local level government.
Building on this workshop, CIFOR wants to further deepen its relationship with the government and to conduct additional workshops at the sub-national level, together with the Coordinating Ministry.
Also read: 
The Investment Case: Financing smallholders for sustainable commodity supply