In December 2000, the UN General Assembly adopted 22 May as International Day for Biological Diversity to increase understanding and awareness of biodiversity issues. This year's motto is "Sustainable Development and biodiversity".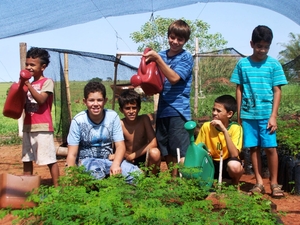 On this occasion, Braulio Ferreira de Souza Dias, Executive Secretary of the Convention on Biological Diversity, explains in a blog for Bioversity International why using agricultural biodiversity is essential to meet the sustainable development goals.
Using the example of Brazil, he points out how the nutritional content of more than 100 underutilized native food species is being investigated to tackle the high rates of malnutrition in a country that is known for its biodiversity. This is part of the Biodiversity for Food and Nutrition Initiative. De Souza Dias calls on policy makers to recognize the importance of biodiversity for improved food and nutrition security.
Also see: Biodiversity for food and nutrition – a case study from Brazil
A landscape model for biodiversity
A Forests News blog from the Center for International Forestry Research (CIFOR), also explores biodiversity conservation in the context of the sustainable development goals (SDGs) that will be officially announced in September this year.
Research shows that biodiversity underpins much of modern agriculture. For example plantations work better when they are adjacent to forests and can benefit from the ecosystem services they provide, like watershed services, soil fertility, pollination, seed dispersal and nutrient cycling. "In some cases reductions in yield can occur the further you get from natural forests," CIFOR's principal scientist Terry Sunderland says.
Despite this clear connection, the draft SDGs keep biodiversity—and forests—in the "environment" goal (No. 15), while ending hunger and promoting health are covered in goals 2 and 3, respectively. "Perhaps it's implicit to all 17 SDGs that they're all linked somehow, but it could be more explicit," Sunderland says.
He is a proponent of the so-called landscapes approach that promotes a greater involvement of all stakeholders from private sector to conservationists to reconcile competing land uses. This integrated landscapes management model emphasizes the interdependencies between these interests.
"We shouldn't just be talking about agriculture, or just forestry, or health in isolation," Sunderland says. "The nature of how these things are connected and feedback into one another needs to be understood."