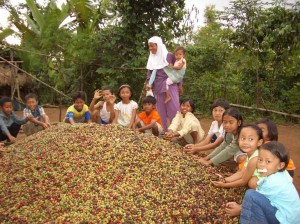 Coffee catastrophe percolating as climate change threatens arabica plant
Cultivation of the arabica coffee plant is under threat from climate change as the rising temperatures and new rainfall patterns limit the areas where it can be grown, researchers have warned. The joint study, published by the International Centre for Tropical Agriculture (CIAT) under the CGIAR Research Programme on Climate Change, Agriculture and Food Security (CCAFS), predicts that Brazil, Vietnam, Indonesia and Colombia – which between them produce 65% of the global market share of arabica – will find themselves experiencing severe losses unless steps are taken to change the genetics of the crops as well as the manner and areas in which it is grown.
Protecting Chimps Could Help Save Coffee From Climate Change
In Tanzania, where coffee yields are already declining, a project tries to make coffee production more compatible with forest conservation, to benefit the chimpanzee population of the country.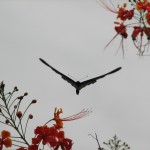 One in six of world's species faces extinction due to climate change – study
One in six of the planet's species will be lost forever to extinction if world leaders fail to take action on climate change, according to a new analysis. Creatures in Australia, New Zealand and South America will be hit much harder than North American and Europe, due to a high number of species not found anywhere else. Relatively small land masses in Australia and New Zealand mean that many species there will be unable to migrate to cope with rising temperatures, found the study, published in the journal Science.
Project in Panama encourages farmers to create sustainable tropical ecosystems
The Planting Empowerment project is restoring deforested land for future generations.
Sustainability simplified: take care of an environment, and it will take care of the people who live there
Kim Carstensen, director general of the Forest Stewardship Council, explains how individuals and sociological issues play a pivotal role in sustainability – and how helping their environment helps those people, too.
Pakistan investing $150m in billion-tree reforestation
Illegal-logging and the threat of climate change, has led one province to begin a massive tree-planting effort.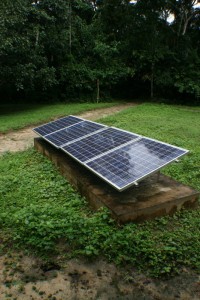 Solar panels for trees? Kenya barters to rebuild its forests
In an effort to reverse tree losses in the Nyeri Forest, an environmental initiative has turned to an unusual barter system, offering chickens, goats or solar panels in exchange for tree planting.
Can drones plant trees? Former NASA scientist says yes
The company BioCarbon Engineering, led by former NASA engineer Lauren Fletcher, hopes to plant 1 billion trees each year in order to counter deforestation. Are drones the answer to restoring the planet's natural vegetation? …To avoid the seeds blowing away or not taking root, as frequently happens with air-drop planting, the drones contain pressurized air canisters that provide the force necessary for the seeds to make their way into the dirt. The pre-germinated seeds are mixed with a nutrient rich gel and packed into a biodegradable pod.
Indonesian Government lacks legal basis to curb deforestation
An international environmental forum has found that Indonesia still lacks the necessary legal basis to support zero-deforestation commitments. Law No.39/2014 on plantations, for instance, requires palm oil companies to use all their permitted land to plant oil palms, leaving them unable to allocate any of their land for conservation purposes.
Forest canopies buffer against climate change
Forest canopies can buffer juvenile trees from drought and heat by providing shade for the younger trees below the leaf and needle cover. However, current models of how forests will respond to climate change don't account for this difference between adult and juvenile trees. Recent research finds that climatic buffering from forest canopies is important to consider when projecting the likelihood of regeneration in future forests.
Ongoing overkill: loss of big herbivores leading to 'empty landscapes'
Hunting may be the single greatest threat to the world's endangered megaherbivores. "The wave of species extinctions that obliterated 80 percent of the Pleistocene megaherbivores (over 1,000 kilograms) on planet Earth appears to be continuing today in Africa and Southeast Asia," 16 scientists write in Science Advances. "The very recent extinctions of Africa's western black rhinoceros and Vietnam's Javan rhinoceros are sober reminders of this long-term trend."