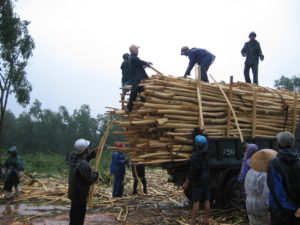 Products from forests in Viet Nam aren't well developed. Nor has their potential to help fight climate change been fully realized. Now researchers and government are working together to change this.
The high value of non-timber forest products is no secret to Viet Nam. For millions of people who live in mountain communities, especially members of the many ethnic minorities, these products—such as grasses and leaves that are fed to livestock, wood for cooking and fruit, flowers, bark and leaves for food and medicines—are deeply woven into village life. They fuel much of a village's economy, forming the raw material of household items, crafts, fine art, food, pharmaceuticals and jewellery, simultaneously generating jobs, increasing incomes and improving living standards.
These products are valuable for the country as a whole, with a total export value in 2015 of over USD 500,000 not to mention domestic sales. Plus, the forests from which they come sequester harmful greenhouse-gas emissions.
To take full advantage of this important resource, the national government created a Forest Development Strategy 2006–2020, in part dedicated to the preservation and development of non-timber forest products. So far, the strategy has seen returns: more jobs have been created, the livelihoods of ethnic minorities have steadily improved, and there have been notable increases in production.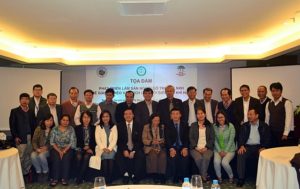 However, despite such progress, development of the sector has overlooked the potential for both mitigation of, and adaptation to, climate change and for more rapidly reducing poverty. The implications of this are significant. Forests and their products could provide much greater contributions to environmental and social goals, especially, those needed to achieve national targets for development and international agreements, such as the Paris Agreement and Marrakech Declaration.
This poses the question: What, exactly, is causing critical resources like non-timber forest products to be so under-used in Viet Nam and what can be done to unlock their full potential?
To find answers, the Deputy Director-General of the Viet Nam Administration of Forestry, Nguyen Van Ha, chaired a forum co-organized with the Viet Nam office of ICRAF The World Agroforestry Centre, the Vietnamese Academy of Forest Sciences and the ASEAN-Swiss Partnership on Social Forestry and Climate Change.
The Forum on Conservation and Development of Non-timber Forest Products for Poverty Reduction and Adaptation to Climate Change, held on 10 November 2016 in Hanoi, brought together leading forestry researchers and delegates from universities and other research and development bodies to assess the potential for conserving forests and developing their products, including their role in household livelihoods, reducing poverty and developing rural communities in the face of climate change.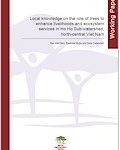 Particular attention was devoted to identifying the barriers to improvement and finding solutions. The forum began with several expert reports.
'The quantity of non-timber forest products has decreased. And many of them are over-exploited and at risk of extinction', warned Phan Van Thang of the Non-timber Forest Product Research Center. 'This is a result of small-scale production, shortcomings in quality control and assurance, unstable markets and a lack of deep study'.
Nguyen Tien Hai of ICRAF explained further that, 'Local households' exploitation of non-timber forest products dominates the market', adding that improving rights of use, government regulations and the management of forests have had a negligible effect on curbing unsustainable collection of non-timber forest products.
Yet while many products were over-exploited, others were found to be under-used. According to research carried out by Nguyen Duc To Luu of PanNature, cardamom, for example, had achieved only a fraction of its potential, primarily because of a lack of reliable markets and suitable products.
Shortcomings in policies and their implementation were highlighted by Nguyen Van Son of the Department of Forest Development as another barrier. He explained that programs were under-funded, poorly assessed and produced only low quantities.
Femy Pinto from the Non-Timber Forest Products Exchange Program, an Asia-wide NGO devoted to the study and development of the sector, described their experience with product management, emphasising that for development to be successful, communities themselves needed to be involved from the beginning, their use rights formally recognised and economic and social incentives provided.
In the following panel discussion, Dr. Vo Dai Hai of the Viet Nam Administration of Forestry explained how studies have been sporadic, guided by the objectives of the time and usually driven by value chain and policy imperatives. To gather more insightful and useful knowledge, systematic research needed to be done.
Phan Van Thang of the Non-timber Forest Product Research Center added that it was important for the findings of any such research to be shared, especially between provinces.
A chief concern was the lack of comprehensive assessment, which could not only help in recognizing achievements but also in improving unrealistic regulations and, as Nguyen Van Ha  commented, financial inefficiencies. This was a critical point because, with the exception of the Government of the Netherlands, the amount of assistance from the international community had declined in recent years. Nguyen Quoc Dung of the Forest Inventory and Planning Institute urged for more international cooperation and a bigger share of the national budget for connecting Viet Nam to regional networks.
A major practical outcome of the Forum, said the Chair, will be the inclusion of many of these points in the Viet Nam Administration of Forestry's review of its policies on non-timber forest products, helping to reshape the structure of Viet Nam's forestry sector, improve rural development and fully realise the sector's potential.
This research forms part of the CGIAR Research Program on Forests, Trees and Agroforestry.
ICRAF extends special thanks to all participants and supporters, particularly, the Viet Nam Administration of Forestry, the Viet Nam Academy of Forest Sciences, the Swiss Agency for Development and Cooperation and the ASEAN Working Group on Social Forestry.  The latter body leads the ASEAN-Swiss Partnership on Social Forestry and Climate Change project, which has been providing technical support to Viet Nam and other member states of the Association of Southeast Asian Nations. The Working Group (formerly known as the ASEAN Social Forestry Network) was established by ASEAN senior officials of forestry in 2005, linking policy-makers directly with civil society, research organizations, academe, the private sector and others who share a vision of building social forestry in the region.