Bees are transforming the livelihoods of residents in the Indonesian province of Riau where honey production is on the rise.
Indonesia is intensifying efforts to ban the use of fire to clear land as part of broader efforts to conserve peatland areas through its Ministry of Environment and Forestry in collaboration with the Center for International Forestry Research (CIFOR), which is the lead center of the CGIAR Research Program on Forests, Trees and Agroforestry (FTA).
A project known as "Haze Free Sustainable Livelihoods" aims to empower local communities in nine villages across three districts in Riau province through retraining.
Researchers are exploring the potential for new livelihood options in the villages, providing capacity building to support local people. Information gathered will be funneled into the Sustainable Management of Peatland Ecosystem in Indonesia project, led by the ministry.
Read also: Peatlands: From marginal lands to essential ecosystem
Honey production already plays a significant role in the local economy, according to a study conducted between 2016 and 2018 in the districts of Pelalawan, Indragiri Hulu and Indragiri Hilir in Riau, where many people regularly gather wild honey from sialang trees (Koompassia excels).
"We can get 1.2 tons of honey from a hundred nests on one tree that we can sell at IDR 75,000 [$5] per kilogram," said Fahrudin, head of Teluk Kabung village in Indragiri Hilir district.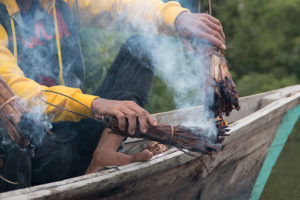 Honey gatherers, who export most of their product to Malaysia, earn approximately IDR 90 million from each harvest.  However, potential is limited because only some people are willing and able to climb the 50-meter trees.
Experts from the Haze Free Sustainable Livelihoods project provide training on how to harvest safely and effectively. Those who are keen are also trained to develop honey-bee farms, using a stingless bee species, Trigona, which is native to the peatlands in Riau.
"A lot more people can benefit from it since they can develop honey bee farms in the backyard," said Dede Rohadi, project leader and a scientist affiliated with Indonesia's Forestry and Environmental Research Development and Innovation Agency (FOERDIA) and CIFOR.
Read also: Hanging in the balance: Preservation, restoration and sustainable management in Indonesian peatlands
The Haze Free Sustainable Livelihoods project is also training community members to generate income from several other local industries. In Teluk Meranti in Pelalawan district, fisheries and tourism industries are being developed.
The tidal bore in the Kampar River, as an attraction for the international surfing community, is helping to expand tourism jobs. Fish swept in on the tidal bore flood into the waterways in local villages, offering the potential to improve livelihoods through fish processing and sales.
In addition to the Haze-Free Sustainable Livelihoods project, CIFOR is leading a Community-based Fire Prevention and Peatland Restoration project with Riau University, which involves local governments, communities and the private sector.
"The residents are willing to switch gears if there are better options to support their livelihood," said Herry Purnomo, the CIFOR scientist who is leading the project.
By Anggrita Cahyaningtyas, originally published at CIFOR's Forests News.
---
This research forms part of the CGIAR Research Program on Forests, Trees and Agroforestry, which is supported by the CGIAR Trust Fund.