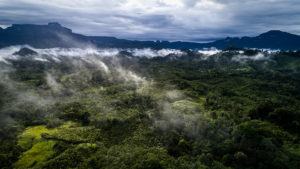 The CGIAR Research Program on Forests, Trees and Agroforestry (FTA) and its partner institutions are set to make a strong showing at the Global Landscapes Forum (GLF) Bonn on Dec. 1-2, 2018.
This year's GLF Bonn will be key in drawing out the next steps toward hitting global sustainability targets, with many participants expected at the World Conference Center in Germany, in addition to a worldwide audience online.
Of numerous discussion forums, FTA is hosting a session on the delivery of quality and diverse planting material as a major constraint for restoration, organized by Bioversity International in collaboration with the World Agroforestry Centre (ICRAF).
FTA Director Vincent Gitz will provide the opening to the session, ahead of a range of speakers including FTA Flagship 1 leader Ramni Jamnadass, as well as FTA's Christopher Kettle, Marius Ekeu and Lars Graudal, and representatives of numerous key organizations. Additional details are available in the session flyer.
The program is also cohosting a session from the Center for International Forestry Research (CIFOR) titled REDD+ at 10: What we've learned and where we go next. Looking back at 10 years of REDD+ research, the session will ask how REDD+ has evolved, and where it stands now.
FTA Flagship 5 leader Christopher Martius, who is also team leader of climate change, energy and low-carbon development at CIFOR, will moderate the session, in which CIFOR's Anne Larson and Arild Angelsen will speak. The GLF will also see the launch of a related book, Transforming REDD+: Lessons and new directions, in the Landscapes Action Pavilion Networking Area.
Another discussion forum of note is Looking at the past to shape the Landscape Approach of the future, organized by CIFOR, the International Climate Initiative (IKI) and FTA, which will bring together a diverse set of panelists experienced in implementing integrated landscape approaches in various contexts.
A major feature of GLF is its schedule of side events, including Territorial development – managing landscapes for the rural future cohosted by Agricultural Research for Development (CIRAD), and Bamboo for restoration and economic development organized by the International Bamboo and Rattan Organisation (INBAR).
The program will have a presence at the event's pavilions, including the Inclusive Finance and Business Engagement Pavilion where a highlight session titled Making responsible investments work: Bridging the gap between global investors and local end users is set to take place, looking at success factors for inclusive and responsible businesses, which are at the core of both climate finance and responsible investments, as well as financial mechanisms that can adequately address the needs of such businesses.
Visit the Tropenbos International (TBI) and CIFOR booths to find FTA resources and to speak with FTA experts.
---
For the full details of FTA's involvement in GLF, please check the event webpage.
Tune into the GLF livestream on Dec. 1-2, from 9am-7.30pm in Bonn, Germany.