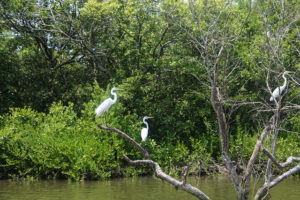 The CGIAR Research Program on Forests, Trees and Agroforestry (FTA) has named two new, independent members of its Independent Steering Committee (ISC).
The appointment was formalized by the Board of Trustees (BoT) of FTA's lead center, the Center for International Forestry Research (CIFOR), following a review of candidatures by the ISC.
The ISC – along with the CIFOR BoT, to which it reports, and the FTA Management Team (MT), the work of which it oversees – is a key component of the governance of FTA. The ISC oversees the research programming, partnership engagement, delivery and effectiveness of FTA at a strategic level.
Bringing many years of experience and expertise to the ISC, new members Linda Collette and Susan Braatz officially commenced their three-year terms in May 2018.
Collette, an ecologist who has worked on environmental and developmental issues for more than 35 years at both technical and policy levels is currently an advisor to the Legal Research Chair in Food Diversity and Security of Laval University in Québec, Canada. As well as qualifications in biology and ecology, she has Master's degrees in environmental sciences and project management.
During her career, which has included over 17 years at the Food and Agriculture Organization of the United Nations (FAO), Collette held various positions including team leader on sustainable crop production intensification, Secretary of the FAO Commission on Genetic Resources for Food and Agriculture, and secretary and then chair of the FAO working group on biodiversity.
Under her leadership, the secretariat of the commission initiated a process for the preparation of the first report of the State of the World's Biodiversity for Food and Agriculture, and developed a program of work on climate change and genetic resources adopted by members of the commission.
Braatz, a forest ecologist with over 35 years of experience in international forestry, natural resource management and sustainable development, is experienced in forest ecology, climate change, agroforestry, community forestry, dryland forestry, urban forestry, forest policy, and forests and food security.
Over 25 years at FAO, she held a number of positions, most recently as Team Leader: Dryland Forests, Agroforestry and Climate Change, and Senior Forestry Officer/Climate Change. She was also seconded to the UN Secretariat as Senior Policy Adviser to the United Nations Forum on Forests for four years.
Prior to her time at FAO, Braatz held Chief Technical Adviser positions with the United Nations Development Programme (UNDP) in Niger and Somalia. Her research experience includes field studies on nutrient cycling in forest ecosystems and policy research on economic botany for the US Congress. Braatz has a Master's of Forest Science and a Bachelor degree in Environmental Biology.
Collette and Braatz join three other continuing independent members of the ISC – chair Anne-Marie Isaac, Yemi Katerere and Florencia Montagnini – as well as lead center representative Robert Nasi, non-CGIAR centers representative René Boot, CGIAR centers representative Stephan Weise, and ex-officio member FTA Director Vincent Gitz.
With the new appointments, the ISC expects to continue its focus on the strategic programmatic oversight of FTA, monitoring the program's delivery, oversight and strengthening of partnerships, as well as reviewing the Plan of Work and Budget and allocations from CGIAR and other program-level resources.
Following the two new appointments, FTA is reopening the call for applications as it seeks a third new ISC member who has specific and demonstrated pan-African policy and development experience. For more information on the position and to submit an application, please click here.