CIAT: Gender, group membership and trees on farms in Nicaragua
BIOVERSITY INTERNATIONAL: Celebrating gender and biodiversity
ICRAF/BIOVERSITY: Review of guides for gender-equitable value chain development
Gender, group membership and trees on farms in Nicaragua
This project has the objective to analyze how women's and men's participation in groups may influence their capacities to access and implement information on the use of trees on farms in a Climate-Smart Village in Tuma la Dalia, Nicaragua.
It also considers the implications for developing tree-based climate change adaptation and mitigation strategies and actions in the region. Additionally, the study draws upon initiatives from two CGIAR Research Programs: the Climate Change, Agriculture and Food Security (CCAFS) intra-household survey in Tuma la Dalia, and the Nicaragua-Honduras Sentinel Landscape of the CGIAR Research Program on Forests, Trees and Agroforestry (FTA). More data comes from CATIE's Nicacentral site of the Mesoamerican Agroenvironmental Program (MAP).
---
Celebrating gender and biodiversity
By Marlene Elias, Bioversity International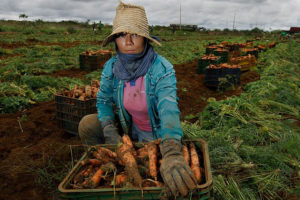 On the occasion of International Women's Day, Bioversity international has launched a series of factsheets on "Creating mutual benefits: examples of gender and biodiversity outcomes from Bioversity International's research".
The publication features six case studies carried out by Bioversity International with local NGOs and partners. Three of these take place in forest and agroforestry landscapes, and are the result of FTA research initiatives. Women are typically involved in biodiversity management, but they are often excluded from research processes.
Following this year's theme #BeBoldForChange, the case studies are a perfect example of how adopting a gender lens in research can lead to opportunities and benefits for both men and women. These case studies illustrate that a focus on gender and biodiversity, and efforts to actively include women and marginalized groups in research activities, can lead to more equitable relations and decision-making as well as positive food security and biodiversity outcomes.
---
WORLD AGROFORESTRY CENTRE (ICRAF) and BIOVERSITY INTERNATIONAL
Review of guides for gender-equitable value chain development
Inclusive value chain development (VCD) figures prominently in the agenda of agencies committed to local economic development. This is reflected in a growing number of guides for development practitioners on how to design and implement gender-equitable VCD.
The time is right to take stock of these guides—to flush out their strengths, limitations, and gaps in order to have inputs for improved guidance.
Supported by both FTA and the CGIAR Research Program on Policies, Institutions and Markets (PIM), an ICRAF-Bioversity team has reviewed seven guides for gender-equitable VCD, published by international organizations. Various criteria were identified for understanding women's and men's engagement in VCD, from how gender is considered in the assessment of the enabling environment, to the extent to which the guides addressed the potential trade-offs resulting from VCD promoted activities, for example between market and non-market livelihood activities.
Some key findings include:
The guides, grounded in key concepts in gender studies, advocate persuasively for the integration of gender into VCD design. In doing so, they represent an important step forward in sensitizing practitioners on the importance of adopting a gender-sensitive approach to VCD.
Most guides provide extensive checklists for gender analysis with numerous considerations and questions. There are few details on implementation requirements in terms of skills, time and budget. Practitioners with limited experience in gender concepts or intervention design may struggle to specify their approach, select the appropriate instruments, and adapt them to the local context.
Little attention is paid to the potential trade-offs between new roles and responsibilities in value chains and those in relation to other, non-market oriented livelihood activities. What such trade-offs mean in terms of repercussions for women's and men's overall work load and leisure time, among other aspects of well-being, go largely unaddressed.
Gender equity and women's empowerment through VCD means strengthening their bargaining power within the household. Guides need to consider distribution of income and access to resources, and the implications for the design of gender equitable interventions.