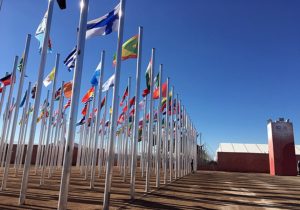 By Rob Finlayson, originally published at ICRAF's Agroforestry World Blog
The implications of international agreements on the ten countries that make up the Association of Southeast Asian Nations and their extensive forests was explained at an Experts Dialogue in Indonesia
The Paris Agreement is a global deal aimed at limiting the negative impact of climate change. The implications for Southeast Asia's forests were explained to senior officials of member states at an Experts Dialogue on Climate Change Mitigation and Adaptation in ASEAN held in Bali, Indonesia, 30 November 2016 by Grace Wong of the Center for International Forestry Research. The Dialogue was supported by Gesellschaft für Internationale Zusammenarbeit and the Swiss Agency for Development and Cooperation.
The 21st Conference of Parties of the United Nations Framework Convention on Climate Change (UNFCCC), held in Paris, France in November 2015, reached a consensual deal—the world's first comprehensive climate agreement—signed by 193 countries, 115 of which have ratified it. It entered into force on 4 November 2016.
Wong explained that the aim of the Agreement is described in Article 2: a) Holding the increase in the global average temperature to well below 2 °C above pre-industrial levels and to pursue efforts to limit the temperature increase to 1.5 °C above pre-industrial levels, recognizing that this would significantly reduce the risks and impacts of climate change; b) Increasing the ability to adapt to the adverse impacts of climate change and foster climate resilience and low greenhouse-gas emissions development, in a manner that does not threaten food production; and c) Making finance flows consistent with a pathway towards low greenhouse-gas emissions and climate-resilient development.
For the first time, forests were explicitly mentioned, in Article 5.1, which encourages action for results-based payments to keep forests standing, such as the mechanism known as Reducing Emissions from Deforestation and Forest Degradation plus Conservation (REDD+). Article 5.2 states that keeping forests and trees standing and sustainably managed will be crucial in global efforts to reach the goal of limiting the rise in global temperatures to 1.5–2 °C. Especially for forest-rich Southeast Asia, avoided deforestation can provide major reductions in greenhouse-gas emissions and is explicit in many nationally determined contributions to the goal.
The Paris Agreement was a complete document that sets out the overarching goals and framework for international climate action. The details of the Agreement are to be ironed out by 2018, with a review of progress in 2017. The recent 22nd Conference of Parties, held in Marrakech, Morocco in November 2016, began the implementation of the Agreement. Some of the key issues discussed were finance, the global stocktake process and guidance for Nationally Determined Contributions (NDCs) and transparency.
Finance: the Parties reiterated their commitment to USD 100 billion per year of public and private finance for developing countries by 2020. The UNFCCC Standing Committee of Finance released its biennial assessment showing an upper, bound estimate of total global climate finance in 2013 and 2014 from all sources added up to USD 714 billion. A greater balance between mitigation and adaptation was also indicated although only USD 80 million was committed to the Adaptation Fund. A new Capacity-building Initiative for Transparency trust fund has begun with an initial USD 50 million funding projects in Costa Rica, Kenya and South Africa. Non-market approaches were considered significant owing to complexities around the implementation of REDD+ policies and measures before results-based payments would be possible. How mechanisms such as the Green Climate Fund will deal with both the non-market elements of policy performance and results-based payments will be closely monitored by all REDD+ countries. You can read more about this here and here.
NDCs: each country determines what contribution they should make to reach the global goals. Article 3 requires these contributions to be 'ambitious' and 'represent a progression over time'. After five years, the next ambition should be more ambitious than previous. According to Wong, the challenges in developing guidance for NDCs are in communicating the mechanisms, accounting and developing guidance for different types of NDCs, avoiding double accounting and allowing flexibility for each country depending on their capacity.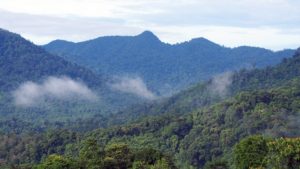 Global stocktake: to evaluate whether the world is on track to limit warming. In 2018, a Facilitative Dialogue will assess progress and plan for the next round of NDCs.
Transparency: the foundation of the Paris Agreement's 'ambition mechanism'; a unique approach that allows countries to increase their ambition. A lot of discussion took place on how to create a fair 'rulebook' so all countries could have confidence when assessing each other's climate pledges. The technicalities of the rulebook—setting baselines and methodologies—will likely continue into 2018. For example, decisions on the balance between national sovereignty and global uniformity in the rulebook for monitoring greenhouse-gas emissions were put off till the next year.
'For REDD+, transparency includes assessing biases related to use of historical periods in forest reference greenhouse-gas emission levels and the systematic choices relevant to national circumstances', said Wong. 'Independent monitoring can be critical for credibility of any such system, involving a variety of practices that include elements of free and open methods, data and tools, increased participation and complementarity to national reporting'. A report on an event on transparency held during the Marrakech conference can be read here.
In addition, the implications need to be considered of any measuring, reporting and verification  system aimed at REDD+ shaped by diverse interests, information, institutions and ideas that require multilevel coordination and governance. Understanding the politics of different people at different levels of government and society could lead to a more effective system.
The challenge for ASEAN
All nations recognize that achievement of the Paris Agreement goals as well as the Sustainable Development Goals will be impossible without action to protect, restore and sustainably manage all types of forests […] [T]ransformation of the forest sector requires fundamental  changes from both the public and private sectors. Only determined, sustained leadership and inclusive forest governance will deliver this.
How will ASEAN leaders rise to this challenge? According to Wong, ASEAN member states need to increase transparency in the forest sector if they are to improve the effectiveness of REDD+. This should include efforts to incorporate the needs and interests of all the different groups of people involved through dialogue, communications, trust and participation. They also need to ensure transparency in, and free accessibility to, data and data sources, methodologies and tools.
'Secondly, ASEAN member states need to increase the ambition of their NDCs and the role of forests', said Wong. 'This implies being open to independent review and actively participating in the review of others and also increasing investments into forest conservation, restoration and sustainable management, relative to other sectors'.