Training scientists in advanced plant genomics is set to transform nutrition in Africa. The Food and Agriculture Organization of the United Nations works with the African Orphan Crops Consortium to assist its member countries.
The African Orphan Crops Consortium is an African-led, international consortium founded in 2011 with the goal of sequencing, assembling and annotating 101 African orphan crops. The Consortium was approved by African heads of state at the African Union Assembly and is led by the New Partnership for Africa's Development (NEPAD).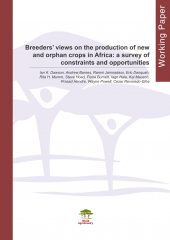 The Consortium and its African Plant Breeding Academy, which is run by the University of California, Davis, comprise the most comprehensive and integrated crop-improvement venture on the continent. The Academy is funded by Mars Inc and the Alliance for the Green Revolution for Africa, among many other donors, and is hosted by World Agroforestry (ICRAF) in Nairobi, Kenya. The Academy trains African plant scientists and breeders to develop better crop varieties faster from genetic 'maps' of orphan crops. It has trained 85 of its target 150 African scientists to use DNA-sequence information to breed more nutritious, productive and resilient varieties that can withstand threats from environmental change.
'The Consortium and the African Plant Breeding Academy have created synergy across the continent to promote African orphan crops and assist improvement of these crops through knowledge, skill, and technology transfer to African scientists,' said Ermias Abate Desta, a graduate of the Academy. 'This initiative is creating a network of "new breed" African plant breeders with a shared vision of a continent with no hunger, malnutrition and poverty. I am part of this great movement."
'Orphan crops' refers to a diverse range of plant species that are economically and socio-culturally important but which are neglected by science and research because they are not widely traded commodities. The Consortium is raising the importance of these species and accelerating research activities for plant growth and development. By 2030, the use of nutritious, climate-resilient African crops stimulated by the Consortium's work is expected to be a part of dietary improvements in 20% of rural populations and 10% of urban populations.
Read more –> For year round micronutrients, ten species of fruit trees are better than just a few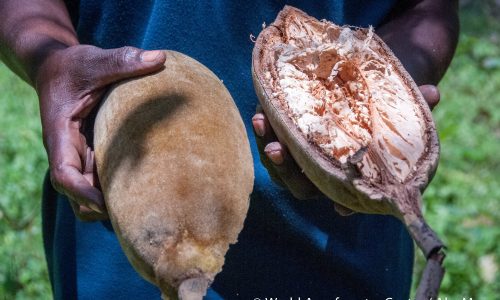 The orphan crops include annual and biennial shrubs, bushes and trees that act as principal food sources for the 600 million people living in rural Africa. The Consortium has been sequencing the genomes of 101 species to allow scientists to efficiently improve the crops' productivity, climate resilience, disease and pest resistance and nutritional quality and also training African scientists to best use the genetic information. All completed genetic 'maps' are published online with open access, with the intellectual property held by the African Union.
In 2017, the Food and Agriculture Organization of the United Nations (FAO) signed a letter of intent with the Consortium to assist member countries of FAO develop policies, regulations and laws that facilitate the genetic improvement of orphan crops; strengthen institutional and human capacities of member countries for research and development of genomic tools, plant breeding and seed-delivery systems; and convene neutral platforms for stakeholder engagement to advocate for greater investments in breeding nutritious and climate-resilient crops.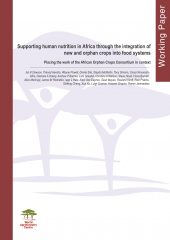 In 2018, the Consortium's work was formally recognized at the October meeting of FAO's Committee on Agriculture (COAG). During the Consortium's side event at COAG, eight graduates from the African Plant Breeding Academy shared information about their work to help fight malnutrition in their own nations through transferring research methods and results and through training.
FAO Director of Nutrition and Food Systems, Anna Lartey, told the meeting that the Consortium's approach has the potential to spur a revolution for orphan crops in Africa. Moreover, Lartey highlighted how the program can contribute to the nutrition targets of the United Nations 2030 Sustainable Development Agenda, with a focus on the Decade of Action for Nutrition, which is a UN commitment to eliminate malnutrition from 2016 to 2025.
'Together we have created a movement to end hunger and malnutrition in Africa. Stunting will be eliminated in your lifetimes, if not earlier,' said Howard-Yana Shapiro, Chief Agricultural Officer of Mars Inc and co-founder of the Consortium.
Read more –> 'Fruit-tree portfolios' for nutrition and health: a new approach
Completed tree genome projects under AOCC
Apple-Ring Acacia (Faidherbia albida) –> published sequenced genome: http://dx.doi.org/10.5524/101054
Horseradish Tree (

Moringa oleifera

[UGent version])

–> published sequenced genome: 

http://dx.doi.org/10.5524/101058
Marula

(Sclerocarya birrrea)

 

–> published sequenced genome: 

http://dx.doi.org/10.5524/101058

Jackfruit

(Artocrpus heterophyllus)

 

–> published sequenced genome: 

http://dx.doi.org/10.5524/101057
Breadfruit

 (Artocarpus altilis)

–> published sequenced genome: https://doi.org/10.3390/genes11010027
Further references
Sahu SK et al. (2020) Draft genomes of two Artocarpus plants, jackfruit (A. heterophyllus) and breadfruit (A. altilis). Genes, 11: 27, 

https://doi.org/10.3390/genes11010027

.

Hendre PS et al. (2019) African Orphan Crops Consortium (AOCC): status of developing genomic resources for African orphan crops. Planta, 250: 989-1003, 

https://doi.org/10.1007/s00425-019-03156-9

.

Dawson IK et al. (2019) The role of genetics in mainstreaming the production of new and orphan crops to diversify food systems and support human nutrition. New Phytologist, 224: 37-54, 

https://doi.org/10.1111/nph.15895

.

Chang Y et al. (2018) The draft genomes of five agriculturally important African orphan crops. GigaScience, 8: giy152, 

https://doi.org/10.1093/gigascience/giy152

.

Dawson IK et al. (2018) Delivering perennial new and orphan crops for resilient and nutritious farming systems. In: Rosenstock T., Nowak A., Girvetz E. (eds) The Climate-Smart Agriculture Papers, Springer, Cham. https://doi.org/10.1007/978-3-319-92798-5_10.
Hickey JM et al. (2017) Genomic prediction unifies animal and plant breeding programs to form platforms for biological discovery. Nature Genetics, 49: 1297-1303, doi: 10.1038/ng.3920.
Muchugi A et al. (2016) Genome sequencing to unlock the potential of African indigenous fruit tree species. Indian Journal of Plant Genetic Resources, 29: 371-372, doi: 10.5958/0976-1926.2016.00074.7.
Partners in the African Orphan Crops Consortium
Alliance for a Green Revolution in Africa (Nairobi, Kenya) is supported by the Bill and Melinda Gates and the Rockefeller foundations. The Alliance partners in many ways, including contributing USD 1.1 million to the African Plant Breeding Academy.
Agricultural Research Council (Pretoria, South Africa) supports by by sequencing genes (transcriptomes).
Benson Hill Biosystems is a plant biology, analytics and cloud computing company focusing on global food systems. It is providing all Consortium plant breeders with advanced computational technology to accelerate their breeding programs.
Biosciences Eastern and Central Africa, International Livestock Research Institute Hub (Nairobi, Kenya) is a shared agricultural research and biosciences platform providing laboratory services to African and international scientists conducting research on African agricultural challenges. It provides the Consortium with laboratory and project support, training of breeders, and the curation of germplasm.
BGI (Shenzhen, China) is the world's leading genomic sequencing organization. It is involved in sequencing, annotating, assembling and curating many of the 101 African orphan crop genomes as well as supporting development of the Consortium.
CyVerse (Tucson, USA) is a collaborative organization that has developed a cyber-infrastructure for data-intensive biology driven by high-throughput sequencing, phenotypic and environmental data sets. It has helped the Consortium with analysis and curation of sequence and genotype data.
Corteva Agriscience is a private agricultural company focusing on development of crops. Corteva is helping train plant breeders and development of genomic resources.
Food and Agriculture Organization of the United Nations (FAO) (Rome, Italy) supports the development of the Consortium through a letter of intent with specific areas of support.
Google Genomics (Mountain View, USA) provides rapid transfer of data worldwide using cloud space.
Illumina Inc (San Diego, USA) develops technology and kits for use in genetic research and has provided the Consortium with reagents to sequence the gene complement of 50 species and has donated their HiSeq 4000 Sequencer to the laboratory to sequence 10,000 accessions of African crops.
Integrated Breeding Platform provides data management systems for plant breeders. The Platform provides training to breeders through the UC Davis Plant Breeding Academy.
The James Hutton Institute (Dundee, Scotland) is a non-profit research institute specializing in plant breeding. It provides gene sequencing tools and analyses to breeders.
Keygene Inc, (Rockville, USA) is an international company supplying genomic tools for plant breeding. It provides tools to breeders.
LGC (Hoddesdon, UK) is an international life-sciences measurement and testing company, providing reference materials, genomics solutions and analytical testing products and services. It has also provided genotyping services for plant breeders.
Mars, Incorporated (McLean, USA) is one of the world's largest privately-owned food companies; it has provided over USD 2 million for the African Plant Breeding Academy, scholarships for breeding programs and support for laboratory personnel.
New Partnership for Africa's Development (Midrand, South Africa) is a technical body of the African Union which provides administrative, logistical and political support.
Oxford Nanopore, (Oxford, UK) is a genomics company providing DNA and RNA sequencing technologies. It provides its platform and reagents to breeders.
Thermo Fisher Scientific (Waltham, USA) helps companies and organizations solve their research challenges; it has donated four Proton sequencers and four Chef Stations and reagents. It recently acquired Life Technologies, which had donated four Ion proton machines to the Consortium.
UNICEF (New York City, USA) supports the development of the Consortium.
University of California, Davis (Davis, USA) is one of the world's leading agricultural universities. It manages the Academy and co-leads the laboratory and scientific program.
VIB-UGhent Center for Plant Systems Biology (Ghent, The Netherlands) is a non-profit research institute in the life-sciences sector that has 1200 scientists conducting basic research on molecular mechanisms. It has helped with bioinformatics and annotation of plant genomes.
Wageningen University (Wageningen, The Netherlands) is a world-leading agricultural university working closely with the Consortium to define the nutritional value of African crops and breeding lines.
World Agroforestry (ICRAF) (Nairobi, Kenya) hosts the laboratory and the Academy and helps manage its data.
World Food Programme is the food-assistance branch of the United Nations and the world's largest humanitarian organization addressing hunger and promoting food security. It supports the Consortium in a variety of ways.
World Wildlife Fund for Nature (Washington DC, USA) has worked with the Consortium since its inception, helping with initiation and vision
For more information about the African Orphan Crops Consortium visit: www.africanorphancrops.org
---
This research was conducted by World Agroforestry (ICRAF) as part of the CGIAR Research Program on Forests, Trees and Agroforestry, the world's largest research-for-development program to enhance the role of forests, trees and agroforestry in sustainable development and food security and to address climate change. The Center for International Forestry Research (CIFOR) leads the Research Program in partnership with the Alliance of Bioversity International and CIAT, Centro Agronómico Tropical de Investigación y Enseñanza (CATIE), Centre de Coopération Internationale en Recherche Agronomique pour le Développement (CIRAD), International Bamboo and Rattan Organisation (INBAR), ICRAF and Tropenbos International (TBI). The work of the Research Program is supported by the CGIAR Trust Fund.