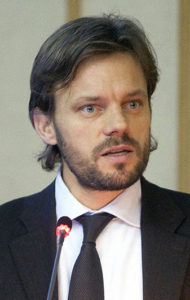 On 1 November, former French government official Vincent Gitz took over his post as the new Director of the CGIAR Research Program on Forests, Trees and Agroforestry (FTA). He replaced Robert Nasi, Deputy Director General of the Center for International Forestry Research (CIFOR), who managed FTA from its inception in 2011.
The new Director will lead the research program into its second phase, starting 2017.
Vincent Gitz joined FTA with 20 years of experience in research, policy-making and policy advice at the highest levels. Like Robert Nasi, he is a French national, and previously served as Assistant Director for Food Policy at the French Ministry of Agriculture, Agrifood and Forestry. Prior to this, he held several senior positions at the Food and Agriculture Organization of the United Nations (FAO). From 2007 to 2009, he served as adviser on Sustainable Development and Research to the French Minister for Agriculture and Fisheries.
---
Read the FTA Annual Report 2015
---
As a scientist, Vincent Gitz has led interdisciplinary research teams in work on integrated assessment of scenarios and policies of economic development and climate change mitigation and adaptation. In his own work, he has conducted research on climate change policies, land use and forestry, and on related international negotiations, and the development of specialized models and tools for policy advice and decision-making. He has also carried out pioneering work on integrated models coupling economics and physical sciences for development strategies to tackle climate change.
Vincent Gitz, an alumnus of the Ecole Polytechnique, holds a PhD in environmental sciences and an M.S. in Environmental and Natural Resources Economics. He was awarded the Chevalier du Mérite Agricole (France) in 2009.
"The strong, collective and innovative effort of the CGIAR Program on Forests, Trees and Agroforestry is central to addressing the global challenges of our times and to achieve the ambitions of the SDGs and the Paris Agreement. I am particularly happy to join the FTA, known to deliver results on the ground and centrally positioned to fuel the international development agenda. Since the beginning of my career, I have used results from research stemming from the six FTA centers, and I am thrilled to join a partnership led by CIFOR today, at a challenging and exciting moment." Vincent Gitz