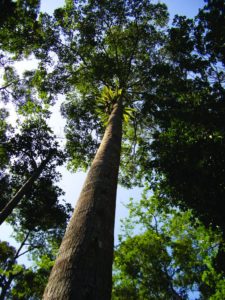 By Susan Onyango, originally published at ICRAF's Agroforestry World Blog
More than 500 people from around the world tuned in on 21 and 22 March 2017 to Cool Insights for a Hot World, a virtual symposium to engage with scientists in a discussion about the links between forests, water and climate, on the International Day of Forests and World Water Day, respectively.
Scientists from the fields of biology, chemistry, climate science, geology, hydrology and social science, spoke with one voice in calling for greater attention to be paid to the vital role of trees in the water cycle. The functionality of trees is of great importance given forests' ability to produce moisture that is then transported from one area to another by winds, eventually falling as rain far from its source and crossing national boundaries on the way.
That the geopolitical consequences of deforestation in one country can exert a serious impact on rainfall in another country did not go unnoticed.  The scientists recommended the establishment of regional bodies to manage 'precipitation-sheds', areas that generate moisture into the atmosphere, in order to mitigate potential conflict arising from mismanagement of the forests that make up precipitation-sheds.
Jointly hosted by the World Agroforestry Centre and the Center for International Forestry Research, the symposium explored the interconnectedness of  forests and water in addressing climate change, drawing on a recent study, Trees, forests and water: cool insights for a hot world. A key takeaway from the study showed that where rain is produced and where it falls both have wide a ranging impact on the security of water supplies and food production as well as the ability of nations to adapt to, and mitigate, climate change.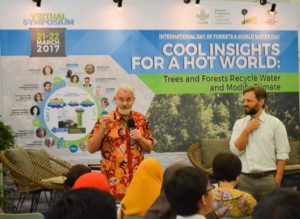 Call to action
Forests and trees' critical role in global, regional and national water cycles is second only to the influence of the world's oceans. Yet, this is mostly left off global discourse on climate change, which largely focuses on forests and trees as carbon stocks and sinks as part of national actions to reduce emissions of greenhouse gases.
In an effort to address this omission, the scientists strongly endorsed the need for a global approach to both understanding the relationship between forests, climate and adaptation and to carry out more detailed climate research.  For more on the wider implications and recommendations for action, see Trees, water and climate: Cool scientific insights, hot implications for research and policy.
At the local level, the planting of trees is an immediate action easily available to householders, farmers and urban dwellers, one that contributes to cooling the Earth through the moisture released by trees through evapotranspiration. Tree-planting need not wait for global agreements to be in place, the scientists noted.
The symposium was organized under the aegis of the CGIAR Research Program on Forests, Trees and Agroforestry. Participating scientists included David Ellison (Swedish University of Agricultural Sciences), Cindy Morris (French National Institute for Agricultural Research), Michael Marshall (World Agroforestry Centre), Aster Gebrekirstos (World Agroforestry Centre and Erlangen University), Meine van Noordwijk (World Agroforestry Centre and Wageningen University), Jan Pokorný (ENKI, Czech Republic); Douglas Sheil (Norwegian University of Life Sciences), Victoria Gutierrez (WeForest), Daniel Murdiyarso (Center for International Forestry Research and Bogor Agricultural University) and Elaine Springgay (Food and Agriculture Organization of the United Nations).
Learn more about forests and trees and their role in the water cycle