Originally published at CIRAD
The "potato taste" of some coffees reduces their quality and value. It is caused by a molecule produced following the introduction of a bacterium into the beans. A team from CIRAD, working with the Institut Pasteur, recently identified the bacterium. It is a new species, christened Pantoea coffeiphila.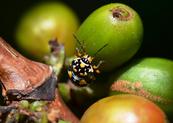 In the Great Lakes region of East Africa, "potato taste" in coffee, while not common, is a serious risk for the coffee sector. Although the coffee produced in the region is among the best in the world, it can be highly penalized on the export market due to the unpleasant taste of some batches.
This potato taste is due to the presence of isopropyl-2-methoxyl-3-pyrazine, a molecule produced when a bacterium penetrates the coffee beans, generally as a result of the bites of an insect, Antestiopsis orbitalis.
However, the origin of the bacterium was not known. This is why a team from CIRAD recently conducted a genetic analysis using isolates collected in Burundi.
A genetic analysis to indentify the bacterium
That genetic analysis, conducted with the help of the Institut Pasteur, served to identify the bacterium. First of all, the sequencing of two genes, RRS and rpoB, proved that the isolates came from the genus Pantoea.
An analysis of the sequences of another series of genes (gyrB, rpoB, atpD and infB) subsequently determined that it was a new species, and its position was represented in several phylogenetic trees.
Discovery of a new bacterium: Pantoea coffeiphila
The new species, which belongs to the family Enterobacteriaceae and the genus Pantoea,was christened Pantoea coffeiphila sp. nov.
The strains have been lodged with the Institut Pasteur collection (CIT) and that held by DSMZ (Deutsche Sammlung von Mikroorganismen und Zellkulturen).
based on this work, selective detection kits for the bacterium should enable further research to provide a better understanding of the ecology of the bacterium in the coffee growing zones of the Great Lakes region.