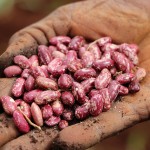 By CIAT News
As long standing members of the Pan-Africa Bean Research Alliance (PABRA), CIATs work in Zambia and Zimbabwe has, up until now, mostly focussed on beans. But a recent trip to meet with donors and national partners in each country revealed strong interests in research into forages, soils and climate change, exposing new and exciting opportunities for future partnerships.
In meetings with leading donors and government representatives in Zimbabwe, opportunities were discussed for more collaboration in the areas of beans, forages, soils and general productivity increase.
In Zambia talks focused on promotion of biofortified beans, climbing bean intensification in farming systems, country climate smart agriculture profiles with a focus on three regions within the country and support for soil improving fertility.
In both countries, CIAT and the National Agricultural Research System (NARS) partners agreed to continue to strengthen ongoing project collaboration and explore opportunities for joint projects.