Adapted from Agroforestry World Blog

The community Jeneponto in the province of South Sulawesi, Indonesia, has officially begun to implement a sustainable livelihoods and conservation strategy that was facilitated by the Agroforestry and Forestry in Sulawesi project. Amy Lumban Gaol, the World Agroforestry Centre's Communications Coordinator for the Agroforestry and Forestry in Sulawesi (AgFor) project, witnessed the launch of the strategy.
"Planting trees is one way of increasing land and environmental conservation," says Iksan Iskandar as a fitting argument for a tree-planting ceremony. "This is not the first time I've planted trees with, and for, communities and it definitely won't be the last," adds the head of Jeneponto District, on the Indonesian island of Sulawesi.
Jeneponto is the third district in Indonesia to officially implement a strategy for sustainable livelihoods and conservation, facilitated by the Agroforestry and Forestry in Sulawesi (AgFor): Linking Knowledge to Action project, funded by Global Affairs Canada and the CGIAR Research Program on Forests, Trees and Agroforestry.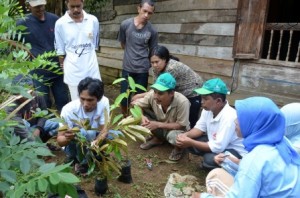 AgFor first established the program in Bantaeng and Bulukumba districts in 2012, then moved on to Jeneponto and neighbouring Gowa in 2014. Through training in agroforestry and forestry, AgFor helps farmers to improve their livelihoods.
The Jeneponto launch took place in Rumbia, one of the driest villages of the district, in March 2016, which was chosen to market its tourism potential.
"Even though Rumbia is dry and hot, there are many places of interest: waterfalls, mountain peaks, beautiful views and nice people," says Rahman Mas'ud, head of Rumbia Sub-district. "The symbolism of the ceremony with our district head will inspire the community to also plant more trees," he hopes.
'Transforming the landscape of this district obviously requires a lot of effort," District head Iskandar adds.
"We have begun to see a change of mindset in our community towards maintaining natural resources. We now know that Rumbia is a good place for agroforestry. We can see many new seedlings starting to green the way to the waterfalls nearby. This is a manifestation of the hard work already carried out by everyone."
Pratiknyo Purnomosidhi, AgFor coordinator for South Sulawesi Province, agreed that, "Rumbia has a lot of hidden potential: natural resources, smart villagers and cooperative government. But the most difficult thing is to change people's mindset. We started with a small group in Ujung Bulu Village, which has become a good example for others. It obviously takes time and much effort but together we can change our mindsets and our landscapes."