Originally published at CIFOR's Forests News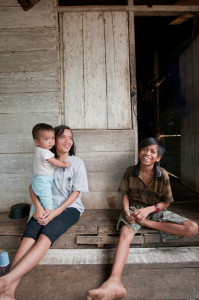 Pe Ligit* has witnessed massive changes in her lifetime, as waves of migration, logging, and oil palm development have transformed Indonesian Borneo. Now 65 years old, the Dayak woman settled in Long Segar in East Kalimantan when she was a child.
"My younger siblings and I were carried in a big basket when we were moving here," she says. "We traveled by boat … then walked along the river to reach this place."
Then, it was tropical forest. There were no roads, and it was two days by longboat from the provincial capital, Samarinda. Pe Ligit's father cleared some land to plant rice, built their house, and helped establish a community. They lived from agriculture — and from the forest, where they hunted and fished, gathered rattan and bamboo.
Long Segar hadn't changed much by 1979 when anthropologist Carol Colfer, now a Senior Associate at the Center for International Forestry Research (CIFOR), first arrived in the community to research interactions between people and forests in Kalimantan. One of the first things she noticed was the relationship between men and women — it was much more egalitarian than parts of North America at the same time.
"How much say people had in families and how much influence they had seemed to me more a matter of personality rather than gender," she says. "Men were very open about being involved in domestic tasks — they wouldn't wash women's underwear but they would wash other clothes."
"Everyone took care of the children — women did a bit more of it, but there wasn't any sense that this was women's work and not men's. So this was very refreshing for me!"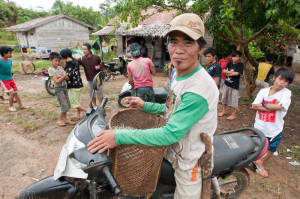 Both genders worked in the rice fields, Colfer says, but it was seen as women's real profession. Women like Pe Ligit were taught as girls that their role in life was to produce rice.
"It was so important for women's self image, and they were proud of their skill," she says.
Men, on the other hand, focused on hunting, fishing, and wage work, and they grew up expecting to go "expeditioning", or working for several years away from the community.
"They come back from these trips and they have stories to tell, and everybody gathers to listen to them — that's a central part of men's identity, or at least it was," says Colfer.
Colfer returned to Long Segar many times over the following two decades, and tracked changes in the community as logging and timber plantation companies moved in, and the Indonesian government settled tens of thousands of Javanese 'transmigrants' nearby.  These newcomers had very different ideas about gender.
"They thought that a man should be head of the household, and would talk to the headman and not to women — unless they were trying to take them to bed, because Dayak women's freedoms led outsiders to consider them promiscuous, compared to women from other ethnic groups," Colfer says.
"They think Dayaks are promiscuous, backward, stupid, use black magic, even have tails — there are a lot of terrible stereotypes about Dayaks."
Women's activities began to be curtailed because of a fear of harassment by outsiders. Colfer was concerned this and other powerful new narratives about gender would start to change the community.
"There were missionaries coming in and giving lectures, government people, industry people, television programs, all bringing in this idea that men should be the breadwinner and women should stay at home," Colfer says.
"I didn't think people would accept it 'hook, line and sinker', but I feared these pressures from outside to conform would have bad effects."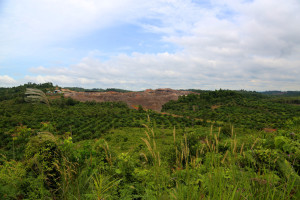 By the early 2000s, when Colfer made her last trip to the village, many of her fears hadn't been realized. But in 2004, the tidal wave of oil palm breaking over Borneo reached Long Segar.
When the University of Brighton's Rebecca Elmhirst proposed revisiting the community to assess the impact of oil palm development on gender, Colfer jumped at the chance to be involved, although she couldn't return to Borneo personally.
"I was very curious and very worried, because it was just one thing after another pushing the people — logging, timber plantations, transmigration, then oil palm — reducing their land access and, I suspected, encouraging all kinds of crazy gender ideas," Colfer says.
In 2014 Elmhirst and Mia Siscawati from the University of Indonesia, together with research assistants from East Kalimantan, spent two weeks in Long Segar, conducting a study that would become part of a new book published by CIFOR: Gender and Forests., which forms part of the CGIAR Resesarch Program on Forests, Trees and Agroforestry.
"For me the amazing thing was going somewhere I'd read so much about, from reading Carol's work," she says. "We really took advantage of the fact that we had this incredibly rich ethnographic data that Carol had assembled over the years, that we could use almost as a baseline, or as a way of interpreting some of what we were seeing today."
Elmhirst's team interviewed individuals and held focus group discussions, with the idea of not only revisiting, but also bringing new concepts of gender to bear that were not available at the time of Colfer's research.
"We wanted to try to build a more nuanced picture of the impact of oil palm than most of the stories which had been coming out, which presented a rather uniform picture of women as victims. This didn't quite ring true to me, given Carol's earlier analysis of women's position in Long Segar. We were also interested in seeing if there was a diversity of experience, based on an understanding of how gender plays out very differently in different places, and how gender works in interplay with ethnicity, with age, with social class, with the histories of each specific place."
In fact, Elmhirst found that "many of the gender norms that Colfer identified in the 1980s remain remarkably resilient in the face of large-scale landscape change. The centrality of rice cultivation remains an important pillar, not only of household food security but of feminized identities within the community."
Rice has become a less reliable form of income, though, so Pe Ligit, like most other Long Segar women, now does wage work at the oil palm plantation. But the pull of tradition is still powerful. Many women do a 'triple shift', working for wages in the morning, and in their fields and homes in the afternoons. Often they'll abandon wage work when there's lots to do in the fields.
"I didn't want to make fields, but when I saw other people make them it just didn't feel right [not to]," says Pe Ligit.
One of the key changes Elmhirst observed was that women's rice fields near the village have been taken over by oil palm. They're now reliant on motorbikes to get to more distant fields, and because of the difficult terrain and heavy bikes, older women like Pe Ligit, once independent, now need to rely on men to drive them.
Young women, like 20-year-old Hero, have different aspirations.  She helped her parents in the rice fields when she was a girl, but then school became a priority.  Like most of her peers, she wants to be a government official or work in the office of a plantation company.
"Younger women are less and less involved in working in the fields, and there's much more of a pressure for them to be involved in formal education, so school enrolment for women is really high," says Elmhirst. "That was also something Carol was starting to see when she was doing her work, but it's even more so now."
"You might think of that as being a really good thing, but it's almost about keeping women out of the way of rather unhealthy gender situations [like sexual harassment from outsiders] and an aspiration for them to not have to deal with some of the pressures that are evident locally."
Being in school means girls aren't learning the specialized knowledge of rice farming — and in fact there are limited opportunities for educated youth in Long Segar.
"What are they going to do when they come back with their high-school education? There aren't really that many office jobs."
EATING THE LAND
There are other pressures in Long Segar too. Elmhirst's study found that the arrival of oil palm had increased social inequalities in the community.
"Oil palm seems to be incredibly transformative in ways that perhaps logging wasn't," she says.
Though logs were removed, Dayaks could still use those forests to collect forest products and hunt animals. So although their livelihood systems were disrupted, they weren't completely ruled out. The way oil palm has been introduced — clear cutting forests and planting over rice fields — has been different.
"It kind of eats the land — people talk about it in those terms," Elmhirst says.
What benefits there are have not been equitably distributed.
Pe Ligit is one of those who has missed out. "I had a plot of land, and the company leased it," she says. "But they didn't give me any fee or compensation."
"I cried that time. I wasn't involved in the negotiation. I am so sad … some people got money, but I didn't. The first people that stepped on this land were my brother and my father, and we didn't get anything."
The gap between the better-off and worse-off in the community is widening, Elmhirst says.
"It was a classic story of dispossession really, where a deal was made between certain people in the community and the plantation, and it hasn't worked for the majority of people," she says. "It's been incredibly divisive."
Carol Colfer still feels a connection to the place she spent so long studying. She's in touch with some of the people in Long Segar on Facebook — like so many Indonesians, they have smartphones now.
"People change, it's not the end of the world if things aren't like they used to be," she says. "It's just a little sad to see it forced down people's throats, especially when it seems like things are so much less equitable than they were before."
*Names have been changed.